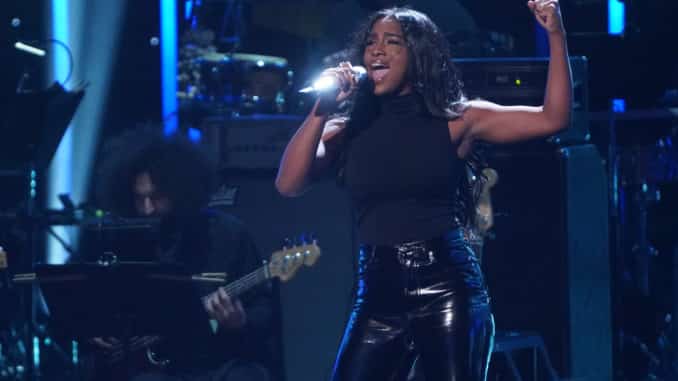 American Idol 2021 Alana Sherman: Who is the stunning singer who wowed during Showstoppers?
Alana Sherman, 22 year-old Food Delivery Driver from Lakewood Ranch, Florida wowed Monday night (March 29) on American Idol, but who exactly is she? We have only seen her briefly: Once during her audition covering Dua Lipa's "Break Your Heart" with an average vocal in a montage with Cameron Allen and then when Samantha Sharpe messed up the words to the beginning of their duet. Yet, they didn't even show Alana singing there.
Alana was a division one tennis player at LA Tech, but she has a history of performing. Her father Ray played in the NFL and was an NFL coach for a few decades.
Alana sang "Bust Your Windows" by the incredible Jazmine Sullivan. She displayed a nice husky and smoky tone and is a solid pop soul singer. She opted for a more soul tinged version that got faster with the key change rather than the original's R&B flavor that remains fairly slow in the chorus. Alana had a lot of stage presence. Katy exclaimed, "Workin' that hair!" I wasn't sure if Alana gave quite enough power to the big song, but nevertheless I enjoyed it and was interested in what she did with the song.
"Look at you here on this stage and you're going to the Top 24" said judge Katy Perry to the singer. From what we see, Alana has a very spunky and outgoing personality when she is reacting to going to the Top 24. She delivered one of my favorite performances of the night, so I was happy to see her go through, even if this is the first we are hearing of her.
I like this talented girl's approach; she doesn't try to do too much. My only fear is her lack of screen time could set her up to be fodder. Watch her cover of Billie Eilish's "When The Party's Over" HERE. Watch her show star quality; she's got stage presence and a very pop forward sound here on Rihanna's "We Found Love" HERE. She can keep a crowd engaged which is important during the lives.
Watch Alana talk about her journey on Tampa Bay's Morning Blend HERE.
Check out her Instagram and Tik Tok.
American Idol 2021: Alana Sherman sings Jazmine Sullivan's Bust Your Windows