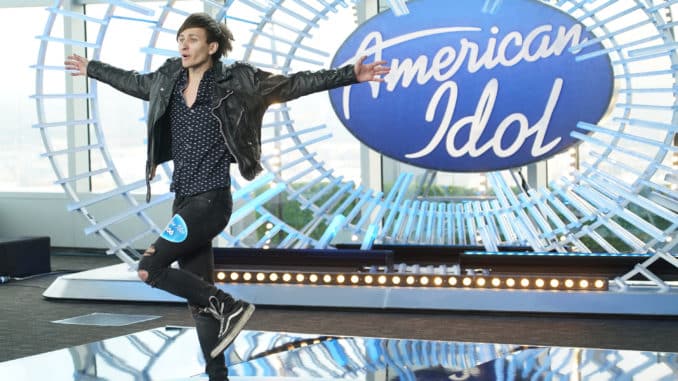 American Idol 2020 premieres TONIGHT on ABC at 8 pm ET/PT Featured on the panel are veteran R&B master, Lionel Richie, pop star Katy Perry and country singer Luke Bryan. Ryan Seacrest returns to host.
In the first American Idol episode of the season viewers will embark on a nation-wide journey across Savannah, Georgia; Milwaukee, Wisconsin; Washington, D.C.; Los Angeles, California; and Sunriver, Oregon.
We've got a TON of Spoiler posts linked below. NO SPOILER DISCUSSION ON THE LIVE BLOG. Keep talk under the spoilers posts. Giving stuff away will result in an instant banning.
When Does American Idol 2019 Start? Full Season 18 Schedule
American Idol 2020 Premiere Preview: Meet the Contestants! (PHOTOS)
American Idol 2020 Spoilers: Top 20 Contestant List
American Idol 2020 Spoilers: Top 40 Showcase Round/Song Choices
The premiere opens with a shout out to winner Laine Hardy. But it's runner-up Alejandro Aranda that gets the most attention in the opening. The show brags that Alejandro was a GAME CHANGER for American Idol, because he sang mostly original songs on the show. If you're keeping score, it's as if Alejandro won the show. Hm. 
And now, a montage of what to expect over the course of the auditions. It's a very lighthearted opening, 
https://www.youtube.com/watch?v=UZJCZRoVaNA
Doug Kiker – 27 – Bless the Broken Road by Rascal Flatts – The episode kicks off with the "garbage man." He's only sung on his truck, never for an audience. Lionel suggests that Doug follow host Ryan Seacrest outside to "warm up" in front of a crowd on the sidewalk. "You are going to be his first audience," Ryan tells the assembled "passersby."  After another hopeful (Camryn) and a commercial break, Doug is back on the seal. Doug says he's auditioning today for his two year old daughter. He's bowled over by Katy "I'm sorry, you're so pretty!" Star struck. He sings   but it's more like bellowing. After yelling his way through God Bless The Broken Road, Katy asks him to "show us your range." He seriously doesn't know what that means. Luke sits at the piano, and he launches into Broken road again, as the judge coaches him. This audition is 100 percent backstory. This man's singing is rough. Lionel tells him he's "a hell of a man" before handing him a golden ticket. Katy is left crying. Doug won't last one day in Hollywood, but as far as an "everyman" story, it fits the bill. – 3 yeses
https://www.youtube.com/watch?v=LfeXu26peJU
Camryn Leigh Smith – 16 – Big White Room by Jessie J – A Georgia native, Camryn likes music by Adele, Jessie J and Sam Smith. She released a single titled "A Way Out" in 2019. She was raised in the church, but wants to sing secular music. Katy's ears perk up! She's got an interesting husky tone, and is a real natural. Katy now has hope for the new season. Luke is impressed that it's so natural and easy for the young singer. Three Yeses 
Francisco Martin – 18 – Alaska by Maggie Rogers – Singer/Songwriter based in San Francisco. Currently, he's studying pre-law in college. Francisco explains that he struggles with self-confidence. He's so nervous, Luke and Lionel jump up to give him a hug. His parents look pretty nervous too! Maybe that's where he gets it. Once he gets going, he doesn't seem rattled at all. He's very present behind his guitar. His tone is very pretty. On the chorus, he shows off an impressive range. "You little devil you!" says Luke. "I just checked the pulse of a future superstar." Katy calls his voice "incredible." The judges ask for an original song. He wrote a song about a friend, and he plays a bit of it, and it's pretty good! Katy calls him Top 10. Luke calls him Top 5! The winner maybe! Of course, he's going to Hollywood – 3 yeses
https://www.youtube.com/watch?v=v9AQoJnuhMs
Hunter Gibson – 23 – Swing Swing by the All American Rejects – He's a "self described emo guy," according to a local news interview he uploaded on Instagram. His style is pop/punk. He calls himself "The Comeback." OK then. He walks into the holding room like a man who just drank a gallon of coffee. HELLO JOKE CONTESTANT. Of course, he's pretty terrible. How many off key notes can one singer fit into a song? A bunch, it turns out. He's a Chris Cabrera knock off, only with super bad singing. Katy begins singing along with him. And we think he's done…but nope. He keeps singing! Katy isn't sure if Emo has made enough of a comeback, She would go see him in a show…but the vocals aren't there, she says. To say the least. – 3 nos. 
https://www.youtube.com/watch?v=_La9iIHL7C8
Nick Merico – 23 – You Say by Lauren Daigle – Nick nabbed a golden ticket last year, but dropped out of the competition "due to a family situation." He told the Colt show he had a record deal. But obviously not! Because he's back. A few years ago, he starred in the Nickelodeon show, "Every Witch Way." But dropped out of the competition before Hollywood. His audition kicks off with a clip of last year's audition. So, he's playing the total A-*** this year. The judges are a little irked that he withdrew. Nick says "some personal things came up" and actually offers a sincere apology to the judges. Nick accompanies himself at the piano. It's an earnest performance, and he actually seems to be a better singer since last season. "The oval of judgement," is what Katy calls the seal. Heh. She accuses Nick of behaving like he's too good for them. "Be open to being molded and shaped," she warns. Luke is kinder, calling him a heartthrob. Lionel doesn't like him. Not his voice, not his attitude "I don't think you're going to make it in Hollywood." Hm. This audition is beginning to feel like a bit! The drama is even interrupted by a commercial break.  Nick feels hurt! And indeed, Lionel admits he delivered a head psych. He wants Nick to know what if feels like to be disliked. The judges all say BE HUMBLE before they hand him his golden ticket. – 3 yeses
https://www.youtube.com/watch?v=06T1EcOUoUc
Arthur Gunn – 21 – Girl From the North Country by Bob Dylan – He grew up in Kathmandu, Nepal, but moved to America to chase his dream. He lives in Wichita Kansas now, and has absorbed bluegrass and country music. His Indian name means "The Light." DANG, Arthur has a total Phillip Phillips vibe going. He's really absorbed American folk music, Impressive. Lionel wants another song. Katy asks him to keep his eyes open. He sings "Have You Ever Seen the Rain" by Creedence Clearwater. He's a Phillip Phillips clone! Lionel says, "I am loving this discovery!" Luke wants him to open his tour. Katy notes his "storyteller voice." It turns out he wasn't recruited. He auditioned at the bus in Kansas. Bonus: Bobby Bones makes an appearance! – 3 yeses
https://www.youtube.com/watch?v=A73ELaEsQpM
Alisa Ermolaev – 28 – Hmmm. I smell a joke contestant. Alisa is an actress/model who has appeared on Ray Donovan, Elementary, Hustlers and more. She played "Stripper No 2" in the JL9 movie. She moved to America from Moscow at 8 months old. But, she's very New Yawk. Queens. She brings along a dude in giant glasses, introducing him to the judges as her "musical mentor and partner." Hm. She claims that people tell her she looks like Taylor Swift. HM. Unsurprisingly, she screams her way through an original song. It's as bad as you think it would be. Next, she does a comedy bit. Things don't get better. Now the judges are frightened. I might be too. Luke thinks the duo is "loads of fun" but it's a no. And in typical joke contestant fashion, she swears up a storm in her post show interview – 3 nos. 
https://www.youtube.com/watch?v=5QuAQeQgjpE
Louis Knight – Change (original song) – British born, Philadelphia based pop singer/songwriter. He comes from a family with "roots in the music industry." He released his first single "Just Kiss Me" in 2019. We previewed this interview HERE.  Louis performs an original song called "Change" dedicated to a good friend who committed suicide. Louis was born in England, but moved to Philadelphia with his family 8 years ago. It was a big adjustment, but soccer, and his friendship with Russell helped. It took a long time to deal with the loss, but eventually he could put his feelings down on paper. He sings the raw, emotional song, sitting at the piano. His voice is appealing–good range and he really connects to what he's singing. Luke calls him the biggest star they've ever had on American Idol. Katy wouldn't go that far. She wants to keep him humble. Lionel compliments his songwriting. 3 yeses 
https://www.youtube.com/watch?v=0b2OtYGeMAo
Saveria – 22 – Tell Me This Is Real (Original) An R&B singer from Ontario, Canada, Saveria appeared on season 2 of The Launch, the Canadian music competition created by former American Idol mentor, Scott Borchetta. She had a major label deal as a kid. Her voice is solid, but I don't love this original song. She's generic. Lionel felt it was off and on. He didn't feel it. I agree with Lionel. Luke is also underwhelmed. Katy calls her a "gymnast singer" with a ton of potential. Katy says yes. But Lionel thinks she needs to work on her craft more. Katy wants to mentor her. AND COMMERCIAL BREAK. After we come back, LUKE SAYS NO. Katy jumps out of her chair, she's so mad. "DON'T MAKE ME TAKE MY EARRINGS OFF." Lionel and Luke won't budge. Katie goes mental, running out of the room, knocking down props. "I think it's a horrible decision," she says. I'm team Lionel and Luke. Katie says yes, Luke and Lionel No
https://www.youtube.com/watch?v=0GcNS-x0YeA
Hello Bobby Bones, as he counsels hopefuls. He chats them up before they take the stage. 
Meghan Fitton – 23 – Love Where You're At by Allen Stone – Meghan hails from Foxboro, Massachusetts and attended the Frost School of Music at the University of Miami. Her first EP is coming out in March. She watched American Idol. But when it comes to reality, SHE LOVES THE BACHELOR. She's got a podcast, even. Ben Higgins is her favorite. With the Bachelor backstory, I half-way expected her to be mediocre. But she's got a sweet, gravelly tone and I like her phrasing. Bachelor backstory, unnecessary. Luke calls it "incredible." Katy is not as impressed. Lionel calls her "raw and wonderful." Katy loves the grit in her voice, but she thinks she needs to connect more. "If I had a rose, I'd give you one," she says. HA HA Bachelor host Chris Harrison, via tablet, offers her a Golden Ticket. Nice cross promotion.- 3 yeses 
https://www.youtube.com/watch?v=ZuKaR2huvbA
Samanta Diaz (Just Sam) – 20 – Rise Up by Andra Day – Sam is a subway busker who lives with her grandmother in a Harlem project. We previewed this audition HERE. Grandma adopted her and her sister. Coming from tough circumstances,  Sam becomes very emotional speaking about the possibility American Idol will change her life. She starts off singing "You Say" by Lauren Daigle, but she is so nervous, she stops. She stops again, breaking down into tears. The judges jump up to give her a hug and encouragement. Katy suggests she sing another song. Sam performs her train ritual to calm herself. She's MUCH stronger on "Rise Up" by Andra Day, like she found her confidence. Luke believes her struggle is important, and that she has a really beautiful voice. Lionel wonders if she has ever felt safe. Only with her grandmother. She's not uses to people caring without needing. Aw. Lionel wants her to feel safe, "We got you," he says. The audition ends with an Idol first. Sam, Lionel, Katy and Luke clasp hands and pray. – 3 yeses.
https://www.youtube.com/watch?v=JKnlj2Jz8kQ