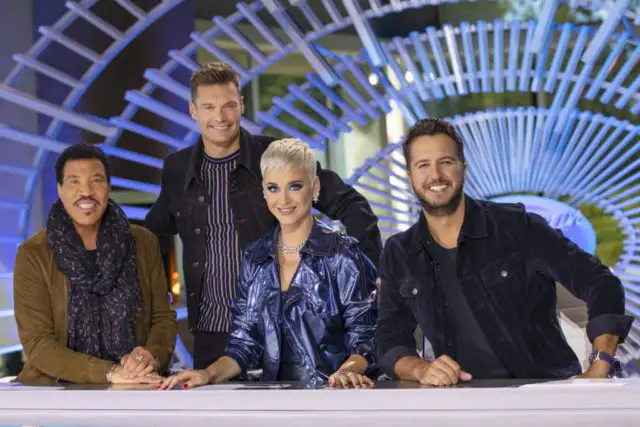 The Queen song spoilers are finally out. Frontman and former American Idol season 8 alum, Adam Lambert will mentor the Top 8 this week. ABC will broadcast the show live coast to coast beginning a 8 pm ET/5 pm PT. Watch a preview clip of Adam mentoring the contestants at EW.com
The contestants will also be paired up for movie themed duets. Click here to find out how the singers are paired up. No clue what the duos will be singing…yet. UPDATE: Duet song choices are out. See below.
American Idol 2019 Top 8 Power List: Rank the Contestants
The song choices this week have me looking forward to tonight's show. 
Alejandro Aranda –  Under Pressure — Hm. I wonder how Alejandro will arrange this classic?
Alyssa Raghu — Somebody to Love – One of my all-time favorite Queen songs! It's a good choice for Alyssa.
Jeremiah Lloyd Harmon — Who Wants to Live Forever – A big, dramatic song that offers Jeremiah the opportunity to show off his vocal and emotional range? Perfect.
Laci Kaye Booth — Love of My Life – Great choice for Laci. If she performs a tender arrangement on acoustic guitar–Laci could have a moment. 
Laine Hardy — Fat Bottomed Girls – A song that's hard to take seriously–it hasn't really aged that well. I suppose Laine will swamp it up and make it fun. It wouldn't have been my first choice for him.
Madison VanDenburg — The Show Must Go On – A good choice for Madison. Like Jeremiah, it will give her a chance to show off her rangy voice.
Wade Cota — We Are the Champions – I am a little dubious about this song choice. We are the Champions belongs in sports arenas–and that's about it.
Walker Burroughs — Crazy Little Thing Called Love – A predictable song choice from Walker.  Fantasia did a terrific version of this season 3. In lesser hands, the song can come off corny. Walker needs a unique arrangement to pull it off. 
Movie Themed Duets:
Laci Kaye Booth & Laine Hardy – Jackson from Walk the Line
Alyssa Raghu & Wayne Cota – Ain't No Mountain High Enough from Guardians of the Galaxy
Jeremiah Lloyd Harmon & Madison VanDenburg – A Million Dreams from The Greatest Showman
Alejandro Aranda & Walker Burroughs – Mrs. Robinson from The Graduate