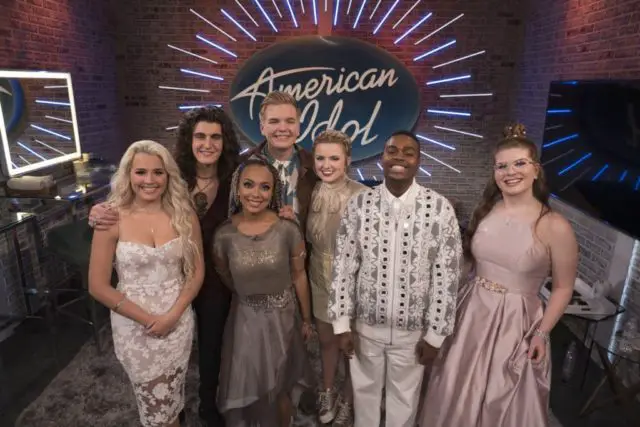 We're previewing Sunday's American Idol Top 7 episode, ranking the remaining contestants, as well as taking a look at last week's poll results.
This week on American Idol, the remaining 7 contestants will perform TWO songs. One from the Prince catalog and the second from the year the contestant was born, bringing together a brand new theme and an old chestnut.
American Idol 2018 Top 7 Song Spoilers (Prince, Year They Were Born)
The Prince theme has literally never been done before, as the late musician rarely cleared his songs for singing shows (his estate on the other hand…). The "Songs from the Year They Were Born" theme debuted in season 4, and has also been featured in seasons 7, 8, 10, 11, and 13.
Additionally, Nick Jonas will be on hand to mentor the contestants with their song selections. And for even more star power, Prince protege and percussionist extraordinaire Sheila E. will be sitting in with Kris Poole and the American Idol band.
Here's how I rank the Top 7 after last week's Disney night performances.  I had a real hard time powerlisting the singers this week. I ranked them based on how strongly I felt they came out of last week's show.
7. Jurnee – Jurnee is a very talented vocalist, but she hasn't done a good job so far defining herself. Her choice to cover Prince's tricky "Kiss" and Brian McKnight's bland "Back at One" don't seem like very good song choices.  
6. Caleb Lee Hutchinson – I may not be ranking the affable Caleb high enough this week. His performance of "You've Got a Friend in Me" was solid if a little forgettable. Caleb NEVER takes risks or steps out of his box. In his case, as the lone male singer, that may be a good thing.
5. Gabby Barrett – Gabby's choice last week, "Colors of the Wind" wasn't quite right for her. From my point of view, she's being outpaced by Catie and Maddie right now. A big country song like "I Hope You Dance" may put her back on top this week.
4. Michael J. Woodard – It's hard not to love Michael! The first half of last week's performance of "Beauty and the Beast" was kind of a mess, but once he hit that big note, all was forgotten. Michael is taking on a big big song this week, "My Heart Will Go On." Work on that enunciation, Michael! And I can't imagine what he's got planned for "I Would Die for U" but I look forward to finding out.
3. Cade Foehner – Last week, the arrangement of "Kiss the Girl" was better than Cade's execution. There's no getting around that he's the weakest singer of the remaining contestants. However, his rock star presence makes up for a lot of his vocal shortcomings. I'm still ranking him high on the list. He picked a couple of songs, "Jungle Love" and "Who Will Save Your Soul" that look risky on paper. We'll see if pulls them off. 
2. Maddie Poppe – Re-watching all of last week's performances, I believe Maddie, hands down, had the best. Unfortunately, she performed first and may have been overshadowed by her fellow competitors. She's chosen two straightforward song choices "Nothing Compares 2 U" and "If It Makes You Happy." The first could actually give her a moment.
1. Catie Turner – Catie is more popular than people realize, I think. Her performance of "Once Upon a Dream" last week was well received (She's still racking up those YouTube views!). However, this week's song choices "Oops I Did it Again" and "Manic Monday" could be either genius or a trainwreck.  
Here are some results from last week's polls
Check out all the poll results from Disney Night at this link.
Favorite Top 7 Contestant
Maddie and Michael were by far your favorites.
Michael J. Woodard 24.87%
Maddie Poppe 23.51%
Catie Turner 14.52%
Jurnee 120 12.54%
Cade Foehner 10.45%
Gabby Barrett 10.03%
Caleb Lee Hutchinson 4.08%
Real Time or Overnight Voting (Assuming no Results Show)
You all were split pretty much down the middle on the voting. I come down on the side of real time voting BUT I think changes need to be made to the format. In particular, there should be at least 10 minutes or set aside JUST for voting. Maybe schedule a celebrity performance at the end of the show. 
Real Time Voting 44.16%
Overnight Voting -Announce results the following week 41.61%
Don't care either way 14.23%
BONUS! Fun "Year They Were Born" Clip
This is gonna make y'all feel REAL OLD. Fun fact: "Year They Were Born" theme debuted in Carrie Underwood's Season 4 back in 2005. The contestants birth dates ranged from the the mid-70s (Bo Bice and Constantine Maroulis born in 1975) to the mid-80s. By contrast, in this latest crop, Cade is the oldest, born in 1996. The three youngest singers (Catie, Gabby, Jurnee) were born in 2000.