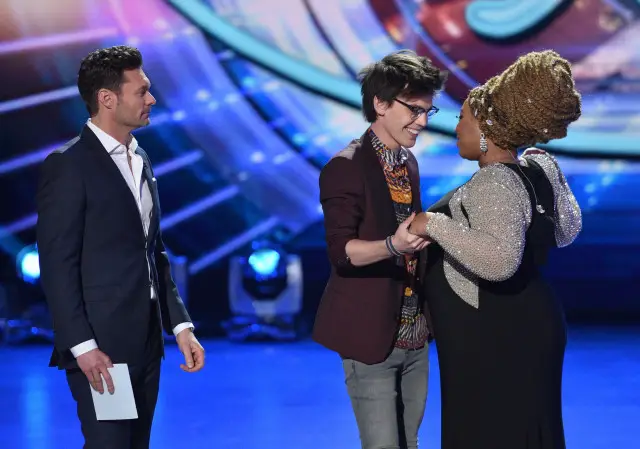 American Idol 2016 Recap Top 3 Performances and Results
Tonight, The Top 4 sing dedications to their hometowns after clips from Saturday's Hometown Visits are aired. It's sure to be an emotional opening to the episode. After the visits, things get intense as ONE contestant is eliminated. The remaining 3 singers perform in-house mentor Scott Borchetta's picks and songs chosen by judges Keith Urban, Jennifer Lopez and Harry Connick Jr. Then, it's time for YOU to vote for your favorites to be in next week's final.Click for American Idol 15 Top 3 Song Spoilers
Keith Urban performs his new single, "Wasted Time."
Host Ryan Seacrest reminds us that it's the LAST NIGHT EVER IN THE CBS STUDIOS. Let's cry people. Here come the judges.  Jlo is dressed in a white pantsuit, Harry sports a suit and tie. Keith is the man in black, including a blazer.
Here come the Top 4, Trent Harmon, MacKenzie Bourg, La'Porsha Renae and Dalton Rapattoni. The Idols go home first. MacKenzie is up first
MacKenzie Bourg – Lafayette Louisiana – Hallelujah by Leonard Cohen – Mack talks a little bit about the infection that almost killed him. The first stop on his trip is a local baseball game where he threw the first pitch and sang the anthem. Next, some Louisiana Crawfish. Then, Grandma's house. Aw, MacKenzie's grams tells the story of how he stayed by her side during an illness. Back at his old high school, MacKenzie plays a little basketball. He visits a pediatric unit at a hospital, including the ICU where he nearly died. He tells the kids, there is always hope. He tears up during the parade. The day ends with a big concert.
There wasn't a chance Idol would come to an end without ONE MORE rendition of Hallelujah. Wisely, MacKenzie accompanies himself on acoustic guitar. No strings, no gospel choir. If this is the singer's last performance on the Idol stage, it will be a perfect cap to his run. My favorite MacKenzie performances are like this: Simple and unadorned. THE CROWD GOES WILD. Keith calls it superb. Jlo calls it "classic MacKenzie."  Harry says he's come full circle and has really grown. – Click to Watch MacKenzie Bourg's Hometown Visit and Performance VIDEO
Next, the Top 4 go on a FOX lot visit. They saw a sneak preview of the Ice Age Collision movie. They meet Ray Romano doing voice overs for Ice Age.  They all get to do voice overs for the movie! It's adorable. Jennifer Lopez is in the movie. OH THE WINNER WILL RECORD A SONG THAT WILL BE FEATURED IN THE FILM.
Dalton Rapattoni – Sunnyvale Texas – Calling You by Blue October – After radio interviews, Dalton stops at grandma's hair salon to get his hair did. The ladies love him. There's a gaggle of girls watching who look like they are ready to pass out. The School of Rock where he works is next. He teaches vocals. One of his young pupils practice with him. Dalton's crying. No. He's sobbing. Next is his mom's house, where there is a big friends and family reunion. Grape jelly and ketchup meatballs? What? Uncle Michael tells him, in his mind, Dalton has already won. "It was the best day of my life," Dalton says.
I know Dalton loves this song, and it means the world to him, but I don't think it's a great competition song. There's the unfamiliarity, but also his vocals were often drowned out by the band. The choruses were particularly messy. But as always, Dalton throws himself completely into his performance. Jlo felt a difference in the way Dalton performed today. There was a sense of freedom in his performance. Harry liked the arrangement. The lyrics were perfect for him, he said. "You're a smart guy."  Keith was excited by how he "Daltonized" the song. Blue October is from Texas. The band has really inspired him. The lead singer is also bi-polar and taught him how to be an artist. – Click to Watch Dalton's Hometown Visit and his performance VIDEO
Trent Harmon – Amory Mississippi – Tennessee Whiskey by George Jones – Trent hasn't seen his family since the competition began. The reunion is tearful. The family restaurant is full of people.  He throws on an apron and gets right to work! Next, he heads to his high school. He checks out the auditorium where he did musical theater. Clips of him in Joseph! Oh my. Maybe Trent will end up on Broadway. Heh. It's Trent Harmon Day! He drives a tractor in the parade. Funny.  An Amory rep calls Trent "the star of the decade" as the singer tears up. The day ends with a big concert for the town. A thing he's always dreamed of.
The overt vibrato with the over-active jaw is back, which takes me out of the performance a little. But Trent brings an old school soulful country vibe to the performance. He's mournful and invested in the choruses and as he always does, he makes this country classic his own. Harry calls it a "fantastic" performance. Keith thought the song was "a bullseye." Jlo remarks how he's finding his stride right now. Jlo thinks he could be in the final two. AWWWW. They brought his mom, dad, sister and adorable dog in as a surprise! TRENT IS SO SHOCKED. It's cute. – Click to Watch Dalton's Hometown visit and performance VIDEO
Gordon Ramsey is in the audience. Not much to say about the grape jelly meatballs! The Ford spot is next. Some inconsequential Vine artist put the Top 4 on to work creating self portraits out of office stickies.
La'Porsha Renae – McComb Mississippi –  Glory by John Legend and Common – First stop, the performing arts school she attended. She reunites with old friends. And there is crying of course. A children's choir sing for her. Wings domestic violence shelter is next. She inspires the women there. Oh my gosh. There are so many tears here. Next, is Mom's house where she picks up her little girl. The gang has a southern home cooked meal. "Mama's going to try to win this for us," she says to her little girl. The day ends with her concert. As "Halo" plays she thanks her town for coming out for her.
This is a perfect song pick. La'Porsha has the drums and the background singers and HER VOICE IS MAJESTIC. Chills people. CHILLS. This performance is nothing short of stirring. Amazing. La'Porsha is BACK Y'ALL. She won the round, hands down. Keith calls her gift strong and pure. He feels he just had a baptism. Jlo loves her inspirational song choices. Harry puts the performance in the "critique proof" category. He admires her elegance and grace and says her parents should be proud. – Click to Watch La'Porsha's Hometown visit and performance VIDEO
ELIMINATIONS ARE NEXT.
The Top 4 take the stage. KIERAN DIM THE LIGHTS. The first person to move forward IS Trent Harmon! Also making it to the Dolby stage is….Dalton Rapattoni.  LaPorsha and MacKenzie remain and immediately Mackenzie says "I'LL DO IT FOR YOU."  La'Porsha tells him to stop, but he continues "Go ahead go ahead!" Oh MacKenzie. He knows. And La'Porsha Renae is the next to advance.
MacKenzie Bourg is Eliminated – "I didn't lose tonight," says MacKenzie of the entire Idol experience after his goodbye package, with his original song "Roses" playing as backdrop, aired. Click to Watch MacKenzie's Emotional Elimination
Dalton Rapattoni – Scott's Choice – Dancing in the Dark by Bruce Springsteen –  A pop punk version of Dancing in the Dark? Bruce Springsteen purists heads are exploding right about now. Dalton's fans, on the other hand, are going to love this. I wish he had done the song as a ballad, emphasizing the dark subject matter, rather than busting out in a frenzied punk vocal. Jlo was ready to be Courteney Cox. She bounced around in her seat through the whole performance (and looked pretty silly). The song sounded fresh and new to her.  Harry thought it was a smart arrangement. He loved it. His ability to twist lyrics and make them his own trumps vocal ability, he says. Keith agrees and stresses he be true to himself. Don't worry about the vocals. – Click to Watch Dalton 's Scott's Pick Performance VIDEO
La'Porsha Renae – Scott's Choice – Stay with Me Baby by Lorraine Ellison – Stevie Van Zandt turned Scott onto this song last week, he says, but La'Porsha didn't want to sing it. I WONDER WHY? The lyrics are basically the protagonist begging an asshole not to leave her. La'Porsha struggled for years to leave an abusive relationship. Scott knows why she turned the song down, but he makes her sing it anyway.  He's either completely tone deaf or has found a particularly cruel way to bus her. She's pouring herself into the performance and she's incredible. But she looks in absolute pain, as if the song is taking her to a place she does not want to be. Harry loves when she slows down her vibrato. He asks her what she didn't like about the song and La'Porsha makes it clear SHE WOULD NEVER SUGGEST A WOMAN BEG A MAN TO STAY. Harry says it was  the first time he sensed she wasn't feeling the song. La'Porsha stresses she was playing a character.  "The only person I would beg to stay with me is God," La'Porsha says. YOU GO GIRL. – Click to Watch La'Porsha's Scott's Choice Performance VIDEO 
Ryan asks Scott what he thinks of her reaction. and he says, "I GUESS I HAD TO BEG HER TO SING IT." Tone deaf.
Trent Harmon – Scott's Choice – Can't Drink You Away by Justin Timberlake – Scott introduces the song revealing that Justin Timberlake had cleared his songs for the first time.  This performance is terrific. The song is right up Trent's alley. Bluesy, swampy, passionate. Fully engaged. At one point in the song he goes COMPLETELY OFF THE RAILS but in the best possible way. TAKE ME WITH YOU TRENT. WOW. Even better than last week's "Sharp Dressed Man." Jlo calls it "singing to win." Harry says it's a good sign when the background singers are clapping.  Trent wins that round. – Click to Watch Trent's Scott's Pick Performance VIDEO
Keith Urban is up next, singing "Wasted Time" with a double necked guitar and…synthesizers. Other than the slightly twangy guitars, this is pretty far from country music.
Dalton Rapattoni – Judges Pick – Everybody Wants to Rule the World by Tears for Fears –  On paper, this is a perfect song choice for Dalton, but it's pitchy and he's bug eyed and a little crazy singing it. I have no idea what's going on there.  As Harry said, the song is "reharmonized" and it's a little odd. This song is not meant to be sung like a dirge. I miss the bright sound of the original. Jlo wished he hadn't lowered the key. The brightness from his voice was missing. Harry liked how he reharmonized the song. But it wasn't his best performance. He doesnn't elaborate.  Keith would have also kept the key where it was too. The energy dropped. – Click to Watch Dalton's Judges Choice Performance VIDEO
La'Porsha Renae – Judges Pick – Hello by Adele – This song is competition show kryptonite. But La'Porsha does a beautiful job, and makes the completely her own. The notes she chooses and her phrasing are simply beautiful. La'Porsha's baby sits on Harry's lap as she sings. Cute. Harry jokes about maybe picking the wrong song for her, considering how she reacted to Scott's pick. She explains that in Hello she's wrong, but in Stay With Me, it's the guy who is awful and she's begging him to come back. Jlo liked how the song stretched her range. I wish Harry had let the song issue drop, rather than let it taint her last performance. At least Scott is laughing. – Click to Watch La'Porsha's Judges Choice Performance VIDEO
Trent Harmon – Judges Pick – Waiting Game by Parson James – Choosing an unfamiliar song at this stage of the competition is risky. Usually I'd be looking for the bus. But this is the PERFECT song for Trent. Dare I say it's his best performance of the entire season. The song gives him the opportunity to display that beautiful falsetto and ample room to stretch out his bluesy phrasing. Emotionally he's right there. The heartbreak feels so real. Keith pretty much picked the song for him, so kudos to him. Jennifer got the goosies! Harry says it's an honor to critique an extraordinary talent. – Click to Watch Trent's Judges Choice Performance VIDEO
This should be a competition between Trent and La'Porsha. Dalton was fine tonight, but he is totally out
The Top 3
Trent Harmon – Text 10 to 21523 – 1866-436-5710
LaPorsha Renae – Text 8 to 21523 – 1866-436-5708
Dalton Rapattoni – Text 5 to 21523 – 1866-436-5705