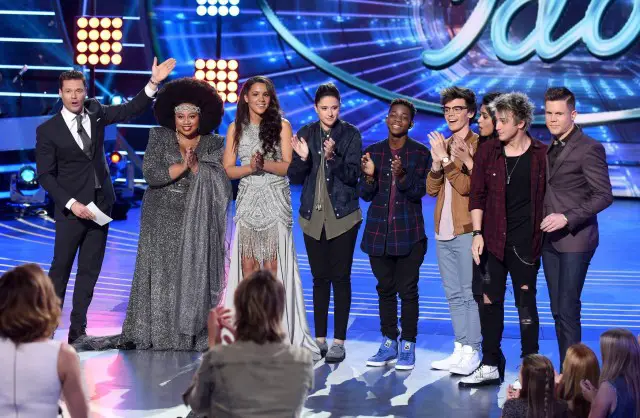 I had to look at my calendar to make sure it wasn't wasn't close to April 1st. Next week's theme is…are your ready, "The American Idol Songbook." NOT songs by our beloved American Idol alums.
Nope. the theme is described as, and I quote from the FOX press release, "…the most-performed songs from past seasons of American Idol." I kid you not. This is what the producers think we want. Songs that have been performed over and over again. A night full of Stevie Wonder, Adele, and Ed Sheeran.  Somebody will undoubtedly sing "Hallelujah," "Don't Let the Sun Go Down on Me" and "Against All Odds." And Whitney. Don't forget the Whitney! ETA: And of course the ASTEROID SONG. How could I forget.
The song list won't contain any current songs. It can't if the setlist is full of "most-performed" tunes.  I know the producers will try to make a connection to past Idol contestants. We'll get clips of favorite performances, which I won't mind at all. But I don't think performing songs that have been hardwired into our brains by past favorites does the current crop of Idols any favors.
Also, we have confirmation that TWO more singers will be eliminated next week. The Top 6 will perform, and I'm guessing there will be a judges save thing happening again, although the press release FOX sent didn't mention that. Nor did the release reveal any guest performers for next week. I'm guessing: Stevie Wonder and Elton John!
As far as tonight's results are concerned: The Top Eight finalists are MacKenzie Bourg, Trent Harmon, Lee Jean, Tristan McIntosh, Dalton Rapattoni, La'Porsha Renae, Sonika Vaid and Avalon Young.
Ryan Seacrest revealed that Gianna Isabella, Olivia Rox and Avalon Young were the three finalists who received the fewest votes. Judges Jennifer Lopez, Harry Connick, Jr and Keith Urban determined that Avalon would be saved, leaving Gianna and Olivia to be eliminated.