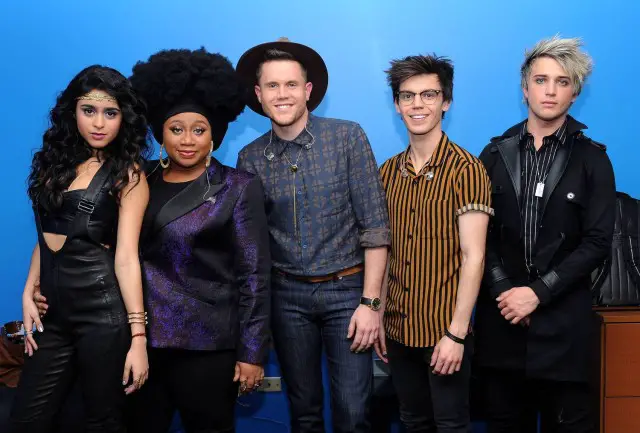 Hey everyone, it's Adam, your recently convicted American Idol superfan and (occasionally annoying) writer! After last week's debacle I was super excited to hear about this week's theme: Sia's songbook and Classic Rock. Since it has been a while since I had an article up on this site, I figured it was about time I put pen to paper and started pumping out another assessment of the remaining contestants. Let me know what you think of my thoughts and suggestions, then hit the comments and tell me whether you agree or disagree. Any feedback is really appreciated!
Before I get to the songs, I just have to say, this week's theme has so much potential for greatness! After weeks of trudging through the mud of overdone song after the next, it is really refreshing to hear about something that will really get the viewers excited. Sia is a phenomenal songwriter, one who I have been following for a few years now, and her catalog is chock full of powerful songs that can be tender and emotional or strong and empowering. There is something in her songbook that will fit perfectly for each contestant. This theme week is exactly what Idol needs and for the first time I am throughly excited to see what the contestants pull out. Classic rock is also a welcome addition though, but I think you can tell which theme I am most excited about.
Dalton Rapattoni- Dalton is a cool dude, one who I actually wouldn't mind seeing win, however, unless he switches things up quickly he is playing for third or fourth place. Whenever I hear his name I'm brought back to the screams I heard whenever his name was mentioned back in the studio. People want to love Dalton, but he just isn't giving me that little extra something that makes me feel like he will win. If any week is going to pull out a moment from him though, I think it will be Sia's songbook.
Sia Songs
1- Breathe Me, by Sia. A lot of people want La'Porsha to do this song, but I actually want to hear Dalton do it. I feel like Dalton's version will draw something out of him that we have never seen before. The pinnacle of her work, the lyrics are the most emotional from Sia's most well known songs and can bring anyone to tears, and I feel like Dalton should have no problem connecting to it.
2- Bird Set Free, by Sia. There is a certain intensity in this song that I think is perfect for Dalton. I can see him picking this one.
Classic Rock
1- (I Can't Get No) Satisfaction, by The Rolling Stones. It may be a little predictable, but I would love to hear Dalton's take on this classic.
2- Sgt. Peppers Lonely Hearts Club Band, by The Beatles. This would be a ton of fun!
La'Porsha Renae- La'Porsha is running away with this thing. While at first I didn't think so highly of her, she has now completely won me over. I am finally at a place where I would love to see her winning. While success after the show is another story, with how well she has been playing this idol game, I can't dispute that she doesn't deserve to win. Picking out songs for her is also just such a blast!
Sia Songs
1- Chandelier, by Sia. Sing it as it is and slay my everything.
2- Alive, by Sia. No words needed… This is perfect for her.
Classic Rock
1- Oh! Darling, by The Beatles. Please please please please! If La'Porsha doesn't do this, my second pick would be Trent. This song has moment written all over it.
2- Cry Baby, by Janis Joplin. A solid pick for La'Porsha. She can sing her face off with this one.
 MacKenzie Bourg– Of everyone left, MacKenzie is my personal favorite. I would love to see him win, but with La'Porsha and Trent still here, plus splitting votes with Dalton, I really am worried for him. Hopefully this week will keep him on a strong trajectory towards the finale. I really hope he picks well, because his song choices will make or break him. MacKenzie was the hardest to pick for because Sia's songs are hard to sing.
 Sia Songs
1- You Lost Me, by Christina Aguilera (co-written by Sia). This could be epic. MacKenzie has been criticized for his vocals, but if he can pull this one off he will shut those opinions down.
2- Reaper, by Sia. This is right in his wheelhouse and is something he can pull off.
Classic Rock
1- Wild Horses, by The Rolling Stones. I would love to see this happen.
2- House Of The Rising Run, by The Animals. Yeah, I know it is overdone. Still, I would love to hear Mac's version of this song.
Sonika Vaid– As much as I love Sonika and have been enjoying watching her Idol run, I'm really certain she is doomed. It is such a shame with her though, because when she did Bring Me To Life I had a moment where I saw her making it all the way. Now, I feel she has lost her way. I would love though for her to prove me wrong, and if she does I have some great song ideas here for her.
Sia Songs
1- Titanium, by David Guetta. One word: piano. Slow it down and do a version like Madilyn Paige did on The Voice. With a piano kicker if she survives this week, this just might push her into the top 3.
2- Cannonball, by Lea Michele. This is a song I can see Sonika doing. It has the glory notes and quite a punch, so if she doesn't go with Titanium this is also a solid pick.
Classic Rock
1- Dreams, by Fleetwood Mac. I would love to see this happen.
2- Carry On My Wayward Sun, by Kansas. HEAR ME OUT PEOPLE! I found this epic lullaby flip of this song from this group Supernatural and it is absolutely gorgeous! Sonika would do amazing if she did their version.
Trent Harmon– Next to La'Porsha, Trent is playing for second. This is the final stretch of the game and Trent really needs to do something fast if he wants to win this competition. It is time to pull out the big guns, Trent! Another performance like Counting Stars isn't going to help you win this thing! That all said, Sia week is perfect for Trent, because it will really pull him out of his comfort zone. Either he will deliver a stellar performance, or it will show that he can't adapt and will highlight La'Porsha's superiority. For the sake of a more nail-biting close competition, I'm hoping he does the former.
Sia Songs
1- Let Me Love You (Until You Learn To Love Yourself), by Ne-Yo. The Glee version is what I have in mind with this song. A slow version that will showcase the emotion of this song is exactly what Trent needs.
2- Elastic Heart, by Sia. Sia released a slow version of this song that is just her voice and a piano. It is absolutely gorgeous and a similar version with Trent's voice would be amazing. Seriously though, go look up her slow version.
Classic Rock
1- Oh! Darling, by The Beatles. Someone needs to do this song, and if La'Porsha doesn't, I would love to see Trent give it a try.
2- American Girl, by Tom Petty. Only pick this song if the Sia songbook is going second. While not exactly a moment song, this is still a song that everyone knows and connects with.
So that's what I got guys! My hype at this point is palpable! Let me know what you think in the comments below. I look forward to chatting with all of you this coming Thursday!
American Idol airs on Thursday at 8/7c PM on FOX, this week featuring Sia and Steven Van Zandt mentoring the Top 5 for Sia Songbook and Classic Rock Themes.