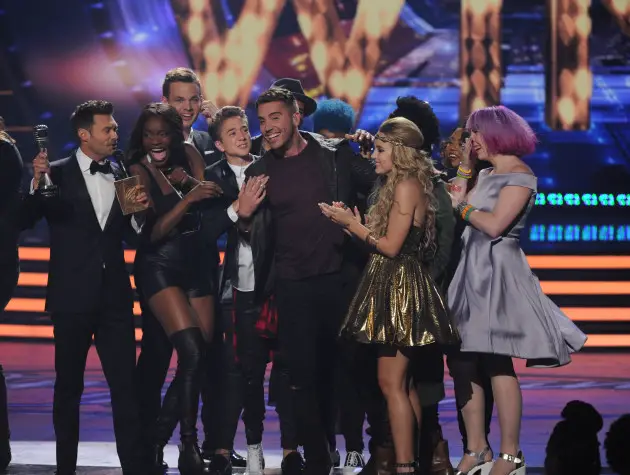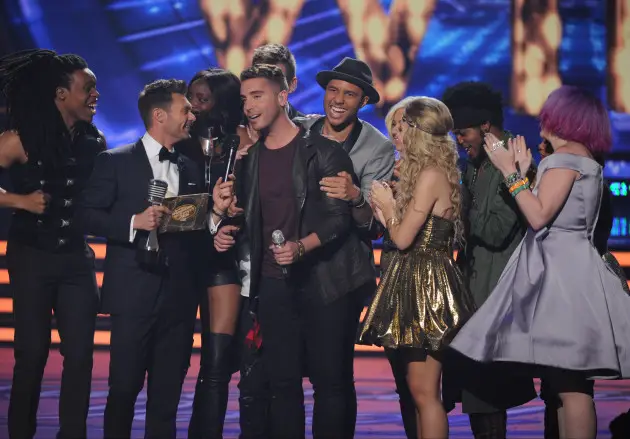 UPDATE: If you're having issues with the blog–videos overlapping the text–it's a known issue with the chrome browser. Use Firefox or Internet Explorer instead.
Tonight, the winner of American Idol 14 2015 is revealed! Will it be Clark Beckham or Nick Fradiani? Before host Ryan Seacrest announces the winner, there will be a slew of performances from special guests and the Top 12. We're live blogging all the fun right here!
American Idol 14 Recap – Final Performance Videos
They share humble beginnings, but only one will have a legacy. Well, I wouldn't be so sure about that? The two sing "Centuries" with acoustic guitars outside of the theater. CUT to the Dolby. Clark and Nick are on stage rocking out with Fall Out Boy. They both are both holding the stage well, although Clark seems a tiny bit out of place. Patrick Stump is so little!
Ryan Seacrest announces…THIS IS AMERICAN IDOL for the penultimate time. The celebration is tinged with a bit of melancholy in after this week's news that next season would be Idol's last. He asks who is here for Clark? Who is here for Nick? Indeterminate cheering. The judges are introduced. Jennifer Lopez looking like she just stepped off the red carpet in a black lacy see-through dress. Nick and Clark take the stage through the back of the theater. They hug the judges. I think it's question and answer time. Nick overslept this morning. Clark was up super early! The Jacksons take the stage with Tyanna Jones to sing a medley of their hits. "I Want You Back" is first. Well, we've only got 3 of the Jacksons. And this is pretty sloppy. I don't think it's Tianna's fault. Those Jacksons have lost a lot over the years. Poor Tito could barely get out a croak. Tyanna's got the moves. Too bad they didn't pair her up with somebody credible. That was embarrassing. CRINGING. First trainwreck of the night!
The girls join Nile Rodgers and Chic. And this does not suck! "We Are Family" is first. GO LADIES YOU ARE AWESOME. "Le Chic" is next. Time to disco! Ooohhhh. Joey Cook is amazing on this! Aw. Nicole Kidman is in the audience. She blew a kiss to hubby Keith Urban. They shift to Nile's new record "I'll Be There." Then "Good Times." The shiny 70's style disco outfits are AWESOME. This is IDOL! Good cheesy fun. "Let's go old school!" says Nile before he starts "Rappers Delight." TOO MUCH AWESOMENESS I LITERALLY CAN'T STAND IT.
Latin heartthrob, Ricky Martin is next with his new single, "Mr. Put It Down." SO MUCH DISCO GOODNESS. Ricky is still hot. The boys come out and it's time for "Livin La Vida Loca." Quentin Alexander and Qaasim Middleton are out front. The boys go out into the crowd to dance with the fans! Next "She Bangs" and there's no William Hung in site. This is sort of a weird arrangement. But it's cool. And now "The Cup of Life." Ricky breaks out the espanol. So much goodness for my VELVEETA LOVING SOUL. I am happy. Apparently, this number was taped earlier.
Janelle Monae is next with "Yoga." Do that Yoga baby. Adanna Duru joins her on stage. Why didn't Tyanna snag this collab? Really? Maybe they figured she was too young for the double entendres. Yeah. This would not have been appropriate for a minor. Somebody would have been arrested afterward. Adanna barely made a dent in that, though.
Prince Royce performs his new "crossover single" "Back it Up." Jennifer Lopez and Pitbull will join him on stage. Pretty sure this was taped earlier. Well yes. Jlo and quick change costumes wouldn't be happening, for one thing. Oy Pitbull is the thing that will never go away. Cut to Ryan. Let's pretend it's live! So far this finale is pretty entertaining.
Oooh. Joey Cook is performing with Echosmith! They sing the hit "Cool Kids." CRYING THAT I WON'T SEE JOEY ON TOUR. Ugh. Sound issues in the studio. Still. Joey is perfect. A great match up. Love her swingy lavender dress.
Now it's time to pimp the auditions. One last time. Ryan mentions that the Idol family will be sticking together for the "farewell" season. Sniff. Harry Connick Jr. has no idea who will win! Keith Urban thinks Nick by a smidge. Jlo says Clark. So even handed. By design I'm sure. Next, a video package touching upon the best and funniest judges' moments of the season. Look at those judges being all spontaneous and funny! Or not Mr. 18 number one hits, Keith Urban, is next with "Even the Stars Fall For You." Obviously pretaped. Nicole in the audience watching her hubby rocking out! Can you imagine Nick Fradiani singing a song like this? It could happen. Country is the new rock ya'll. No wonder Steven Tyler is going there.
Aw. A good luck message from Kelly Clarkson!
Jamie Foxx is next singing "In Love By Now" at the piano. Oh. He's duetting with Rayvon Owen! So pretty. This song is tailor made for the balladeer of season 14. They sound really good together. Beautiful.
Clark and Nick are back on stage. Ryan asks if they are nervous. Clark trusts the Lord. It's in his hands. Nick says they both really want it. They both really deserve it. Nick gives the hardworking crew kudos. Ryan agrees, They are the most incredible team in Hollywood, he says. Next is a video package. Nick and Clark give cars away to their mentors. Nick's is his lead guitar player in Beach Avenue. Clark's is his church pastor. They were invited to the finale, and here they are. CARS FOR BOTH OF YOU. YAY. Nick and Clark try to read the script in unison and it's a big fail. Still really cute, though. Of course, Nick and Clark get cars too! OMG. Daniel Seavey meets New Kids in the Block to learn some dance steps. They are all at least as old as his dad. NOT A BOY BAND ANYMORE. "Newest kid" they call him. Ah ha ha ha. They perform together. "Please Don't Go," "Step By Step." So are those skirts or whatever they're wearing wrapped around their waists a thing? "The Right Stuff" is next. OMG. This is a MESS but a HILARIOUS one.
Scotty McCreery wishing the Top 2 good luck!
Quentin Alexander and Vance Joy are next with "Riptide." Also not seeing Quentin in concert pains my heart. He sounds wonderful here. This is an interesting match up. A really GREAT match up. There was some great talent in this cast. Quentin Alexander exhibit a.
Scott Borchetta is on stage talking about the pre-order. He insists that he'll be proud to take either of the finalists back to Nashville. They will perform at the CMA music festival and will present at the awards. Recording the album will commence immediately. Pitbull, Chris Brown and Qaasim Middleton hit the stage to sing "Fun." I could say so much here. But I will refrain. coughdontwanttroublecough. I will say BOO CHRIS BROWN GO AWAY. And PITBULL AGAIN REALLY.
Chris Daughtry is next, wishing the kids good luck!
Here comes former Idol judge, Steven Tyler singing his new country song "Love is Your Name." OK. This is actually a pretty good tune. It's got a folk alt/country vibe, which I dig. Jlo, rocking out majorly at her seat. Some pitchy stuff, though. Jax is off stage looking a little nervous. She joins him for "Piece of My Heart." All hell breaks loose as they head for the judges table, laying on top head to head with their mics. "Only Steven can turn the table into a mosh pit," says Ryan. Oh. Jax goes off script. She interrupts Ryan to say she didn't get much closure last night, and wanted to thank the judges for everything. Oh.
Before we cut to commercial, a shot of the final two with their duet partners. Clark will be singing with the white haired Michael McDonald, while Nick is set to sing with the youthful Andy Grammer. There you go. Ryan is out in the audience interviewing Clark's family, before he introduces him and Michael McDonald. They sing the classic "Taking it to the Streets" at duel pianos. I will readily admit that I love this song. I am not ashamed! Clark looks like he's having a ball!
Now, it's a video package celebrating the entire season.
Ryan chats with Nick's family. His dad is so excited that the whole world knows how talented his son is. Nick and Andy Grammer sing "Back Home." They join forces on Andy's song "Honey I'm Good."
Now, the judges, Jennifer Lopez, Keith Urban and Harry Connick Jr. perform together. Jlo sings Rihanna's "Diamonds." Keith is on guitar, Harry on piano. SHINE BRIGHT LIKE A DIAMOND. Keith sings lead on "Locked out of Heaven." Jlo does the HUHS. They harmonize on "Your sex takes me to paradise…" The Top 12 are rocking out in the audience! Jlo has some serious hairography going on. HOT GUITAR LICKS FROM KEITH as wife Nicole Kidman looks on adoringly.
IT'S TIME. I'm so NERVOUS. The guys exchange niceties. Telescope drops off the envelope.
NICK FRADIANI WINS! I WAS WRONG YAY!
Nick sings his coronation single, "Beautiful Life," and he can't get through it. The confetti flies! He heads to the audience to embrace his family. I LIVE FOR WINNING IDOL MOMENTS! Congratulations Nick. I hope you and Scott go on to make some beautiful music together.
A really entertaining finale. Bittersweet with the end of Idol in sight. But there were moments when I felt my old Idol back. I do. I love this cheesy show. We'll do it again, one last time, in 2016.