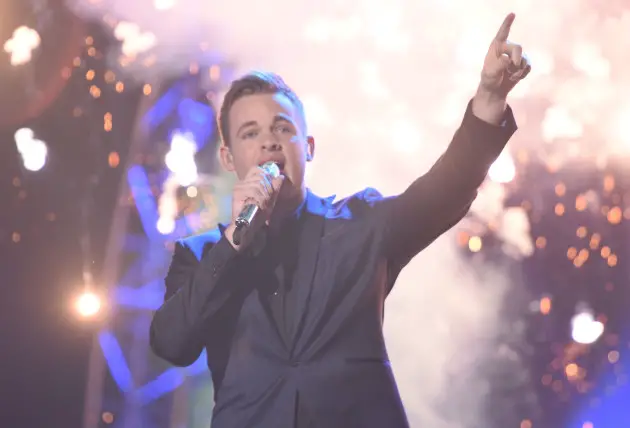 And now…the end is near…and Idol faces…the final curtain.  Well, that's really a song for next year, when Idol ends its 15 season run. But it IS the end of THIS year, and my very last Season 14 prediction. Let's see if I can nail this one! To be honest, I hope, that when the confetti flies after tonight's season finale (8/7c pm FOX), I'm wrong.
iTunes Rankings
Finally, some numbers worth noting. Nick Fradiani, who clearly has the better song, out ranks Clark Beckham. But remember that last year, Jena Irene sold more iTunes downloads than Caleb Johnson…  The winner's single will become the theme song for the Women's Soccer World Cup airing on FOX later this year.
27. Nick Fradiani – Beautiful Life
38. Clark Beckham – Champion
American Idol 14 – Top 4 – Favorite Performance
Your favorite performance was Nick's coronation single, "Beautiful Life." Clark's "Champion" was dead last! But his "Georgia on my Mind" got a healthy 30%
Nick Fradiani – Beautiful Life 39.36%
Clark Beckham – Georgia On My Mind 30.08%
Clark Beckham – Ain't No Sunshine 12.87%
Nick Fradiani – I Won't Give Up 7.38%
Nick Fradiani – Bright Lights 6.03%
Clark Beckham – Champion 4.27%
American Idol 14 – Final 2 – Who SHOULD win American Idol?
Slightly more of you say Nick Fradiani.
Nick Fradiani 53.15%
Clark Beckham 46.85%
American Idol 14 – Final 2 – Who WILL win American Idol?
Who Will win is nearly dead even, with Clark having the slight edge. Wow. I don't think I've ever seen a Top 2 so close before. Ever.
Clark Beckham 50.45%
Nick Fradiani 49.55%
Which Was the Best Coronation Song?
Overwhelmingly for Nick.
Nick Fradiani's Beautiful Life 79.74%
Clark Beckham's Champion 20.26%
Prediction: If not for Jax's cold, abrupt elimination at the top of the show, I'd say this season's final performance was one of the best in a few years. By now, the finalists are typically exhausted and have their personal bests behind them. Like I said last night, I give both Clark and Nick a ton of credit for playing this game to win. They both had great performance moments.  But, I voted for Nick. He's got the best chance for a career beyond American Idol, and a rapport with Scott Borchetta that appears to be absent with Clark. If the latter wins, it will be interesting to see if Scott stays true to his promise to promote and nurture the champion's career.
Nick has had amazing momentum these past few weeks. He's been consistent all season. Even if he never delivered a truly water-cooler worthy moment–he's had competent to very good performances. He put heart and soul into all of his moments on the stage last night. I appreciate his confidence. He played a good, hard game. However, I think favorites are settled before the finale. Despite Clark's seemingly fading star, I think the fans he's amassed have stuck by him. I'm going to base my prediction on historical outcomes. The south has always prevailed on Idol. Throw in some religiosity, and a contestant is golden. I am predicting that Clark Beckham will win American Idol. And I really really hope I'm wrong.
ETA: Yes, this one was hard to call, so I'm giving the edge to the southerner and early frontrunner.