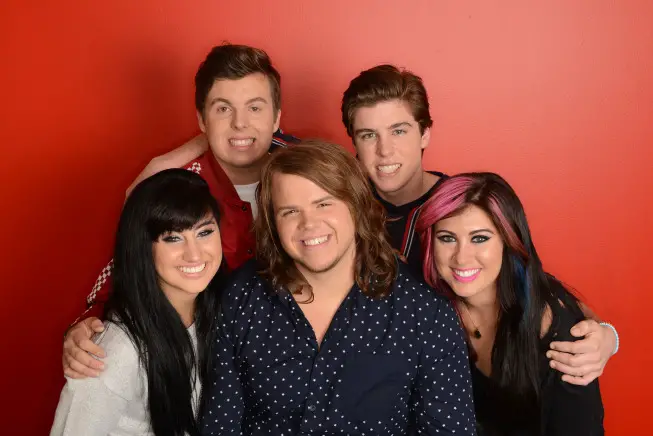 American Idol 13 Studio Recordings Top 5
What the heck were the Idol producers thinking when they had Caleb Johnson release "I Don't Want to Miss a Thing" rather than "Still of the Night"? I'll say it again: It really bugs me that Idol isn't releasing every solo performance as an iTunes Studio Recording. It looks so cheap–particularly against the other singing shows that had iTunes downloads available all through the season.
iTunes picked the correct performances for the other contestants. Although, I wouldn't have been mad if "Human" had been released for Jessica.
Best of this week: Jena, Alex and Jessica–pretty much in that order.
Caleb Johnson – I Don't Want to Miss a Thing by Aerosmith –  I hate this song so much, there isn't much to say beyond that. The recording is orchestrated with a bunch of syrupy strings.  It's the kind of thing you'd hear at the CVS while shopping, or the inoffensive radio station that's played at work.  Caleb brings zero emotion or tenderness to his rendition. He's not a ballad guy. –  Download from iTunes 
Jena Irene – My Body by Young the Giant – No kidding. One of my favorite studio recordings EVER. It's current, fresh and fun–the kind of song I can imagine Jena releasing to radio if she gets the chance. She sounds FANTASTIC and the arrangement is surprisingly great, with chiming power pop guitars. Me likey very very much –  Download from iTunes 
Jessica Meuse – Summertime Sadness by Lana Del Rey – Jessica gets to show off her rich lower range in this song. Haunting melancholy is right in her wheelhouse. I wish the production was stripped down a bit, and her vocal mixed up more. But I love her vocal here. I'm not even a big fan of the original, but I like this. –  Download from iTunes 
Alex Preston – Say Something by A Great Big World – The live performance of "Say Something" was so raw and emotional, it will always be my favorite.  But the studio recording is phrased so exquisitely, there really is nothing to complain about.  Much more than a cover, he turns the song into a very personal statement. Gorgeous.   Download from iTunes
Sam Woolf – How to Save a Life by The Fray – I'm not a big fan of the original song. It's kind of PSA preachy.  You'd never know the song was about losing a friend to suicide going by Sam's pleasant, laconic vocal interpretation.  This song is supposed to tug at the heart strings. –  Download from iTunes