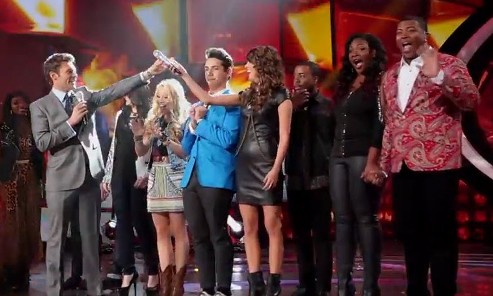 Is this clip featuring American Idol alums handing off the Idol Mic to Ryan Seacrest the clip was supposed to air this week on the show?
American Idol uploaded the video to the show's official You Tube channel today. Perhaps it was always meant to be web only?  If so, that's kind of a waste, don't you think?
The general public was barely aware of the "Idol Mic's" Olympic-style journey across the US these past two weeks. The attempt at a feel-good promotion included local personalities and Idol alums who passed the mic along to its final destination in Los Angeles.
Watch as alums, Brooke White (S7), Pia Toscano (S10), Didi Benami (S9), Diana Degarmo (S3), Ace Young (S5) and Michael Johns (S7) hand the mic off to Ryan Seacrest on the Idol stage. The Top 10 get in on the fun, too.