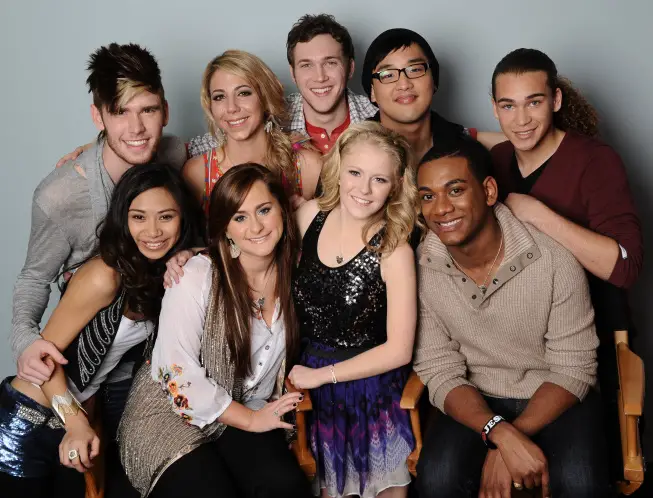 The American Idol 11 Top 9 take on the songs of their Idols!  The legendary Stevie Nicks will be  assisting Jimmy Iovine with the mentoring!
Download Studio Performances From Tonight's American Idol
I'll be live blogging all the action at Entertainment Weekly. Join me there, will you? After, I'll be back with a recap. Watch this space for photos and videos.
Entertainment Weekly Live Blog
You know what? I really miss the cold openings. The Idols lined up on stage like so many little frightened ducklings about to be picked off. Ryan Seacrest pacing the length of the stage, rattling off the scripted bit for that week before turning to the camera to say…THIS IS AMERICAN IDOL!  Now we've got syrupy video packages opening the show that mostly make no sense.  This week, "Landside" a classic from the legendary Stevie Nicks–who happens to be tonight's mentor–plays as the Idols talk about their dreams and love for music. But did you know your dream came with a price! Getting kicked off American Idol!  That's pretty much everyone except the winner, no?
Nostalgia aside–tonight the Top 9 Idols sang songs from their OWN Idols.  And for the most part, it was a pretty entertaining night of music. A broader theme allowed the finalists to choose songs they felt comfortable with, and that made all the difference between an uncomfortable night of music (Billy Joel) and some stellar performances. No more stupid narrow themes, Nigel!
Also, the 9 were split into 3 trios. They didn't always hit the mark, but were entertaining nonetheless. If FOX is going to force 2 hour shows on us, FILL THEM WITH MUSIC! Thank you.
Stevie Nicks and Jimmy Iovine go way back, He produced a couple of her albums and the two even dated for awhile—which was obvious in the way they gently kidded each other. It was kind of adorable the way Jimmy pouted while Stevie stanned over Phillip. Even more adorable when Stevie assured the big bad mentor that he was cute too.  Stevie is an icon and a gem and had some good advice for the Idols. What a breath of fresh air compared to Diddy's  nonsensical rantings last week.
Tommy Hilfiger is back. Chastised as he basically told the Idols to wear whatever the hell they wanted, making sure Phil had all the gray shirts he needed.  Lamely, Tommy predicted the finalists' styles would be "outrageous" by the finale.  Don't count on it Tommy.  Might as well just bide your time until that contract runs out.
My favorite performance tonight was from QUEEN ELISE TESTONE.  Yes, I will be referring to Elise as QUEEN for the duration of this recap.  She nailed, killed, ripped, stomped on and obliterated "Whole Lotta Love". That girl has more than a set of pipes. She has charisma, style, unbelievable instincts, and incredible musicality. In MJ'S World, she'd win the whole contest But I know that's not gonna happen. I just hope she makes it as far as she can.  Also notable: P2 picked the perfect song.  Still not a giant fan, but his performance didn't make me want to punch people.  If Elise can't win, I hope Jessica Sanchez takes it all.  There's no denying that girl can sing. I wish she'd performed an upbeat song, but it's hard to complain when she changed it up and totally made that song her bitch. Really.    The best trio was easily Elise, Colton and Phil singing a Stevie Nicks/Fleetwood Mac medley.
There were 5 standing ovations from the judges tonight. Maybe that was a bit much.
Here we go with a performance by performance recap.
Colton Dixon – "Everything" by Lifehouse – Colton went "full throttle Jesus" tonight, singing a worship song and holding nothing back—even getting down on his knees at the climatic part of the song. It's going to be interesting to see how this shakes out. While his unvarnished religiosity may turn off some, it's likely earning him a huge Christian fan base.  The song is one of those CCM lite rock songs with a big swelling chorus.  Colton doesn't have a strong voice and the band nearly drowns him out in parts.  I personally don't see anything special there, but he is sincere and I give him props for not being afraid to let his Jesus flag fly, even if it costs him the competition. But, there's method to his madness. I think Colton is presenting himself as the artist he wants to be—hoping a Christian label will snap him up once the competition is over. Stevie mistakenly assumed Colton's "Yay Jesus" song was about a girl. Oh you!  Steven called Colton "A perfect dream for an Idol judge…you sing a song like it should be sung..You make it bleed..You have perfect pitch…star quality." Er. I'd quibble with that perfect pitch part. Jlo was really moved. "You sang it beautifully, with so much emotion but still composure and control." Randy says he's been a fan since last season. "I believe you in every song you choose…I could see you doing Mute Math and Switchfoot. I feel your heart and I feel your passion….you lay it all out." And this: "I think I could be looking at a contender for the title." –   1-866-436-5701

Colton Dixon, Top 9 Compete ~ American Idol 2012 by HumanSlinky
Skylar Laine – "Gunpowder and Lead" by Miranda Lambert – Miranda is truly Skylar's Idol.  Stevie sang harmonies with Skylar and reminded her that she was telling a great story. Stevie says she's going to have to be totally in her game to pull it off. Luckily, the spunky Skylar is pretty much on her game. She's personality plus with a big ole pile of sass and a big ole voice to match.  What you see is what you get with Skyler. She's one of the few teens who know exactly who she is. I'll be shocked if UMG doesn't sign her. Wasn't loving that flowy shirt she wore tonight, however. Jlo calls her energy "unbridled". "That was over the top," says Steven.  "I loved it. You're a great performer and you show you have that range," says Randy, "I like what you bring to this."  1-866-436-5702

Skylar Laine, Top 9 Compete ~ American Idol 2012 by HumanSlinky
Colton, Elise and Phillip sing a Stevie Nicks medley including "Landslide" (Colton),  "Edge of 17" (Elise) and "Don't Stop Thinking About Tomorrow" (Phillip) – "Landslide" was really pretty, especially when all 3 harmonized together. Queen Elise totally rocked the crap out of "Edge of 17" Phillip without his guitar is a big growly mess on "Don't Stop Thinking About Tomorrow." NOT the right song for him. But overall, it's a solid performance from all three. Steven Tyler dropped Mick Fleetwood's name (they were just hanging out together!) before telling the trio that they nailed it.

Colton, Phillip & Elise, Top 9 Compete ~… by HumanSlinky
Heejun Han – "A Song For You" by Donnie Hathaway – After Jimmy and Steven called Heejun on not taking the competition seriously.  Jimmy says Heejun came into rehearsal with a "spanking new attitude" and it was nothing but praise from Jimmy and Stevie. But the performance has its usual flaws—pitch problems, lack of breath control, garbled diction. Heejun has got some raw material to work with—a lovely gravelly tone. Plus, he sings with a ton of emotion–both pluses on for Heejun. But the entire group blew smoke up his ass this week. Stevie and Jimmy even indulged in some arm-chair psychology "Heejun is so sensitive…I think he was just putting up a front."  NO. He was giving his fans what HE thought THEY wanted! Only Randy would say that the performance "wasn't perfect". To say the least! A standing O? Really? Heejun could use some major constructive criticism, but the judges may not care for him enough. The judges spin the tale like they picked him for his buttery tone. Nope. It's because he's cute and lovable–like the adorable way he rattles off his numbers tonight. He is comic relief. As such, it's time for him to go. –  1-866-436-5703

Heejun Han, Top 9 Compete ~ American Idol 2012 by HumanSlinky
Oh lookie. It's Jordin Sparks in the audience cheering on her boo, Jason Derulo, who is writing a song for this year's Coke challenge.  Check out his blinged out neck brace! The song is called "undefeated" and you can help him finish it. He'll sing it on the season finale.  More details at americanidol.com.
Hollie Cavanagh – "Jesus Take the Wheel" by Carrie Underwood – Hollie loves Carrie. Stevie confides that her mom died two months ago and she doesn't have any problems other than her mother passing. That's the kind of emotion she wants out of Hollie. Unfortunately and frustratingly, Hollie is still singing like she's at a karaoke bar.  The danger of taking on such a huge hit from a beloved Idol is that the comparisons are inevitable. You better be prepared to put your own stamp on it if you want to make an impression. Unfortunately, this performance was totally Carrie Lite. Hollie really has something going on—a beautiful tone and she has moments where you can hear her potential to be a unique artist. But she's just not there yet. Maybe she's too young.  The judges give her mixed critiques. Randy thought she did a really good job, but it was pitchy in her lower range.  Jlo disagrees. She thinks it was one of her best–she felt it emotionally. Steven felt it, but wished she had picked another song, "Just OK for me too."  1-866-43 6-5704

Hollie Cavanagh, Top 9 Compete ~ American Idol… by HumanSlinky
After the break, Ryan is onstage with a leaf blower the staff used to clean up Hollie's fake snow (yes…she had fake snow falling)
DeAndre Brackensick – "Sometimes I Cry' by Eric Benet – Stevie tells DeAndre to slow the song down. He's back to singing pure falsetto, and I don't think he realizes how difficult it is and that he doesn't exactly, uhm, nail it every time. The song is better slowed down. DeAndre is still learning how to connect. Jimmy says he's one of the guys who are "still in jeopardy". This is a decent performance. He tackles songs that are too big for him. He's NOT Eric Benet or Maxwell.  For a singer to attempt falsetto, you better be KILLER.  DeAndre is improving, but he's not all the way there yet.  He's still pitchy in spots and weak in others. I prefer him switching between his falsetto and chest voice, but DeAndre's heart is set on the falsetto thing.  The judges give him a standing O.  Steven compares him to Prince, "100 percent passion."  I'm sorry, Steven. But that's just crazy. Jlo begs viewers to pick up their phones and vote for DeAndre. "Guess who else is back in the house," says Randy.  1-866-43 6-5705

DeAndre Brackensick, Top 9 Compete ~ American… by HumanSlinky
Jessica Sanchez – Sweet Dreams by Beyonce – Stevie thinks it's brilliant that Jessica slowed the song down. Michael Orland tweeted that he arranged the song.  There's also a set with doors she walks dramatically through, like a surreal dream. Jessica did what Hollie should have done–or have somebody do for her—rearrange the song so there would be no comparisons to the original.  There's no doubt whatsoever that Jessica can sing. There's nothing much to say about her performance. She's pretty perfect. The judges compliment her for holding back. I guess only Erika gets the "you need to give us more" critique.  Randy calls her a born star and declares "she's in it to win it".    1-866-43 6-5706

Jessica Sanchez, Top 9 Compete ~ American Idol… by HumanSlinky
Wait…Jessica has her own Sasha Fierce-like alter ego called "BeBe Chez" or something like that. Will her first album be called "I am BeBe Chez"?
Deandre, Heejun and Joshua – Michael Jackson medley – "Lady in my Life", "Rock With You", "PYT" – Ha ha ha. Heejun's dancing is tragic. When the other two go one way, he's going another.  Joshua does a little moonwalking—he shines vocally in this trio but that's no surprise.  That was kind of a hot mess, but hilarious. Jlo calls out the bad dancing.  Ryan calls them "3 Direction"

Heejun, DeAndre & Joshua, Top 9 Compete ~… by HumanSlinky
Phil Phillips –  Still Rainin' by Jonny Lang – Stevie thinks Phil is going to be very famous, because he has a certain magic. She goes so far as to say Mick Fleetwood would have asked him to be in Fleetwood Mac in 1975. Stevie sings harmony with Phil. Maybe because she thinks he's gorgeous.  It was refreshing to hear Phillip sing something the way it's supposed to be sung, rather than twisting some pop or R&B tune to fit his style. That shizz was getting old. In his element, he was quite good, but not the musical God he's being cast as by Jimmy and the judges. C'mon. Another standing ovation? "This is too much!" says Jlo. "You make everything go away when you sing."  Steven says, "Every song you sing you own…I still think there's someone in there trying to climb out." Ooook.  Randy drops Jonny's name. "He's a friend." Randy loves his individuality. –  1-866-436-5707

Phillip Phillips, Top 9 Compete ~ American Idol… by HumanSlinky
Wait. What? That gray-haired old guy sitting next to Jordin Sparks and Jason Derulo in the audience is Dionne Warwick?
Joshua Ledet – Without You by Mariah Carey – Jimmy makes a point of namechecking Harry Nilsson who covered the Badfinger song back in the 70s. Yeah. When I think of "Without You" my mind does not go automatically to Mariah Carey.  Stevie gives Joshua some pointers so he can breathe better. "It needs to look effortless," she says. Joshua hits all the big notes, but for some reason, I'm just not feeling this. Even when he breaks down into sobs at the end. Maybe I was distracted by the oversinging and too-wide vibrato. The breakdown was so over the top, I couldn't connect to it.  The judges are back up on their feet again. Randy–name dropping Mariah.  Take a drink every time Randy name drops, Yo. He thinks Mariah would be proud. "Flawless…emotional," says Randy. Steven loved that he broke down. "Thanks for pouring your heart out." Jlo says, "You are a phenom. That voice is a godsend."  Joshua alludes to trouble in his life causing his breakdown.  1-866-436-5708

Joshua Ledet, Top 9 Compete ~ American Idol 2012 by HumanSlinky
Hollie,  Skyler and Jessica – Madonna Medley – "Like a Prayer", "Borderline",  "Express Yourself"  – That was a little sloppy but, as Randy said, "Very fun."  Interscope artist,, Madonna just released a new album. Coincidence? I think not.

Hollie, Skylar & Jessica, Top 9 Compete ~… by HumanSlinky
Elise Testone – "Whole Lotta Love" by Led Zepplin – Stevie tells Elise not to change a thing. "Robert Plant would be very proud." Jimmy compares Elise's spirit to Stevie's when she first started. The two sing a bit of "Dreams" together. Stevie feels Elise is a kindred spirit. "If I needed a singer, I'd hire her in a second," says Stevie. All I can say about the performance is HOLY SH*T.  Elise knocked the stuffings out of that song, and it seemed so effortless. Elise's style is organic and so natural that you barely notice how flawlessly she navigates some pretty tricky singing.  She floats and growls and scats easily around high notes.  She's also damn sexy. She's not a dark horse. She's THE horse. She's safe from the bottom 3 for this week. "You made Robert Plant proud girl," says Steven. "That was crazy," says Jlo. "That's the hardest song in the world to sing. You did an amazing job," says Randy.  Ha ah. Elise and Steven are wearing the same pants.  1-866-436-5709

Elise Testone, Top 9 Compete ~ American Idol 2012 by HumanSlinky
The judges refuse to name check anyone tonight, either good or bad, because everyone was so good.