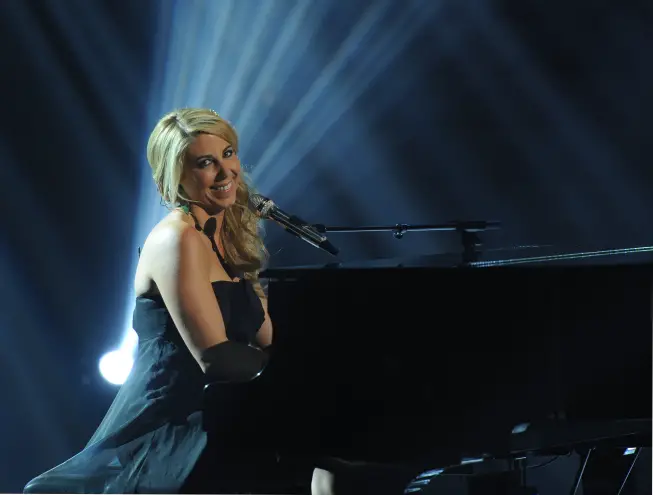 The Top 12 girls perform tonight for your votes and a spot in the Top 13! Read the spoilers here.  After the show, go to AmericanIdol.com to vote for your favorites, or call the numbers posted with the recap.
I'll be hosting a live blog at Entertainment Weekly. Do come and join us.
Entertainment Weekly Live Blog
Watch this space for a recap, videos and photos.
Oh Yeah. The girls totally pwnd the boys tonight.  The standouts for me were Elise Testone, Skyler Laine and Jessica Sanchez.  Do we dare imagine a girl could win Idol this year?
I had a real WTF moment when the judges began to actually critique the contestants tonight. We bitched about the judges non-judging for weeks last year, but nothing changed. Could Idols's diminished ratings have Nigel finally willing to listen to the critics pleas?  In a super-scripted moment, Randy admitted that after watching the boys back on TV last night, the panel had been too soft.  OH PLEASE YOU WERE TOO SOFT ON EVERYONE LAST YEAR.
I don't care how it happened, I just hope the judges keep it up. They were infinitely more interesting tonight. Randy even went so far as to channel Simon when he told Haley Johnsen that her "Sweet Dreams" was like more of a nightmare.  The judges don't necessarily have to go that far. But if they are honest with the contestants, it will not only help them, but give them something to strive for–the panel's approval.
Oh. And even the new, honest Randy continues to be ridiculous.
Drinking games: Take a shot ever time someone mentions Adele.   Speaking of which—Adele songs need to be banned like right now. Enough is enough.  Allowing two girls to sing the same song was unfortunate–not only did one show up the other pretty badly, but c'mon…the same song twice in one night? Really?
Tomorrow, look for my power list, and I want to hear yours!
At the top of the show, Ryan Seacrest reminds us that Idol is the only show that can take a high school student and turn him into a STAR. That would be, of course, Idol winner Scotty McCreery, who WILL appear on Idol in the coming weeks, despite what you may have read elsewhere!
Ryan reminds us that the Top 5 female vote getters will go straight to the Top 13 (as will the top 5 guys) The judges will each pick a wild card, and that's ALL GOING DOWN tomorrow night on a SUPERSIZED IDOL  OMG 6 hours of Idol this week, people I cannot take it.
Again, the contestants get to pick their own song and their video package is made up of footage they took themselves on a trip home.
Chelsea Sorrell – "Cowboy Casanova" by Carrie Underwood – Chelsea is a solid singer, but she comes off karaoke, which can be  a big problem for contestants who cover contemporary songs in the genre they sing.   Chelsea's version was decent, but through her entire performance I'm  thinking "Carrie's version is so much better."  Being the first to perform makes her totally forgettable. Randy says, "You definitely can sing." But what's that? Is he actually critiquing her?  He questions her song choice, because the "Carrie thing" is something she's done before. "You have to separate yourself out." Why yes. It is an actually critique!  Jennifer calls her nasally. Where were these critiques with the guys last night? Steven tells her to watch her phrasing and timing –  1-866-436-5701
Erika Van Pelt – "What About Love" by Heart – Now, THIS is how you sing a song and NOT sound karaoke. I've been in love with Erika's throaty alto since her audition.  She's got a great sound, great phrasing and she sings with confidence.  She's cut back on the runs in this song, and it's perfect.  Jennifer thought she was holding back, but I disagree. You don't need a song full of vocal gymnastics to give a compelling passionate performance. I hope the viewers vote for her. Steven says her confidence "breaths wings" into her performance.  Jennifer tells her to "let loose on us."  Randy says she  shows confidence with restraint, but then stupidly compares her to Adele.  He's never heard of a singing DJ. Oh, Randy.  1-866-436-5702
Jen Hirsh – "One and Only" by Adele – I liked most of Jen's Hollywood performances, but I'm not feeling this at all. She was underpitch through much of it and was straining on the high notes.  But I could have forgiven some pitchiness if she made me feel something when she sang. Jen was going through the motions, but I just didn't get it.  Jennifer says she's the first person to come out and let loose a little bit (except…Erika was way better). Steven said she had a little trouble with "the last little bitty thing", but he liked it.  Randy appreciates her "swag." Randy thinks she's one of the best singers in the competition. –  1-866-436-5703
SO. Here's where Randy Jackson backpedaled on last night's horrible judging. "I went home and I watched the show last night. It was our first live night," said Randy, "We were a little lenient, a little soft on some of the boys last night. "  Jennifer blamed it on the excitement of the first night.
No. It was business as usual for the judges. That's how they judged in the last weeks of last season. I think Nigel, finally taking to heart the complaints about the lousy judging,  told the panel to amp up the critiques. It's just too bad the boys got off easy last night.
Brielle Von Hugel "Sitting on the Dock of The Bay" by Otis Redding – Wow. That was….interesting. First, Brielle doesn't have the emotional chops to sing Otis. Her performance was mannered and silly–like a little girl dressed up in her momma's clothes singing into a pretend microphone. She hit a few clunkers in there too, and her phrasing is just really really weird. Imagine my shock when the judges gave her a big ole giant tongue bath. Steven tells her she's got a great sense of the  blues.  Jlo calls her a "true performer" and "amazing".  Randy compares her to Janis Joplin. Uhm. NO.  I think America will see through that. They also haven't forgotten her Hollywood bitch edit, so I don't expect her to advance. –  1-866-436-5704
Hallie Day – "Feeling Good" by Nina Simone – Thanks to Jennifer Hudson's ubiquitous Weight Watchers ads, this song is pretty played out, so I was surprised by my NOT hating on Hallie's version. She's got a powerful voice and manged to put a fresh spin on the tune.  I'd really like to hear her tackle something contemporary, but I still found it weird when Randy suddenly began picking on her.  "What kind of artist do  you want to be…where do you see yourself." Really Randy?  All she wants to do is sing soul. Randy inexplicably name checks Lana Del Ray while he's at it. Seriously, he throws bullshit like a monkey flinging his own poop. Silly. "You look like a star," says Jennifer.  Steven likes her old-timey voice. He name checks Adele. Stop!  1-866-436-5705
Skyler Laine – "Stay With Me" by Faces – Isn't young Skyler the smart one–NOT singing a country song. Instead, she picks a bluesy ballsy rock song from Rod Stewart. That's how you avoid being called karaoke in a competition.  Skyler has a ton of spunk and the Reba growl down pat. Even if another one of the country girls makes it through to the Top 13, she can claim her own niche–the country girl who rocks. Again. Very very smart.  Randy calls her the "rocking country girl" and a mixture of Reba, Kelly Clarkson and Tina Turner. Hm.  Randy can't resist name dropping–he recorded the tune a couple years ago with Travis Tritt. Jennifer says Skyler is a "natural born performer." "You're a pistol," says Steven.  1-866-436-5706
Baylie Brown – "Amaze" by Lonestar – Whoa. I called Baylie as a shoe-in for the Top 13, but unfortunately she totally choked in front of a live audience. It was like she was singing in slow motion. Even the key change was boring.  She was also super off-pitch. I was not expecting her to tank like that. Steven tells her he doesn't think it was the best song she could have picked for tonight. YA THINK? "I've heard you sing better."  Jennifer didn't think she had control through the song. Randy agreed. The judges kept telling her she looked great. Code for "you sucked."  Baylie admits she was really nervous. "I don't think I did too awful for it." Hm. Baylie. It was as bad as your grammar right there.  1-866-436-5707
Hollie Cavanagh – "Reflection" by Christina Aguilera –  Hollie has a big, powerful old fashioned voice. But I'm getting shades of Pia Toscano here, who was impressive initially, but didn't really move past those big belty ballads.  I could see Hollie possibly moving to the Top 13, but she won't last long if she doesn't show some versatility.  She was a little flat on some of her notes and didn't quite hit the high note.  I think she should have sat out another year or two before she came back to Idol because her vocal also lacks a certain emotional resonance maturity would bring. Steven thought it was perfect. Jennifer thinks she could win it.  Randy making "doo doo" jokes.   Randy thought she needed to let loose a little bit –  1-866-436-5708
Haley Johnsen – "Sweet Dreams" by Eurythmics – When I saw this song spoiler earlier today, I thought it would either be a stroke of genius or a hot mess. Unfortunately for Haley, it was the latter.  It started off interestingly in her lower register, but then it quickly went off the rails.  She needed to keep it simple, but intense. Instead, she threw in mess of off key runs and riffs. It's too bad, because I sense some originality in there, but we'll never know, because she's definitely going home tomorrow.  Jennifer says she has great skills, but the song wasn't a good choice.  Steven said she pulled it through even if it wasn't perfect. Randy channeled Simon. "How do I say this? It was a bit of a nightmare instead of a dream." OUCH. "This song was a little trainwrecky for me today." 1-866-436-5709
Shannon Magrane – "Go Light Your World" by Kathy Troccoli –  Shannon sounds like Debby Boone circa 1977 and that's not a good thing. I wonder how many times she's sung this song at weddings, school recitals and the like.  This performance is really really boring.  Shannon's got the raw materials, but none of the personality, star quality or emotional depth to pull it off.  Inexplicably, the judges praise her. "You've got so much promise," says Randy. "I'm so impressed."  He's comparing her to Lauren Hill? Randy is nuts. Jennifer says she got her first "goosies" of the night. WTF? "My reality check bounced," says Steven, "You took it upstairs and it went beautiful.  My reality check bounced too–was I listening to the same performance as the judges? –  1-866-436-5710
Jessica Sanchez – "Love You I Do" (Dreamgirls) by Jennifer Hudson – We see footage of Jessica crying earlier in the week when her voice gave out.  But when she hit the stage, you'd never know it.  She channels Jhud just a bit, but puts enough of a spin on the song to make it her own. Her style is very mature and assured, like a kid who has been singing all her sixteen years–which is exactly what she is. Chick is sailing right into the Top 13.  Major standing O from the audience and the judges.  "That girl can really sing…one of the best of the last two nights," says Randy.  "So beyond your years," says Jennifer. "You've got exceptional timing," says Steven. Randy compares her to Beyonce. At least it wasn't Adele. – 1-866-436-5711
Elise Testone – "One and Only" by Adele – Elise sang the same song as Jen Hirsh. The difference is that I really heard and felt the words as  Elise sang. She began playing at the piano, but eventually got up–the better to lay it all out on the stage for us. I love pretty much every thing about this girl–her tone, her phrasing, her  little vocal embellishments.  I can't imagine that she won't advance to the Top 13.  "You blew it out of the water," says Steven, "From the heart, bluesy."  She admitted that her voice cracked a little because she got emotional. "I hope America gets you," says Jennifer.  "It wasn't your best performance that we've seen," says Randy, "It was still great."  –  1-866-436-5712
Ryan needed to kill a little time at the end, so he asked the judges to name their favorites.  Randy: Elise, Jessica, Shannon, Jen, Erika, Skyler.  Jennifer: Jessica, Hollie, Skyler, Jen. Steven: Elise, Jessica, Hollie, Erika, Hallie.
The boys.  Randy: Philip, Joshua, Deandre, Colton, Heejun.  Jennifer: Deandre, Joshua, Phillip. Steven: Joshua, Deandre, Adam, Phillip.