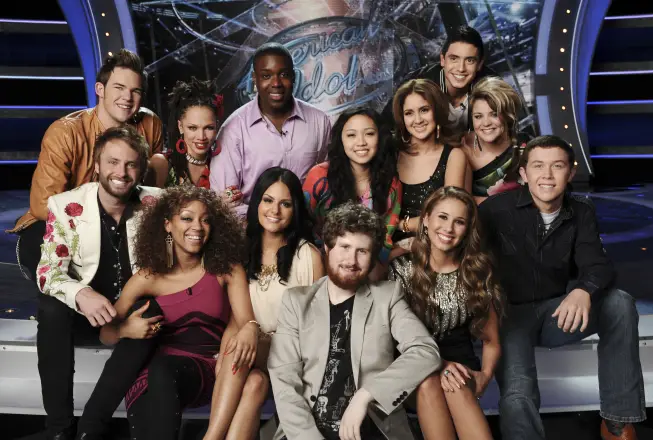 The big change this season is the presence of UMG exec, Jimmy Iovine and his crew of producers. The performances are way more produced than ever before. Not as pre-fab as the X Factor-There is a live band backing the kids up. But there are also produced backing tracks, and some of those arrangements–holy moley. Stefano could have had a moment singing Stevie Wonder's "Lately" as a straight ballad. But no–we get the Donna Summer treatment instead. I have to wonder if Stefano was really down with that completely, or gave into pressure from the team.
So, I'm coming around to James Durbin. Which I would not have imagined during the auditions. Paul McDonald sings the kind of music I dig, but unfortunately something went very wrong with his Ryan Adams cover tonight.  Could Paul be the Michael Johns of Season 10? Pimped highly during Hollywood, only to fizzle out during the semis?  Like James, Casey Abrams is winning me over. Yeah, he can be a little gimmicky, but that dude knows how to interpret a song.
I wanted to get behind a girl this year, but that's going to be tough.  Only Naima is half-way interesting.  I found her flawed, ambitious performance of Rihanna's "Umbrella" compelling. Has there ever been an Idol performance like that before? I mean, one that didn't end up a Vote For the Worst favorite.  The rest of the girls are…ugh.  Pia…Celine Dion? Really? And there was little Thia in her Grown Up dress making mom and dad proud like a little pageant princess. Lauren Alaina doesn't realize she isn't singing karaoke at her local bar any more. Karen Rodriguez and Ashthon Jones were deadly boring and uninspired.
I don't think a girl is going to win this year. And first out? Either Karen or Ashthon.
Jennifer and Steven are still not throwing down the way they should. They need to stop throwing softballs and get honest with these kids.
Live Blog, Photos and Videos after the JUMP…
The American Idol 10 take the stage tonight for the very first time! I'll be live blogging all of the live pre-taped action, right here!
For International/non-East coasters: Watch American Idol Online
Here come the judges! Arm in arm. And Ryan Seacrest takes his place center stage.
Who is your favorite? Keep your energy up for OUR JUDGES. Congrats to Jlo. Her single is #1 on iTunes. The Top 13 take the stage. The contestants chose a song by their "personal Idol" Jimmy Iovine and his producers worked with the contestants.
Lauren Alaina – "Any Man of Mine" by Shania Twain – producer Don Was – 1-866-436-5701 – She chose her song because it was "fun". Oh boy. Lauren wants to be a country music diva, just like Shania. Like the karaoke singer she is, Lauren's treatment is competent, but she doesn't bring anything new to the song. The song calls for spunk. She really doesn't have it. Steven: "Gotta have a good song, I wished it had been more kick ass" BITCH FACE. Jennifer: "We want you to kick it into high gear. Now it's time." EVEN BIGGER BITCH FACE. Randy: "That's a cool song, you sang it well…we want to see something that makes you shine beyond belief." She WAS NOT EXPECTING to be criticized. Pouty pout pout. She says she didn't want to sing a ballad. SHE'S MISSING THE POINT. Her performance lacked VERVE. ZZZzzzz Y'all! – Part1 – Part2
Casey Abrams – "With A Little Help From My Friends" by the Beatles – producer – Jimmy Iovine – 1-866-436-5702 – His personal idol is…Joe Cocker. Lulz. He heard the song on the "Wonder Years". DOUBLE LULZ. He begins sitting on the the steps. I'm liking this way more than I thought I would. There's a nod to Joe, but he's putting his own spin on it, for sure. He's feeling it. WOW. GO CASEY GO. Chock full of AWESOMENESS. Me likey. Jlo: "At one point I grabbed Randy and said what am I watching? Blew me away." Randy: "Dude, you were so unbelievable and so exciting. You make listening to you sing fun." Steven: You are a rainbow of talent, man. You are a plethora of passion. Everyone in the house felt what you did. Yowza. "I was just so happy, " says Casey. He felt like he was channeling Joe Cocker. – Part1 – Part2
Ashthon Jones – "When You Tell Me That You Love Me" by Diana Ross – producer Rodney Jerkins – 1-866-436-5703 – "I'm just glad they are taking me to a place wheree I've never been. She's very breathy and doing the Diana Ross hand gestures. The problem with this song begins with the choice. YUCK. What a terrible song. Does she think she's going to record a song like this as a contemporary artist? Zzzzz. Here comes the big note. Very karaoke. Randy: "I liked it" Barry Gordy in the audience! "It sounded like a safe move, but I liked it. You grew as a singer. You did yourself some good with that." Steven: "There's more in there than you're showing us." Jennifer: "You're so elegant up there. But, I want to start seeing you sing songs that we can sing along with you. I think you are amazing." Well, that was faint praise for the twitter queen. But they didn't trash her. Ashthon says, "I want people to see the elegant side of me…who Ashthon Jones really is." Oh boy. – Part1 – Part2
Paul McDonald – "Come Pick Me Up" by Ryan Adams – Producer Don Was – 1-866-436-5704 – Paul calls Don a "big baller in the music scene." Hm. Paul Dude. I love this song choice but you are sounding super pitchy. This might not have been a great choice for Idol. I'm afraid you may have left many out there in Idol land scratching their heads. If you pick an obscure song, in a style viewers are used to, you gotta NAIL IT. But he didn't, so it didn't quite work. Still, I love his tone and his stage presence. Steven: "I love the character and the rasp in your voice. A little pitchy. Nail it next time." Jennifer: "You're so unique. You moved the crowd. I hope America gets it. I don't know Ryan Adams and that song."Oh, Jennifer. Randy: "After last week's performance, it wasn't the most exciting thing. I love the character. I get it I hope America gets it." Hm. I'm going to say…America is not going to get that. – Part1 – Part2
Pia Toscano – "All By Myself" by Celine Dion – producer Ron Fair – 1-866-436-5705 – Pia gets a sit down with Ryan. She talks about what life has been like since the Top 13 were chosen. She loves Celine because she is so family oriented. She's hoping to make her Dad proud tonight. She's got a great husky tone. She's doing an expert job interpreting this. She's nailing the notes. Big high note? Whoa. It's tough for me, because I'm NOT NOT NOT a Celine Dion fan (Although I do heart Eric Carmen) So, I'm not digging this much. I want to hear her sing something other than a big drippy ballad. Jennifer: She thinks Pia topped last week "Really beautiful." Randy: "We say don't tackle those songs if you can't do them. But you have that quality. You hit the notes dead on without even thinking about it. Very hot dope cool performance." Steven: "That was the sum of all your performances so far." He wishes Pia a happy International Women's Day. "You just polished that apple. You just slammed it. That was beautiful." – Part1 – Part2 – Part3
James Durbin – "Maybe I'm Amazed" by Paul McCartney – producer Jim Jonsin – 1-866-436-5706 – James' Idol is Paul McCartney. I'm not loving the editing on this song, but wow. I'm officially changing my mind on James. When he reigns it in, he's got a beautiful voice, a gorgeous falsetto. Wow. He poured emotion into that performance without over-singing. Randy: "You're one of my favs in this whole thing. I love this kind of voice. Now you come out and sing Paul McCartney and slayed it. You showed you had a sensitive side. Dude. James Durbin is dangerous, America." Steven: "You have taken everything you've ever felt and kicked it into next week." Jennifer: "You have such a quality. You have what the greatest rock singers have. You're melodic." James ditched the tail and got his hair cut! – Part1 – Part2
Haley Reinhart – "Blue" by LeAnn Rimes – producer Rock Mafia duo – 1-866-436-5707 – She is OFF KEY on the first note. Yikes. She's attempting to do that slidey yodel thing that talented country singers like Patsy Cline can do effortlessly. But Haley? Not so much. This is just OK. She might want to stick to pop and rock. Steven: "That was beautiful. You can hear the rest of the country roaring. You did such a good job." Jennifer: "I think America is really getting to know you now. You do really special things. It's so unique to you. Really special." Randy's going to tell the truth! Randy: "I like that you can do anything. But it was a little sleep and a little boring." Haley says she was trying to show her softer side. Jennifer thinks she's very sensual. Part1 – Part2
Jacob Lusk – "I Believe I Can Fly" by R. Kelly – 1-866-436-5708 – producer Rodney Jerkins – Jacob also gets a product placement sit down with Ryan! He talks about working as a receptionist at a spa. When he mentions the "wet room" Ryan changes the subject. R. Kelly is Jacob's Idol. Oookay. And Garry Glitter is mine. Not. Jimmy Iovine tells him that "breathing is very important." That's why Steven gets paid the big bucks. Gah I freaking hate this song. Randy looks like he's into it. Here come the gospel singers. Is it just me, or does Jacob sound slightly off? He's not bringing anything new to it, except for a bunch of screamy screams. Blah. Steven: "Pure passion, pure music, I can't even judge it." Jennifer: "You make us feel so much when you sing. It's anybody's game. You're at the top of the list." Randy: "When you start, you have such a signature sound. You kinda went sharp, but by the end, you hit those high notes. I'm excited every time you hit the stage. – Part1 – Part2 – Part3
Thia Megia – "Smile" by Michael Jackson (his version) – producer Ron Fair – 1-866-436-5709 – When Ron explains the song was written by Charlie Chaplin, Thia looked at him like he had three heads. Then she called him "Charlie Chapman" Oy. There she is, all dressed up in a gown like she's competing for Miss America. Indeed, this loungy, emotion free "Smile" comes off like the most pageanty of pageant performances. Thia probably thinks the song is actually about smiling. Randy: "I loved the intro, it was so beautiful, I heard Michael, a little Adele. All in all it was good. I loved the beginning more than the end." Steven: I got to agree. A little pitchy in the middle there. But you're so young. Overall I liked it." Jennifer: "The beginning reminded me a little bit of last week. I thought the arrangement was interesting (I don't think she meant it as a compliment. Doesn't matter, you sing like an angel. Thia is crying because Randy dissed her. – Part1 – Part2
Stefano Langone – "Lately" by Stevie Wonder – producer – Polow Da Don – 1-866-436-5710 – OMG. It the freaking disco version of "Lately". Not really digging this. Stefano does have a beautiful voice with a soulful quality. Too bad this arrangement is ridiculous. It switches up between ballady and dancy. Not liking it. But, Stefano, like last week, is putting his all into it. He's got emotion and a great "YOu pulled it off. It was like a volcano. Arrangement was crazy." "You had me dancing there for a minute. It wasn't just a copy of it it was really you." "It started off a little rocky for me. Stevie is so hard to sing. He'd be proud. You slayed it. Very nicely done."  Part1 – Part2
Karen Rodriguez – "I Could Fall In Love" by Selena – producer Jim Jonsin – 1-866-436-5711 – She's a huge Selena fan since she was a wee one. Oh look, footage of Karen as a kid all dressed up in Selena garb. This is pleasant enough. She's having some trouble hitting the high notes. Eh. That even beyond karaoke boring. Does she realize she's in a competition? She could be in trouble this week. Jennifer tries to be nice: "For me, I could tell you were a little uncomfortable with the notes. You're one of our strongest girls, I hope you make it to next week." Randy: "It felt like you were fighting the song. It was a little sleepy for me. It didn't quite come off for me." Steven: "It was lacking a little bit. I know you can sing so much better." Karen and the stylist designed her outfit. Part1 – Part2
Scott McCreery – "The River" by Garth Brooks – producer Don Was – 1-866-436-5712 – Scotty gets the product placement sit down. He plays some sport that he's missing. He's just a good ole boy. Yee haw. "You've got to be country music, you can't just sing it, " says Scotty. I'm still blown away by that old voice coming out of that young body. I can't say that Scott has an original style, but he wears what he does well, like a very comfortable old glove. The kid doesn't even look nervous! Randy: "If it ain't broke, don't even think about fixing it. That's a great Garth Brooks song. Dude, this is exactly where you belong. Don't change it. I love it." Steven: "You did the Garth justice. You're riding high tonight." Jennifer: "I saw you open up as a performer. You embraced the audience…your taking the audience on the ride with you. Congratulations." Ryan's joking about the paint by numbers looking background heh. – Part1 – Part2 – Part3
Naima Adedapo – "Umbrella" by Rihanna – producer Tricky Stewart (produced the original) – 1-866-436-5736 – Hm. These non-singy songs can be hard to make work on Idol. She's kinda pitchy, but the arrangement is cool, with that little reggae changeup in the middle.. She looks awesome and has great stage presence. Ooooh. New pimp screen: LIGHTENING BOLTS! Having said all that, Naima is the closest thing we got tonight to a real, contemporary, commercially viable performance. This is exactly what Rihanna, Fergie, Katy and the other Top 40 girls are singing today. And pitch doesn't really matter. Steven: "You're crazy good. A little pitchy. You brought flavor tonight. I adore you for that." Jennifer: "You got fire girl. You dancing up there. You're doing it the way stars do it. You need to work on the control. I'm glad you came out and id what you did." Randy: "I differ with Jennifer. I care about the pitchiness. You've got to have the breath and the control. The cutoffs were a little rough. I loved the whole reggae thing." Uhm What? I have no idea what Namima just said. – Part1 – Part2

Remember…Naima's phone number is 36!  Randy says they didn't use 13 because it's an unlucky number. NO it's because it's a PORN LINE. lulz.