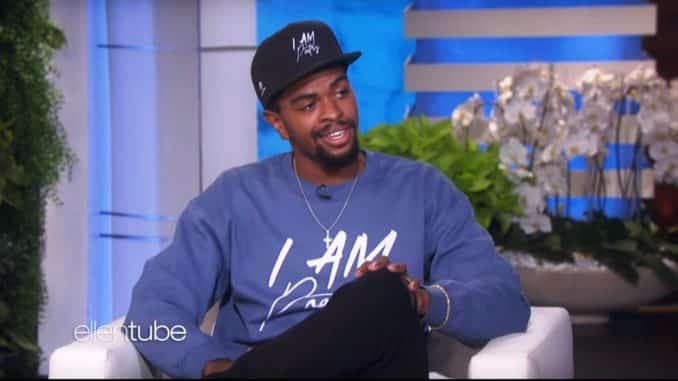 America's Got Talent winner Brandon Leake stopped by The Ellen Show on Wednesday to share his thoughts on being the first spoken word poet to win AGT.
Brandon thought Cristina Rae would win
Brandon believed singer Cristina Rae would take it all. But when AGT host Terry Crews announced her in third place, Brandon realized that he might have a shot. And indeed, Terry declared him the winner on last week's (Sept 21) finale
"Oh, no, most certainly surprised," Brandon shared with Ellen. "I thought that Christina was going to win because she was absolutely phenomenal, but when they eliminated at third, I was like dang, I actually have a realistic shot at winning this thing."
AGT rejected Brandon in 2017
AGT actually rejected the poet in 2017. But Brandon doesn't view the experience as negative. "I went to try out and got a hard no," said Brandon. "That was actually a really great benefit for me though. And those three years. I've matured a lot as a person. I grew a lot as an artist and it really gave me an opportunity to come and be prepared to not only handle the stage, but to also handle all of the things that would come afterwards in terms of the social media and all the other stuff that you have to take care of."
What will Brandon do with the 1 million dollars he won? (Realistically, it's a 40 year annuity. Do the math…). He said, "Sallie Mae is waiting for me to give her a call and pay off some student loans as well as other people who who got the mortgage on my house."
Brandon plans to give back to his hometown, Stockton, Calif
But he's also planning to give back to his hometown, Stockton, Calif. "I was leading poetry workshops in my town with grade school kids and we had published over 700 youth in the past three years. And so this upcoming time. I'm really looking forward to going back whether it be virtual or in person to be able to make sure that I'm not the last poet out of Stockton."
After chatting with Ellen, Brandon performed a poem dedicated to Breonna Taylor, whom cops shot after a no knock warrant as she slept in her bed. The cops involved escaped with no charges. In the poem, Brandon shares how not every cop is bad, but then not every black person is a criminal.
Watch Brandon dedicated a poem to Breonna Taylor