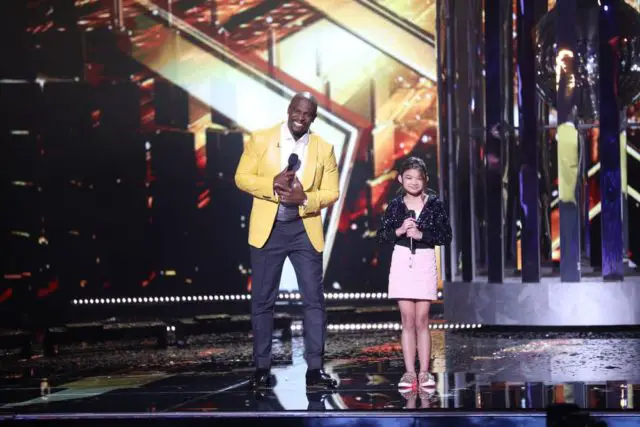 Oops! I think NBC made a mistake. The network posted a bunch of photos a few days ago. But instead of covering Monday's 5th audition episode, they're from next week's finale performances.
So. If you don't want any spoilers, STOP READING NOW!
According to the new Episode 6 galleries, it appears that the two acts advancing from Monday's episode will be the current winner, magician Shin Lim and Ukraine's Got Talent 2009 winner, Kseniya Simonova. She's a "Sand Artist" whatever that means! Competing on America's Got Talent was her first trip to the US.
And that's not all! It appears that Darci Lynne Farmer and Jon Dorenbos are performing as well. She was eliminated 2nd from the Top 3 superfan vote in week 2. Jon was eliminated 3rd in the superfan vote in Week 3. I suspect they both are wildcard acts.  According to the photos, there are TWELVE acts performing in the finale. 
So, here's what to expect from the finale, according to the photos:
Shin Lim – Magician – Week 5 Spoiler
Kseniya Simonova – Sand Artist – Week 5 Spoiler
Darci Farmer – Singing Ventriloquist – Wildcard Spoiler (probably)
Jon Dorenbos – Magician – Wildcard Spoiler (probably)
Susan Boyle – Singer
Preacher Lawson – Comedian
Cristina Ramos – Singer
Deadly Games – Knife Act
Angelica Hale – Singer
Paul Potts – Singer
Kechi Okwuchi – Singer
Brian Justin Crum – Singer
That's SEVEN singing acts vs 2 magicians, 1 knife act, 1 sand act and 1 comedian.  More than half the finalists are singers. But Simon has really favored singing acts since he took a seat on the judges panel. Also, some folks might have forgotten that the first SIX seasons featured singers or singing oriented acts as winners!  Then the Ole Dogs won season 7 which started a 4 season run of non-singing acts winning the show.  That was, until Simon Cowell joined the panel in Season 11 and BOOM. Singers and singing oriented acts won the next two seasons. 
By the way, I'm spoiling the finale performers but NOT THE WINNER OF THE SHOW OK. I know there are probably spoilers floating around out there, but I do not want to spoil the winner, so don't spoil em here. Thank you. 
PHOTO GALLERY