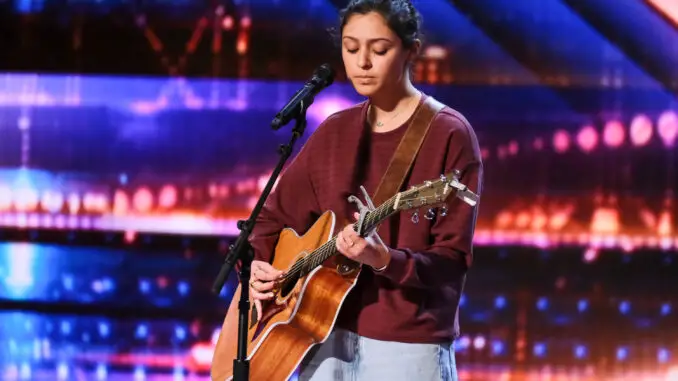 Amanda Mammana has trouble getting words out due to a speech impediment. However, when she sings, the words and emotions flow.
There have been many singing show contestants over the years who have demonstrated that–because singing and speaking originate in different parts of the brain–speech issues don't affect a performer's ability to vocalize.
"As you can probably tell," Amanda explains to the judges, Howie Mandel, Heidi Klum, Sofia Vergara and Simon Cowell, "I have a bit of a speech impediment. It was definitely something that caused me to shy away and to hide." The singer continues,  "But I found that I don't stutter when I sing."
Amanda will sing an original song, that's about not changing the past, even the difficult parts. "It's just about hard times and if I could go back and change those things I wouldn't, because they made me, me."
Backstage, perhaps a relative, is close to tears as he watches her on stage.
AGT 2022 Auditions 7 Spoilers – Meet the Acts (Photos)
America's Got Talent Audition: Yu Hojin Displays Elegant Magic
Accompanying herself on guitar, Amanda's tender song goes: "But what if I could go back in time/And change the way I felt about my life/But then would I still have inside/Everything that brought me back to life/"
Heidi and Sofia wipe away tears,\ as the judges give Amanda a standing ovation. She's emotional as she explains how as a kid she never felt good enough. "You are good enough," someone shouts from the audience.
"There is a fire inside of you and I want to see more of it"
"Good enough doesn't explain what we just heard," Howie insists. "It's not only good, it's great. Look how you're moving this audience." He believes that she's moving millions of people "right now." Heidi says, "You have a really, really beautiful voice," adding "There is a fire inside of you and I want to see more of it." Sofia calls Amanda's performance "authentic" and thanks her "for having the guts to follow your heart." Simon finishes the critique with praise, "You spoke to us very honestly about the issues you have with your speech." He says it's terrifying auditioning in any case. He calls her "amazing" and her voice "so pure, so beautiful." And he compliments her songwriting.
This time, fans won't have to wait until the show airs on NBC on Tuesday July 19 at 8 pm to find out Amanda's fate. All four judges say YES.
Nineteen year old Amanda, a Trumbull, Connecticut native, attends Liberty University. Her social media accounts not only feature her singing, but also her accomplished guitar playing.