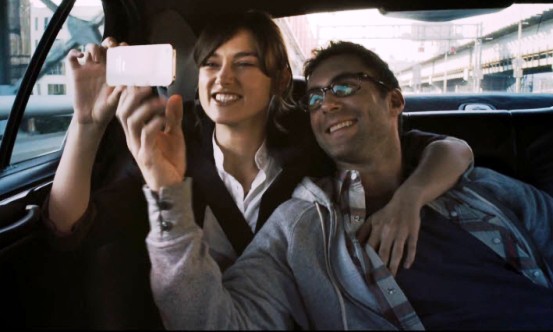 Watch the trailer for "Begin Again," which marks the big screen debut of The Voice coach, Adam Levine. In it, there's a preview of Adam's new song "Lost Stars," that's featured in the film.
According to the plot description, Gretta (Keira Knightley) and her long-time boyfriend Dave (Adam Levine) are college sweethearts and songwriting partners who move to New York when he lands a major label deal. Fame goes to Dave's head, leading him to stray from the relationship. Gretta meets producer Dan (Mark Ruffalo) a disgraced record label exec and they collaborate, making beautiful music together set against a soundtrack of a summer in New York City.
It looks like Adam's character turns out to be a dick bag and exits pretty early in the film. Oh. And former The Voice coach, Cee Lo Green is in it too. He raps in the trailer.
For their roles, each of the actors did their own singing and played guitar.
The film, which opens on June 27, is from writer-director, John Carney, the talent behind the movie Once.