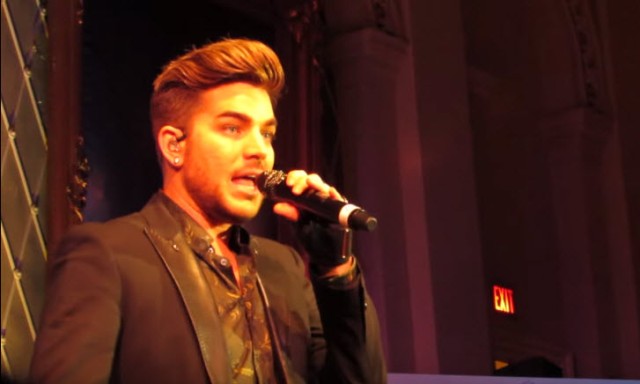 Last Thursday (Dec 10) I made a little road trip to Worcester, Massachusetts from Boston to see Adam Lambert headline the XLO (almost) Acoustic Christmas show. A local Hot AC radio station, WXLO, hosts the event every year at the beautiful Mechanics Hall theater downtown. The venue is gorgeous, and has fantastic acoustics. Considering the American Idol season 8 alum won't be playing concerts in North America until Spring/Summer at the earliest, I was happy his mini holiday radio tour came to my part of the world.
It was my 3rd trip to Mechanics Hall, having previously attended the XLO Acoustic Christmas in 2009 featuring Season 8 winner, Kris Allen and 2010, with season 9 winner, Lee DeWyze.
This season "almost" was added to the title. While the singer/songwriters who opened the show did unplugged sets, Adam brought his band for a full blown 10 song concert.  As always, Adam was a warm presence on stage, flirting with the audience. There was a woman named Denise sitting in the left balcony that he kept teasing. She might have attended the meet and greet for contest winners earlier, I'm not sure. Vocally, the singer sounded as incredible as ever.  Adam works his ass off on stage, but somehow he makes it all seem effortless.
I got nearly every song on video. I was pretty close to the stage, but with the front rows on their feet during nearly the entire concert, I had to get creative with the camera angles. Sorry, I was a little too close to the speakers. The bass is loud in spots.
But still! That voice. The Mechanics Hall crowd erupted into a dance party when Adam opened his set with "Evil in the Night" from his latest album, The Original High. He also performed the title track, The Light, Run Away, Ghost Town, and the new single, Another Lonely Night.  Adam is the consummate storyteller, using impeccable timing and phrasing to deliver a song.  He could be showboating that voice all night, but Adam breaks out those breathtaking runs when the time is right, making their appearance all the more impactful.
A reggae-fied version of If I Had You brought the crowd back onto their feet in full force. Things cooled down a bit for a tender rendition of Whataya Want from Me–both songs from Adam's post-Idol debut, For Your Entertainment. A nod to his gig as Queen's frontman, Adam mashed a little Another One Bites the Dust into his last song, Trespassing, from his second studio album of the same name. Unfortunately I didn't get the encore on video. The crowd was just WAY TOO UNRULY at that point. In the best possible way, of course.
Set List
1. Evil in the Night
2. Ghost Town
3. Original High
4. The Light
5. Shady
6. Another Lonely Night
7. Whataya Want From Me
8. Lucy
9. If I Had You
10. Tresspassing
Evil in the Night
The Original High
The Light
Shady
Another Lonely Night
Whataya Want From Me
Lucy
If I Had You