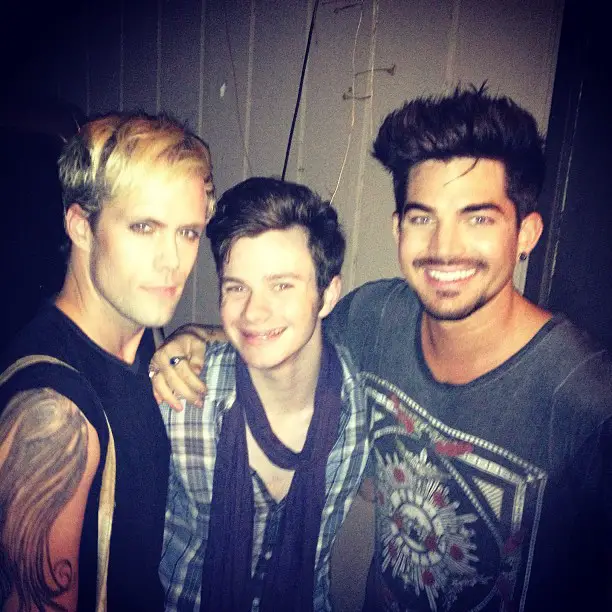 The Glee kids have had a really tough past two weeks, with the passing of their friend and co-star Cory Monteith. It's nice to see them out and about having fun. AND TOGETHER TOO! Here's Chris Colfer posing with Adam Lambert on his right, and Semi Precious Weapons band member Justin Tratner to his left.  I love Chris's big toothy smile! And Adam  is looking FAB as always.
The party was thrown by fellow Glee star, Darren Criss and the indie band, Capital Cities at the Hideout in Los Angeles.  Darren performed his music, especially for those who couldn't make it to his nationwide tour. Word is, Chord Overstreet was there too!  Adam has been spotted out and about with Darren and his girlfriend, Mia Swier. But the connection continues to grow. Adam will be guest starring on Glee this season, according to a tweet from co-creator, Ryan Murphy.
And Darren Criss was a busy guy last night! Before the Capital Cities shindig, he attended Nigel Lythgoe's Celebration of Dance gala, to raise funds for his Dizzy Feet Foundation.  There were a slew of SYTYCD alums there to perform.
Glee star, Jane Lynch tweeted this photo of the gang that includes Lance Bass, Anna Kendrick (Pitch Perfect -SYTYCD guest judge this week), Darren Criss and Jenna Ushkowitz.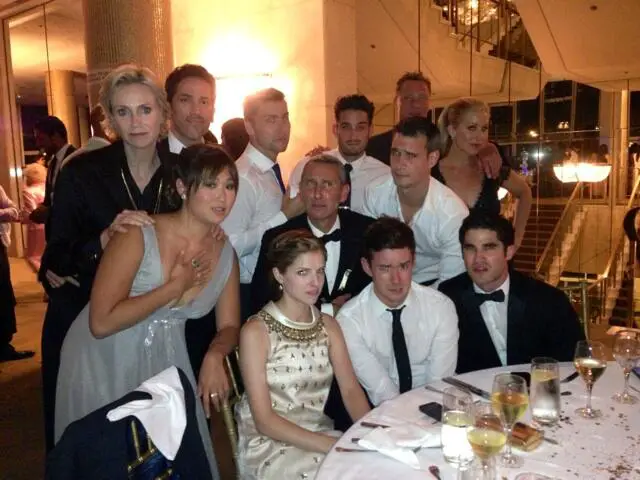 So You Think You Can Dance guest judge and Glee Director, Adam Shankman tweeted this photo of himself with Darren Criss and fellow SYTYCD guest host, Wayne Brady: