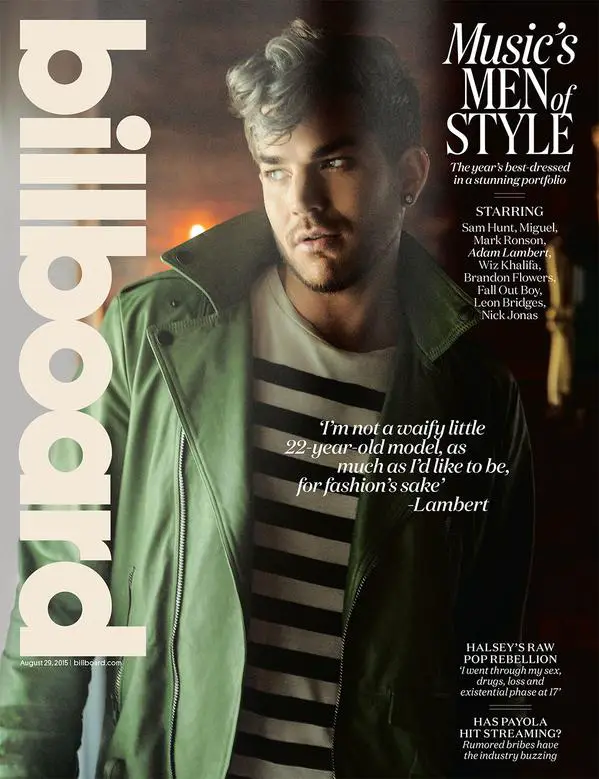 This week's Billboard cover story is a "Men of Style" theme, featuring four different covers, depicting four different musical artists who discuss the evolution of their signature styles. Adam Lambert is featured, along with country star, Sam Hunt, rapper Wiz Kalifa and R&B icon Miguel.
Here's what the American Idol season 8 finalist and pop singer had to say regarding the way in which his distinct style has changed over the years:
"I've put down a lot of the makeup. I put the flat iron in the attic. I'm looking at people like Elvis and James Dean."

"I've been asked with this album campaign, 'Did you want to tone it down?' It wasn't that I was consciously [doing that], though. It just shifted."
On The Power of Trends: "As a pop musician, [trends] are part of my job; to reflect what people like. Production and the way something sounds are very much like fashion, where for a particular season people are gravitating toward something."
Can't Live Without – "[My] old, white Buddhist Punk T-shirt. It's kind of burnt out with holes all over it; it's something I've had in the closet for 10 years and I keep going back to it."
Read more at Billboard.com. The issue is available on newsstands now. Or you can order it HERE. Adam is currently promoting his latest album, The Original High. On Saturday, he performs at the World Series of Beach Volleyball in Long Beach, California.
Adam Lambert Talks Fashion
Adam wears gorgeous looks while he discussing all things fashion, including his icons and former looks that embarrass him a little in retrospect.