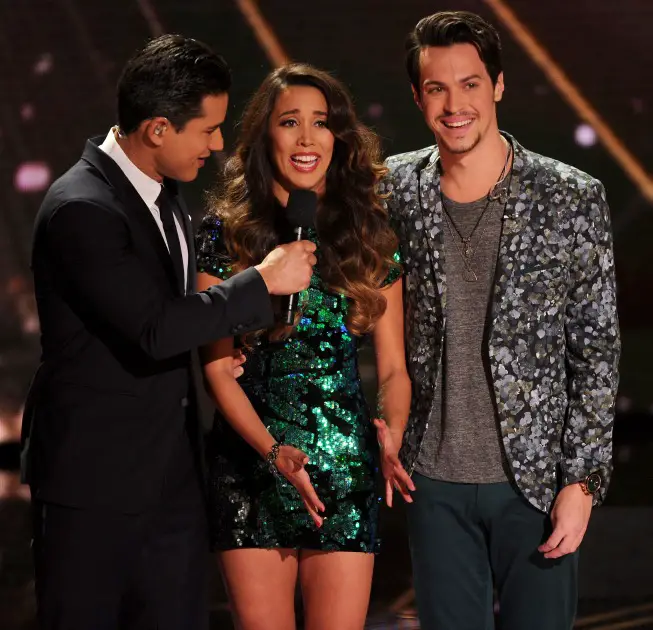 Congrats to X Factor 3 winners Alex & Sierra! Alex Kinsey, 22, from New Smyrna Beach, FL; and Sierra Deaton, 22, from Orlando, FL, were members of Simon Cowell's Groups, giving him the win in what might be the US versions last season for FOX (Have you seen the ratings? Not good.)
Jeff Gutt, from Kelly Rowland's Over 25s came in 2nd and 3rd was Carlito Olivero from Paulina Rubio's Boys.
Check out a round up of post-win media from Alex & Sierra below.
Just after the show, Simon Cowell and Alex & Sierra spoke with Access Hollywood. Simon revealed that the duo was at the top of the leaderboard every single week.
Alex & Sierra tell reporters backstage that they want to co-write every song on their album. (Via Zap2it)
Now that they've won, they're excited to go home and spend time with their families for Christmas, but after the holidays they're heading right back to Los Angeles to start working on their debut album. "We're going to come out here for as long as the album takes," Alex says. "We're going to make sure that we do it right and do it quick and get it out so people don't get cold with us."
Simon is giving the duo time to record their debut album – Via EOnline
"It's going to be as long as it takes. I mean I don't care how long the album takes as long as they're happy with it." He continued, "They've got the support of so many people worldwide, people love this group so you know you just have to take your time and do it well."

Looking ahead, Cowell says that it will be "a month" before he even begins to start thinking about next season of The X Factor.
Alex & Sierra Exit Interview
The Sweet Winning Moment!