Olly Murs' new album 24HRS is coming on November 11th, Little Mix's new album "Glory Days" is coming on November 18th.
Little Mix "Glory Days"
"Glory Days" is the upcoming fourth studio album by British girl group Little Mix. It's scheduled to be released on November 18th as follow-up to their successful album and tour "Get Weird".
They've worked with Digital Farm Animals and also revealed that they have worked with Ryan Lewis off of Macklemore and Ryan Lewis fame.
The lead single "Shout Out to My Ex" was released on October 16th along and exclusive live performance during The X Factor UK.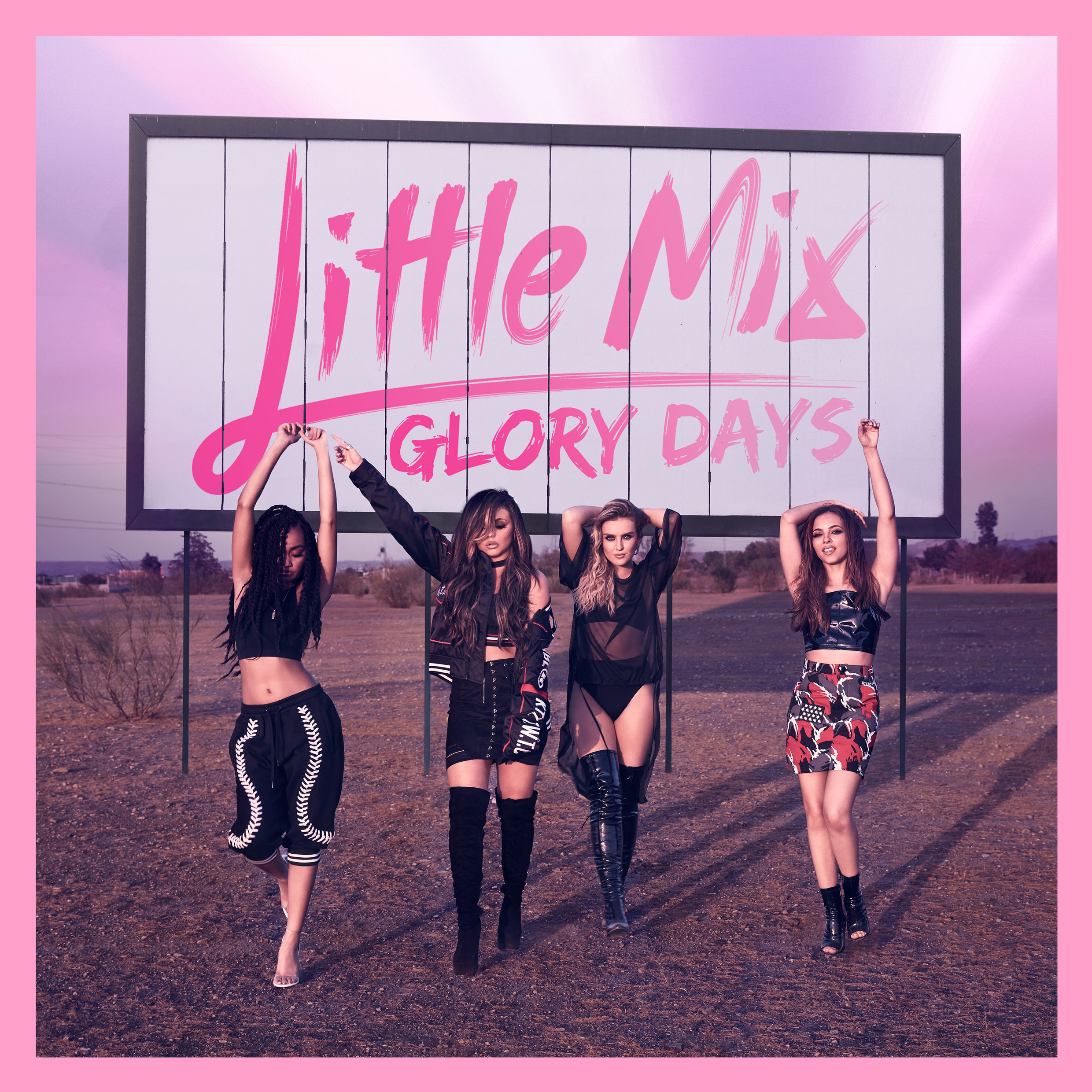 Read more: Ultimate Music
5 very exciting things we've learned about Little Mix's new album Glory Days
?From mischief to Meghan Trainor.
Right Little Mix, we're depending on you to save British pop – and we have every faith you'll be able to do so before Christmas.
With their new single 'Shout Out To My Ex' premiering on October 16 and fourth studio album Glory Days out on November 18, Digital Spy sat down with Jesy, Perrie, Leigh-Anne and Jade to find out just what they've got in store for us – and it sounds like we won't be disappointed.
Read more: Digital Spy
Little Mix are going back out on tour! Find out all the dates here
?The Glory Days are coming.
What's the best news you're going to hear today? That Little Mix are going back on tour, that's what.
The girl group will be hitting the road again in 2017 for another round of massive arena shows. So you've got a year to brush up on your dance moves.
The Glory Days Tour will start at Sheffield Arena on October 28, 2017 and finish with two humongous shows at London's O2 Arena on November 25, 2017.
Read more: Digital Spy
Look away now Zayn! Perrie Edwards wears very sexy pink latex leotard on X Factor as Little Mix perform new single about 'faking orgasms with an ex'
It's been rumoured that the song is a withering critique of her former fiancé.
And on Sunday evening's version of the X Factor, Perrie Edwards ensured that she had the last laugh when she performed alongside her Little Mix bandmates.
Taking to the stage in a sexy high-cut pink leotard, the 23-year-old singer put on a show-stealing performance as the band belted out, Shout Out To My Ex.
Read more: Daily Mail
'We think it's a joke': Former X Factor winners Little Mix slam novelty act Honey G for being fake and claim 'she's an actress'
They stormed the X Factor in 2011 to become the first band in the show's history to win the competition.
And now Little Mix have called out this year's act Honey G for being fake, claiming the X Factor contestant is 'an actress'.
Speaking to The Sun, the Salute singers admitted they had been told by sources that the wannabe rapper – whose real name is Anna Guildford – is simply pulling prank.
Read more: Daily Mail
Olly Murs "24 HRS" (Official Album Cover + Tracklist)
"24 HRS" is the upcoming fifth studio album by English singer-songwriter and TV host Olly Murs. It's expected to be released on November 11th via Sony Music Entertainment.
This project serves as the follow-up to 2014's "Never Been Better". The hitmaker has been working with some of his usual collaborators including Ed Drewett, Sam Martin, Claude Kelly or Francis White.
Recently, Murs has been also working in the studio with Diane Warren and Bonnie McKee. The lead single from the album "You Don't Know Love" was released on July 8th.
"Grow Up" was launched as instant grat along the pre-order of the album on October 7th.


Read more: Ultimate Music
Niall be there for you! Olly Murs joins his 1D pal Niall on the Gogglebox sofa for Channel 4's Stand Up To Cancer celebrity special
They're two of Britain's most recognisable musicians and regularly perform in front of sold-out stadiums.
And next Friday singers Olly Murs and Niall Horan will win over even more fans as they settle down on the Gogglebox sofa as part of Channel 4's Stand Up To Cancer spectacular.
Speaking of the October 21 celebrity special, Olly said: 'I'm such a big fan of Gogglebox so being able to be on it with Niall is amazing, especially when it's for such a brilliant cause like Stand Up To Cancer.'
Read more: Daily Mail
Niall Horan – "This Town" live on Graham Norton Show
https://youtu.be/QWnDNPiCrjc
Rebecca Ferguson on potential collaborations: "I don't want to feature people to up album sales. That's naff" – interview
We chatted to the Liverpudlian about her new album Superwoman and a possible Christmas album.
Rebecca Ferguson is back with a fourth studio album that's packed full of class, with a helping of sass.
The X Factor runner-up's new record Superwoman sees the Liverpudlian return to original material for her most personal collection yet. Working with esteemed songwriters and producers such as Eg White and Troy Miller, Rebecca lets rip at her ex-partner while telling her story of personal survival and resurrection through the 12-track journey.
OfficialCharts.com sat down with Rebecca to learn more about her return to songwriting (Rebecca co-wrote all but one song on Superwoman), her desire to work with Mark Ronson and how it feels to be the last act standing from her series of X Factor.
Read more: OCC
'There was many a time I thought of it': James Arthur reveals he considered suicide after being dropped from Simon Cowell's record label
He's gone from triumph to disaster and bounced back again in the space of four years.
And X Factor winner James Arthur has revealed that at his lowest ebb he even considered suicide, after being dropped from Simon Cowell's record company Syco.
'If I was ever near a balcony, or in my car, I'd have an image of me jumping over or driving off the road,' he told The Mirror.
Read more: Daily Mail
'Pregnant' Cheryl, 33, covers up her 'bump' in loose knitted dress and camel coat as she holds hands with Liam Payne, 23, on date night
They're being followed by snowballing claims that they're expecting their first child.
But loved-up Cheryl, 33, and Liam Payne, 23, put the rumours aside on Sunday, as they reunited for date night, going hand-in-hand to dinner at Nobu in London.
The former Girls Aloud singer left her oversized coat open, having previously deliberately kept her midsection covered to avoid further baby speculation.
Read more: Daily Mail
No wonder Honey G's hoping for a record deal! Her recruitment company is worth just £1, Companies House records reveal
X Factor hopeful Honey G's recruitment company has been revealed to be worth just £1 according to Companies House.
The 35-year-old, otherwise known as Anna Gilford, is hoping to land a record deal through the ITV talent competition.
She has been a director at ARG Search for five years but official records show the business has just £244 in its accounts and debts of £1,338, with its highest ever valuation at £13 in 2013.
But her performance has drawn praise from several people on her LinkedIn page, with many praising her abilities as a businesswoman.
Read more: Daily Mail
---
_ _ _
The Official Charts
Singles
1 James Arthur – Say You Won't Let Go
.
12 Niall Horan – This Town
35 Olly Murs – You Don't Know Love
36 Clean Bandit – Tears (feat. Louisa Johnson)
51 Fifth Harmony – All In My Head (Flex) (feat. Fetty Wap)
52 Olly Murs – Grow Up
57 Fifth Harmony – That's My Girl
74 Fifth Harmony – Work From Home (feat. Ty Dolla $ign)
99 James Arthur – Impossible
Albums
1 Green Day – Revolution Radio
.
37 Little Mix – Get Weird
56 James Arthur – James Arthur
77 Fifth Harmony – 7/27