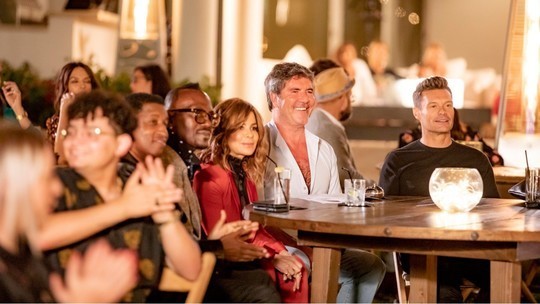 The X Factor Six Chair Challenge is complete and the Top 24 has been revealed. Now, it's on the the judges houses where each judge will pare their  teams down to four acts. 
The round begins on Sunday October 7 at 8 pm GMT/3 PM EDT on ITV with Simon Cowell's girls. 
The Girls
Bella Penfold – VIDEO
Georgia Burgess – VIDEO
Maria Laroco (She'll be auditioning remotely due to visa issues) – VIDEO
Molly Scott – VIDEO
Scarlett Lee – VIDEO
Shan – VIDEO
Simon Cowell will be taking his contestants to Malibu with 50 or so  guests from the music business including Randy Jackson, Paula Abdul, Ryan Seacrest, Diane Warren, Leona Lewis and judges' houses regular Sinitta. Pretty sure Adam Lambert is among that large group as well.
The X Factor UK Judges Houses begin Sunday October 7th October on ITV at 8 pm GMT/3 PM EDT
The Overs
Danny Tetley – VIDEO
Giovanni Spano – VIDEO
Janice Robinson – VIDEO
Louise Setara – VIDEO
Olatunji Yearwood – VIDEO
Ricky John – VIDEO
Ayda Williams will be taking her contestants to Los Angeles along with guests X Factor winner Leona Lewis and American Idol alum Adam Lambert.
The Boys
Anthony Russell – VIDEO
Armstrong Martins – VIDEO
Brendan Murray – VIDEO
Dalton Andre Harris – VIDEO
J-Sol – VIDEO
Thomas Pound – VIDEO
Louis Tomlinson will be taking his contestants to Ibiza with guest judges producer Nile Rodgers and fellow One Direction star Liam Payne.
The Groups:
Acacia and Aaliyah – VIDEO
LMA Choir – VIDEO
Misunderstood – VIDEO
Panda and Burgandy – VIDEO
Sweet Sense  – VIDEO
Vibe 5 – VIDEO
Judge Robbie Williams will be taking his contestants to Beverly Hills with guest judge Britain's Got Talent judge David Walliams.