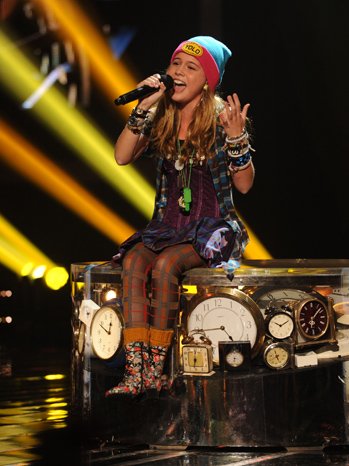 Beatrice Miller reveals to The Hollywood Reporter that she hated everything about her performance last night, from the song choice to her outfit. She also claims that the producers chose the song, not her mentor, Britney Spears.  Also, Britney didn't seem to care much that the young singer was unhappy.  Via The Hollywood Reporter
The tune in question, "Time After Time" by Cyndi Lauper, just wasn't much fun to perform, mused the New Jersey teen in a backstage interview. Miller said she loves to listen to the 80s classic, but singing it live was another matter. "I didn't like it when I performed it, but I mean, I hope that didn't show," she said.

That didn't come as a surprise to her mentor, Britney Spears, who advised the 13-year-old to soldier through it despite her lukewarm — make that ice cold — response to the ballad, which Miller said was assigned to her by producers, not Spears. Miller said she was informed of the theme five minutes before she met with the show's team of voice coaches last week.

"Britney knew that I hated my song this week, but you know, she just said, 'Get through it and just try to connect with the song,'" Miller revealed. "I don't think it really mattered to her that I didn't like it."

Miller also acknowledged that the mood backstage on Wednesday was "dull," mainly because many of the contestants were indifferent to the Diva theme week.

"I think the majority of us as contestants didn't like what we were singing this week," she said. "I don't think any of us got exactly what we wanted because this week it was all about saluting divas of the older time and whatever, and they kind of made us into the people that we're singing this week, which was kind of weird. I don't like that, because it just turns us into people that we're not."
Beatrice also HATED her outfit
"I was like, 'I hate this dress and if you don't take me out of it and put me in some pants, then we're going to add some funk to this outfit,' So they were like, 'Oh, we bought this hat for you and we're thinking that you should wear it next week," she laughed. "I was like, 'Haha, no no no — we're wearing it now because this outfit is really bad.'"
Beatrice was not the only finalist who hated her song choice.
Many of the contestants were hesitant upon learning what songs they'd be performing, including her teammate Arin Ray (Madonna's "Crazy For You") and Lyric 145 (Katy Perry's "ET" and Queen's "We Will Rock You") and Jennel Garcia (Tina Turner's "Proud Mary").

"I hated it!," Garcia told THR earlier this week. "I remember walking into the vocal room and the guys were kinda playing it on the guitar and I was like, 'I feel bad for whoever is singing that song.' And they were like, 'Oh, it's yours.' I was like, 'Oh, well… Damn!' I was so mad. But you know, we changed it in a way so it could sound like my song."
The finalists spend very little time with their mentors
THR learned that many of the contestants spent very little time working with their actual mentors. Each song is initially selected by producers, and the contestants' respective mentors enter the process only one or two days before showtime. At that point, it's worth noting, many mentors (or producers) will hit their contestants with a change in song just one day, or sometimes only hours, before broadcast. Sometimes the swaps are due to licensing problems, other times, creative differences.
Lyric 145 were REALLY disappointed they couldn't do their original song choice
"We had the best song we could have possibly had. It was our original lyrics, it was the diva of the century, it was perfect. Arguably would have been the best performance we had so far, and that was coming from the inside," said Lyric Da Queen on Wednesday night. "Last night we got the ball dropped on us that we weren't going to be able to do the song, and today we got the song that we were doing. It was just chaos."
The kids don't sound like happy campers. No wonder last night's performances were mostly mediocre.