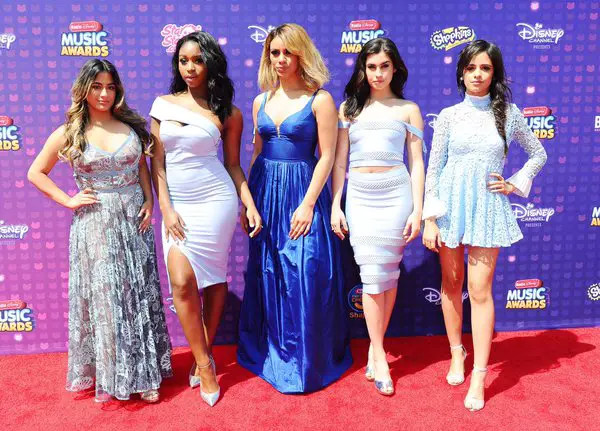 Grab your popcorn and pull up a lawnchair kiddos. The remaining four members of Fifth Harmony responded to Camila Cabello, who took to twitter yesterday to respond to Fifth Harmony's announcement that she unceremoniously left the group.
In the initial statement, Ally Brooke, Dinah Jane Hansen, Lauren Jauregui and Normani Hamilton claimed Camila Cabello left the group without informing then first. Camila responded back from her twitter account, insisting there WERE lengthy conversations about her departure.
Now, the four remaining members of Fifth Harmony are clapping back, insisting they put an extreme amount of effort into keep the group together–overtures which Camila totally rebuffed. Read their full twitter statement below.
To our Harmonizers:

We know you are hurt and confused. We are too. We know you want answers. And you deserve them, as you are just as much a part of this group as the four of us are.

The last thing we want to do is engage in a battle of we said she said, but we've let our story play out in the press and on social media for too long. So to our Harmonizers who we care so deeply about, we want you to hear everything from us, unedited, not manipulated, just us, to you.

Over the past several months we have consistently made every effort to sit down and discuss the future of Fifth Harmony with Camila. We have spent the past year-and-a-half (since her initial solo endeavor) trying to communicate to her and her team all of the reasons why we felt Fifth Harmony deserved at least one more album of her time, given the success of this past year that we've all worked so hard for. We called for group meetings which she refused, we asked L.A. Reid and the label to step in and try to set meetings, which again she refused. We even went as far as group counseling which she did not show up to. So, no, after months of rejection from her and her team, these supposed lengthy conversations in fact never happened, although we pleaded. We have tried with exhausted efforts and hearts to keep this group alive as the five of us, and we want it to be very clear that unfortunately those efforts were not mutual.

In mid November we were informed via her manager that Camila was leaving the group. At that time we were informed that December 18th would be her final performance with Fifth Harmony.

We were truly hurt. We've been together for almost five years, been through ups and downs… While this isn't the way any one of us would have wanted this chapter in our lives to have ended, we had to begin to formulate a plan and constructive path for Fifth Harmony to move forward beyond Camila. We truly support anyone's decision to do what makes them happy and to that end we do wish Camila all the best although saddened by the way she and her team handled the situation.

To watch Camila walk away from this special world we built with you is tough but we will move forward together. We are excited to continue to put positivity into the world and light into people's lives. The four of us recognize that we would be NOTHING without Fifth Harmony and we will continue to honor that. We thank you Harmonizers for allowing us to do so. Every day you love and support us, you've carried us in times when you don't even know. We thank you.

Now that we've said our peace, we are done engaging in this back and forth. We know our truth, we know the hard work we've put in and how we've tried time and time again to make this work for the five of us. We also know the love and devotion we will continue to put into this group all with the support of you the loyal Harmonizers. We wish only good things for all. Onward and upward.

Ally, Dinah, Lauren and Normani
All of this back and forth between parties is really about keeping fans in their respective corners. Because, as both sides have said, they'd be nothing without fans who are willing to shell out bucks for their albums, merchandise and concert tickets.
We'll see if Camila responds. It's a wonder that manufactured groups such as One Direction and Fifth Harmony last as long as they do. Not only are they manufactured, but formed under duress. They audition for the X Factor competition as solos, but then are given the choice of competing in a group or being eliminated from the show altogether. It's not even as if the girls willingly auditioned to join a group of strangers in a singing group. AND consider how young they all were at the beginning of their musical journeys…