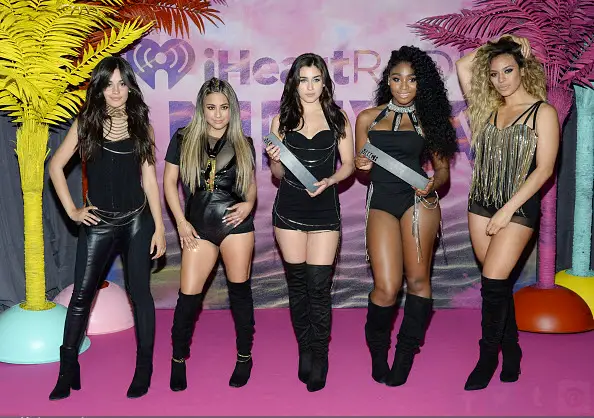 Camila Cabello volleys back!
Last night, a statement was released via the Fifth Harmony twitter account announcing that Camila had left the group. The chilly message revealed that a "representative" informed them of her exit, rather than Camila herself. Not true, the singer says in a lengthy message she posted on her own twitter account today.
When I turned fifteen I had the blessing of being put into a group with four very talented girls. We were 5 strangers that weren't even aware of each other's existence that were given a shot at one dream together. It's been almost 5 years and the most important chapter of my life thus far. I am so proud of everything we've achieved together as a group and will always be proud of being a part of it

I was shocked to read the statement the Fifth Harmony account posted without my knowing. The girls were aware of my feelings through the long much-needed conversation about the future that we had during tour. Saying that they were just informed through my representative that I was "leaving the group" is simply not true. Just like the other girls said in their statement about their plans, I had also planned to continue with my own solo endeavors in the new year, but I did not intend to end things with Fifth Harmony this way. As sad as it is to see this chapter ending this way I will continue to root them all on as individuals and as a group. I wish nothing but the best for them all the success in the world and true happiness.

Just as I said to them during those conversations and just like I try to encourage you guys, I want to lead by example when I say to each of you guys to be courageous in the pursuit what makes your heart pound and what makes you come alive with purpose. Our happiness is our own responsibility. We only have one life and we never know how much time we really have. We don't carry money, trophies, social media followers, fame or success with us. We carry the memories that made us feel alive in the moments that made us fall in love with life. New chapters are scary but conforming to what's safe and looking back with regret is even scarier.

Next year I will be working on my own music and giving you a big chunk of my heart To our amazing fans, I will always be so thankful for the opportunities being in this group has given to me. I'm even more thankful for the times that we've gone to get frozen yogurt together and talk about music, for the times we've locked eyes during a lyric, for the hugs that put pieces back together in both of us, for more love than I can put into words, and for showing me the way to myself. You took 5 ordinary girls and made their dreams come true–and together, us and you guys, we've written an amazing story–of girls from different cultures background colors shapes languages, music tastes, all going for one dream. A dream I will never forget. The memories we made together will last a lifetime. Now I gotta walk the walk. I have always encouraged you to be fearless, to live your life in the name of love and to do what makes you happy… As scary as it is to take the leap I'm excited and full of joy because I know that no matter what happens, I am following my heart. I hope to see you on my journey.

love only,

Camila
According to Billboard, Camila's contract was up and she left the moment she was legally allowed:
But insiders suggest that tensions between Cabello and the other group members had long been festering. In fact, December 18, the day the split was announced, marked the conclusion of Cabello's contractual obligations to the group and offered an exit, says a source.