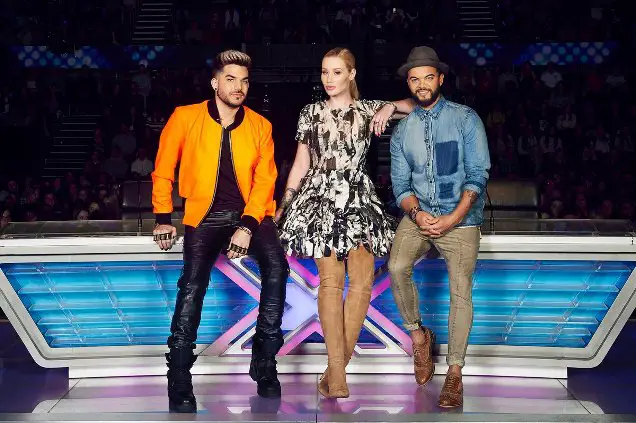 X Factor Australia starts on Monday (Oct 3) Tuesday (Oct 4) and Wednesday (Oct 5) next week, but the official website has an 18 minute preview available to watch now. It is region locked to Australia, but thanks to the Chrome Extension Hola, you can watch it anywhere. Many of you may have used this extension to watch X Factor UK a day early via ITV's website, but it's even easier for X Factor Australia. No zip code or account is required.
https://au.tv.yahoo.com/x-factor/episodes/32770564/the-x-factor-see-it-before-the-rest-of-australia/ is the URL for the preview, click it, set the region to Australia, and read on for my thoughts.
The preview begins with introductions for 3 judges, American Idol 8 singer, Adam Lambert, rapper, Iggy Azalea and Australian Idol season 1 winner, Guy Sebastian. Under 22s, overs, and groups are the three main categories. There is a fourth category of wildcards (rejects from the other three categories) which is an interesting twist, and Mel B is rumored to be their judge.
Natalie One from Melbourne is the first act up. Her grandma came from Singapore to support her. She sings "The Voice Within" by Xtina. And my god, she can sing. Right away, you can tell she has a great voice. Guy says she's amazing, the family must be high fiving and jumping around. Iggy says she thinks Natalie could win, and that people will watch this again after she makes it big. Adam says she nailed 99.99%, but that she needs to make something her own next time. Which is a good point, it was very similar to the original version. They bring her grandmother out for the vote. Obviously, it's three yeses.
Next up is Davey Woder. He's 34 from Logan Village. He brought his fiancé, he has 3 kids at home. He works in a repair shop for cars. He plays an original song called "Come Home". Guy wants him to sing a cover but he says he doesn't know any. He has an interesting tone to his voice. A little bit of a growl that I like, but his voice is also kind of tender-an interesting combination. And the song is good. Davey starts to cry after he finishes the song. Guy calls him authentic, says he won't need a lot of tweaking. He wants seconds and thirds. Iggy loved the storytelling in the song. Adam believed it, says it was gritty, raw, real. Three yeses. He does a little bit of a dance before heading off stage.
What I loved about this preview is that where X Factor UK would inevitably preview one good act and one joke act, they showed two good acts that have a shot at making it far. And the last minute showcased a third great singer who hit an insane high note covering Adele's "Hello." If you're watching the show for Adam Lambert, note that the focus seems to be on the contestants so far. But I think that's the right approach, and if the season lives up to this 18 minute preview, we are all in for a treat.