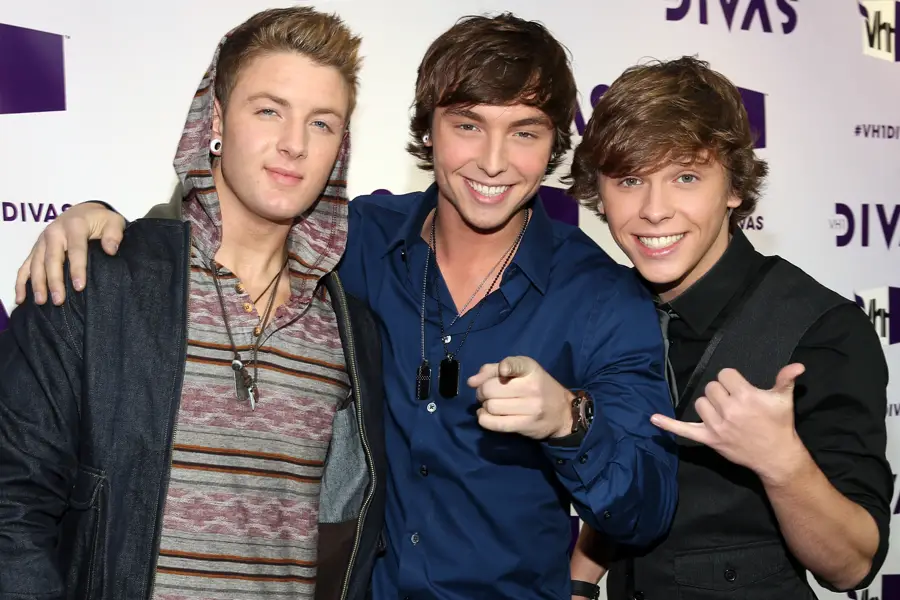 Uh oh. X Factor season 2 alums, Emblem3 are now only Emblem2. Drew Chadwick, the one who isn't a brother, is leaving the band to pursue a solo career. The band broke the news on their website. Brothers, Wesley and Keaton Stromberg vow to soldier on.
Making the situation even tougher–Simon Cowell's SYCO records dropped the band in May, according to their Wiki.
The band's debut album, Nothing to Lose, dropped on July 30, 2013. Two singles, "Chloe (You're the One I Want)" and "3000 Miles" were released. In August 2013, the band became the opening act for Selena Gomez on her Stars Dance Tour.
Read the band's statement:
We have an important announcement to make. While we regret sharing this news, we as a group need to share that Drew has decided to move forward in pursuit of his solo career and will no longer be with Emblem3 or joining us on The Fireside Story Sessions. We're sad to see Drew go but he will always be our brother, and we couldn't be happier for him as he starts his new journey as a solo artist. If you'd like to stay updated on Drew's solo album and news tune into Drew's Twitter/Instagram and his YouTube channel for an announcement on June 27th regarding his new album. Drew sends hugs out to all the Emblems.

We know many of you may be concerned about what this means for Emblem3, but I can assure you this is just the beginning! Me and Keaton started this band when we were 9 and 11 years old and we will continue making music for our fans. We love you with all our heart. E3 has always been about a partnership of like minded musicians and we're committed to continuing this journey alongside you all. And who knows, you may also start seeing some very familiar faces popping up :).

We've been working tirelessly on new material and have so much of the new record to share with you on The Fireside Story Sessions starting next week! It's gonna be so much fun and we can't wait to hang around the campfire with you. I bet Keatons probably going to eat too many marshmallows and get sick. Anyway, we can't wait to see you all there. Stay tuned for updates on the new album and if you want a sneak peak, come see us this summer ;).

All the dates from The Fireside Story Sessions and other concerts listed on our website are still happening, but if you have any questions or concerns please refer to the contact info below.

For buyers of US dates (Queue):
help.queueapp.com
(877) 620-1455

For buyers of Canadian dates (ground ctrl):
support.groundctrl.com
(877) GND-CTRL

We'll see you all this summer!

Love – Wes, Keaton, and Drew
The band posted a few tweets, in what seems like an attempt to reassure their fans.  Can the brothers Stromberg soldier on without Drew? According to wiki, Drew and Wesley started the band in middle school, before Keaton was old enough to join. Sounds like a tough loss. The boys are behaving friendly enough, but still…band relationships are never easy
. @DrewChadwickE3 will always be our brother, and we will always support him.

— EMBLEM3 (@EmblemThree) June 20, 2014
This DOES NOT mean Emblem3 will no longer be. The #Strombros started this band when we were 9 and 11 and we aren't going anywhere. — EMBLEM3 (@EmblemThree) June 20, 2014
— EMBLEM3 (@EmblemThree) June 20, 2014
#E3forever — EMBLEM3 (@EmblemThree) June 20, 2014
Everythin is ok I promise you!!! You have my heart forever !! I will see you all at #FiresideStorySessions pic.twitter.com/tPASbALTkH

— Wesley Stromberg (@wesleystromberg) June 20, 2014