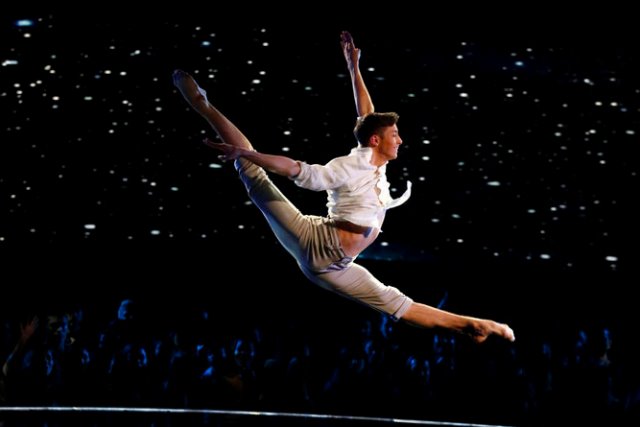 The second night of World of Dance qualifiers airs tonight on NBC. Jennifer Lopez, Derek Hough and NE-YO make up the judges panel, while Jenna Dewan Tatum serves as host.
In the end, there's only one million dollar winner. That's right–the last act standing wins $1 million dollars.
The Rules!
Handpicked from qualifying events around the nation and thousands of online submissions, competitors are divided into three divisions: Junior (any size act under 16 years old), Upper (groups of 1- 4, over 16 years) and Team (groups of 5+, over 16 years). After an initial audition round (Qualifiers), the dancers will move on to "The Duals," followed by "The Cut" and then the "Divisional Final." In the "World Final" the three division winners will go head to head for $1 million and the title "Best in the World." A panel of experts score the acts using a precise point system developed by World of Dance, using the following criteria: Performance, Technique, Choreography, Creativity, and Presentation. The judges award up to 5 points in each category. The act must score at least 80 points to move on to the next level.
The Lab – Junior –  Hip Hop – The kids come from underprivileged backgrounds. They share stories about broken, dysfunctional homes, and how the group saves them.  These kids are pretty fly–precise, well synchronized, outsized personalities. The little one out front has MAJOR STANK FACE. "You guys came out like professionals," says Jlo. "You guys competed!" exclaims Derek. Ne-Yo loved the energy, passion and STANK FACES. "Set the bar."
Scores: 91. 3 – Through to the next round
https://youtu.be/ZpPaSi_PYoI
Fik-Shun – Upper – Freestyle Hip Hop – He's the male winner of SYTYCD season 10. Y'all remember Fik-Shun! We posted a preview of his performance earlier today. The lyrical dance he'll perform tonight is about his parents broken relationship. Even thinking about it makes the dancer very emotional. He performs to the X Ambassadors "Unsteady." The performance is full of passion. Fik-shun knows how to tell an emotional story with energy and beautifully fluid movement. The dancer tears up as he describes what it was like being pulled in two directions by his troubled parents. "Each part of your body almost became part of the song," says Jlo, tearing up. Derek was pleasantly surprised to see that style presented in such an emotional way (Uh really? He's never watched Nappy Tabs lyrical hip hop routines?). Hm. Derek didn't mention his own tough childhood. He and sister Julianne have an entire stage show based on their difficult upbringing, including an emotional number that explores the pain of his parent's divorce.
Scores: 91 – Through to the next round
https://youtu.be/0ydJUew8eSs
Miami All Stars – Team – Latin – The group is made up of everyday people–teachers, moms, lawyers.  Dancing is not their day job.  Dancing a Latin routine to a Jlo number, they aren't bad for amateurs.  Jennifer says they "look very Miami." She loves their unbridled enthusiasm and passion. "There was so much going on…I didn't know where to look," she says. Derek jokes that his biggest problem was the song choice. Ha ha. He calls them fun and energetic. Ne-Yo felt the dynamics were off. "It wasn't great for me, it was good."
Scores: 81 – Through to the next round (Barely…Ne-Yo only gave them a 79)
https://youtu.be/8P7aENgMGP0
Luka & Jenalyn – Upper – Cabaret Ballroom Dance – Luka was a jock in high school. The performance is very tricksey! I'm not sure where the "cabaret" part comes in. Ne-Yo calls it sexy and technical. He loved the tricks. Jlo calls it "fresh and exciting." Jlo wanted more character from Jenalyn, though. Derek gives Luka a few tips on how to express himself. The tricks were definitely better than the duo's storytelling abilities. That felt a little cold.
Scores: 86.7 – Through to the next round
https://youtu.be/z7nju8Ynwv4
There's a little montage of dancers that don't make the cut. One young duo just missed the cut at 78.
Quick Style – Upper – Hip Hop –  Asian or indigenous? These guys come by way of….Norway. They WON Norway's Got Talent.  They're the best the country's got? Hm. They're solid dancers, but there's no WOW factor here. They danced to Dolly Parton's "Jolene" which was interesting. Derek loved it, though. Felt it was very musical. Ne-Yo wants to see more WOW moments. He honestly said that after I wrote it! I think they were overscored. 
Scores 86.7 – Through to the next round.
https://youtu.be/ubTbsyzjkv4
Nick Daniels – Upper – Contemporary – His mother AND father were very supportive of his dancing. Sadly, his father died of cancer three years ago. The two were at a recital when he died, and they both feel guilty about that. It's his dad's birthday. So the emotions are running high. Daniel is very good. Nigel Lythgoe is cursing the skies right about now. The judges give him a standing ovation. Jlo was blown away by his strength and technique. Ne-Yo says Nick has the "it" factor. Derek saw a sense of "letting something go" in his performance.  REALLY? Only 3/1oths of a point higher than Quick Style? Hm.
Scores 87 – Through to the next round
https://youtu.be/EMAevzH6z5w