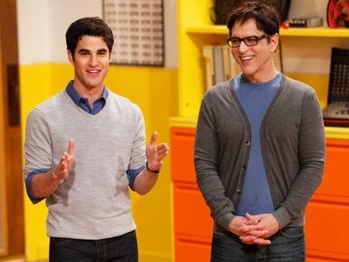 One of the guilty pleasures of summer is The Glee Project, where kids from all over the country compete for a role on the FOX musical comedy Glee. The Oxygen network competitive reality show has landed roles for several of its contenders from the series two seasons, including Damien McGinty (Irish exchange student, Rory), Samuel Larsen (Christian hippie, Joe), and Alex Newell (transgender student, Unique).
The Oxygen Network would love to bring it back, only there is a small problem. FOX has yet to renew Glee for a 5th season. The ratings gurus have all said Glee  is likely to come back for another season (It's ratings are down significantly from it's highs in season 1 and 2, but FOX ratings are down overall.) but anything can happen between now and the end of spring. What if  Ryan Murphy and his fellow co-creators decided to pull the plug voluntarily after 4 seasons? You never know.
"Maybe they'll pick it up for two seasons, not just pick it up for one season,"Oxygen president, Jason Klarman said. "It was always dependent on whether there would be another season of 'Glee' so we have to wait. We've spoken to 20th [Television]. We're waiting for when they get a greenlight from Fox. It's just finishing its fourth season and many of the deals are getting renegotiated. It's much more complicated than whether they're picking it up or not."
One possibility: Oxygen could air the show later in the summer–in July and August rather than starting in June.
What's interesting, however, is that Season 2 auditions were announced in September 2011 for the following summer.  The return of The Glee Project for a second season was officially announced mid-January 2012.  But an official announcement that Glee had been renewed for a 4th season didn't come until April 2012.
There must be more going on behind the scenes than we will ever know. Regardless, I hope The Glee Project is renewed. It's my favorite summer show.