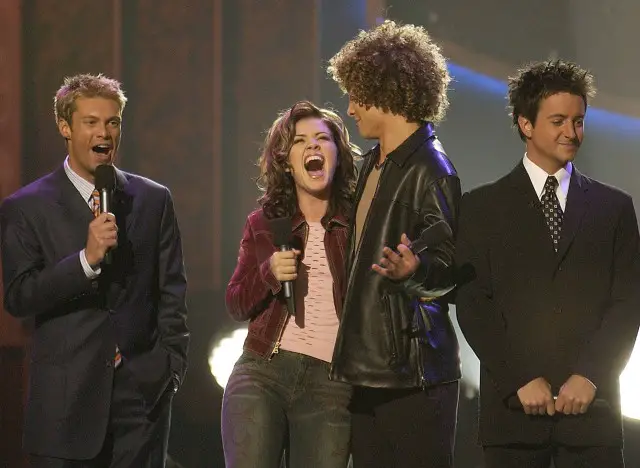 American Idol fans have been worried about their favorite alums being available to attend the last ever finale scheduled for April 7. But fear not, it appears American Idol winners and more are keeping that very special date open on their calendars.
For instance, season 8 winner, Kris Allen just announced his New York City tour date originally scheduled for April 7 has been moved due to a "scheduling conflict."
Due to a scheduling conflict, we are moving the current NYC date of 4/7 to 4/18. Previously purchased tix & VIP packages will be honored.

— Kris Allen (@KrisAllen) January 19, 2016
You sneaky Kris. We see what you did there! American Idol will air a retrospective on Tuesday April 5, the final performance show on Wednesday April 6 and the last American Idol show EVER (until FOX decides to reboot the show, classic style, that is) on Thursday April 7 on FOX. 
We've been keeping our fingers crossed, hoping as many of our favs will be able to appear as possible.
Even season 4 winner Carrie Underwood, who will be neck deep in her Storyteller tour, has scheduled tour dates in Fresno CA on April 5 and Reno NV on April 8. Both locations close enough for a short hop to the Dolby theater for the big event. The only Idol winners who might not be available? Original Idol winner, Kelly Clarkson, will be close to her pregnancy due date in early April. And will season 11's Phillip Phillips legal action against 19 Entertainment keep him away from the event? FOX has used Phillip's career heavily to promote Idol's farewell season. But is there too much bad blood between the singer and Idol producers to allow for a reunion?
American Idol: Kelly Clarkson Returns as Guest Judge, Alum Top 24 Duets!
Fans have been calling it: Picture the finale, every winner assembled on the stage to sing Kelly's coronation single, "A Moment Like This." How many tears would YOU shed if that happened? I'll be surrounded by boxes of tissues, just in case!
Of course, there are fan favorite non-winners who appear to have cleared their schedules as well. Season 8 runner-up, Adam Lambert, will be in the middle of the North American leg of The Original High tour. But he's got a little break scheduled the week of the finale. Season 5 alums Kellie Pickler, Chris Daughtry, and season 7's David Archuleta all seem to be free. I'm sure CBS could give season 5 runner up Katharine McPhee a few hours off from her Scorpion schedule to celebrate Idol's end. But will the show invite back Clay Aiken after he trashed the show on twitter? Would he even WANT to return? Season 3's Jennifer Hudson would need a night off from playing Shug in the Broadway revival of The Color Purple. Suffice to say her participation is up in the air. 
I hope Idol producers, including Nigel Lythgoe, who is returning to produce the finale, can stuff the Dolby with as many alums as possible. I want this send off to be HUGE. I want to cry. A lot.
Ok peeps. Which American Idol singers do YOU want attending the finale on April 7?