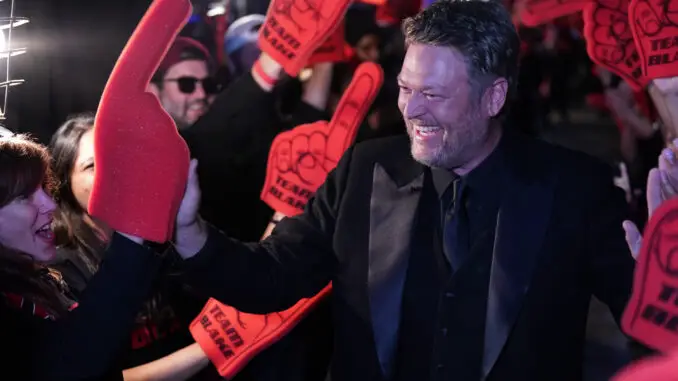 Former Blake Shelton team members gather to bid The Voice coach farewell
Tuesday's The Voice Season 23 finale served as Coach Blake Shelton's swan song. As he tells it, the country singer is leaving the show for good after 12 years and 23 seasons. (Read our Recap)
Monday's finale served as a tribute to the departing coach, and one of the most poignant moments came near the end of the live broadcast when a slew of former team members took the stage to fondly send the man off.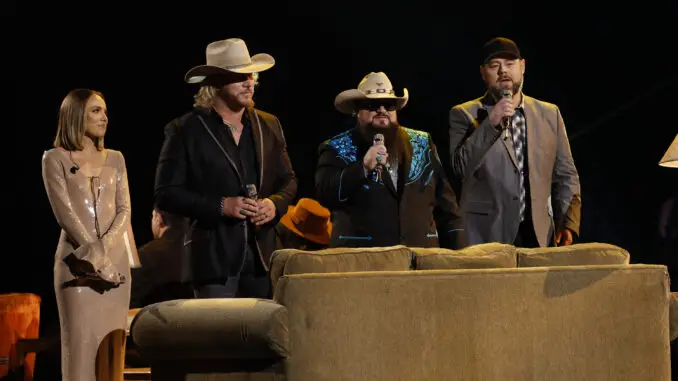 Good riddance Blake!
The song pick, "Good Riddance" by Green Day was both tear jerkingly sentimental, and cheeky in a way that Blake could appreciate. The country superstar seemed genuinely moved when the stage filled up with singers from 12 years of coaching on The Voice. Some he obviously hadn't seen in a while like season 2 winner Jermaine Paul and Season 1 alum Xenia.
Also taking the stage: Dia Frampton (S1 runner up), Cassadee Pope (S3 winner), Danielle Bradbery (S4 winner), Swon Brothers (S4 finalists), Todd Tilghman (S18 winner), Ian Flanigan (S19 Finalist), Craig Wayne Boyd (S7 winner), Sundance Head (S11 winner) and Bryce Leatherwood (S22 winner).
Former Team Blake members joined CeeLo Green for an 80s medley
And at the top of the show, former coach CeeLo Green sang a medley of 80's hits, including Bon Jovi's "Living On A Prayer," with former Team Blake artists  Chloe Kohanski (S13 winner), Cam Anthony (S20) winner, Wendy Moten (S21 runner-up), and bodie (S22 runner-up). They joined the others on stage to send Blake off with all the feels.
Blake missed nabbing his 10th win
While Blake is no longer a coach, his wife Gwen Stefani is joining the season 24 coaches panel alongside Niall Horan, John Legend and iconic newbie Reba McEntire. The old man may pop up from time to time!
One thing Blake did NOT get last night? His 10th win. In what host Carson Daly called the closest margin between winner and runner-up in The Voice history, Gina Miles from Team Niall Horan squeaked out a win past Blake's talented country artist, Grace West. The new blood is already taking over. In any case, nine wins over 23 seasons is STILL an impressive record.