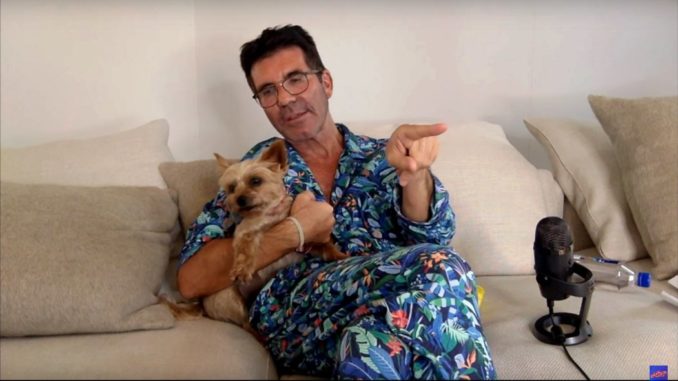 Because coronavirus concerns halted film production across the world, competitive reality shows have become creative in order to carry on. As American Idol and The Voice both air At Home performances, so will America's Got Talent. And here is your first taste of how judges Simon Cowell, Howie Mandel, Heidi Klum, Sofia Vergara and host Terry Crews will proceed.
In this new clip, the AGT judges and Terry watch auditions from their homes. The hopefuls include two dog acts. One is a country singer dueting with his doggo, live from a pickup truck. The other is an 8 year old dog trainer, putting her pups through their paces, all from her backyard.
Simon Cowell and his pups, Squiddly and Daisy. watch from his couch. Check out Simon's colorful pajamas. The crew interact from their respective homes as if they were siting together at the Pasadena Civic center, where they WERE taping auditions before production was shut down.
It's notable that a thumbs up from the judges does not mean the acts will move on to the judges cuts. It looks like there will be more auditions later in Los Angeles. In any case, acts can still audition online at AGTauditions.com.
America's Got Talent premiers on NBC May 26.
Watch America's Got Talent Season 15 Online Auditions!