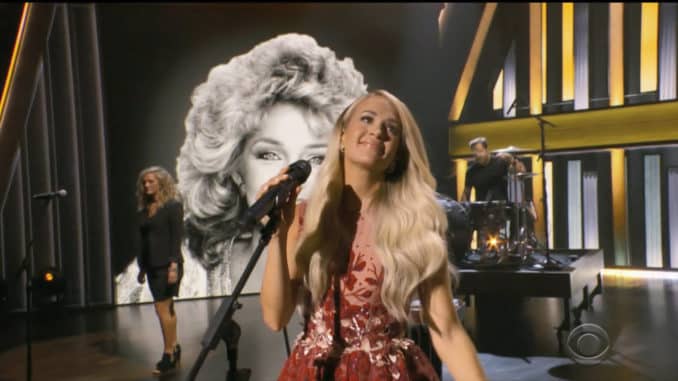 American Idol alum Carrie Underwood paid tribute to a few of her inspirations at the 2020 Academy of Country Music Awards on Wednesday night (Sept. 16). The country singer performed a medley of covers of classic female artists, as part of a tribute to the 95th anniversary of Nashville's legendary Grand Ole Opry venue.
Carrie covered Patsy Cline's 1961 hit "Crazy," Loretta Lynn's classic "You Ain't Woman Enough (To Take My Man)," Barbara Mandrell's 1981 song "I Was Country When Country Wasn't Cool," Dolly Parton 80's tune "Why'd You Come in Here Looking Like That," Reba McEntire's rendition of Vicki Lawrence's "The Night the Lights Went Out in Georgia" and Martina McBride's tender ballad "A Broken Wing."
2020 Academy of Country Music Awards Winners List (UPDATED VIDEO)
The ACMs were an intimate affair. Due to COVID-19 restrictions, the artists performed stripped down versions of songs in empty venues across Nashville. The result were many powerful performances, including Carrie's medley
Watch Carrie perform below.
Later in the broadcast, Carrie made history with Thomas Rhett as the two won Entertainer of the Year, in a tie vote! Carrie delivered a sweet thank you speech.
https://youtu.be/j4rWdne8vWU
But oh no! She forgot to thank her family. It happens! Later, during a post show virtual press conference, Carrie apologized to her family. "I'm a dummy for not mentioning my husband or children in my acceptance speech," Carrie said. "You would think after this many years and seeing people do speeches and give some of my own I would think of people that are important to me," she added, "I'm sorry! I do love my children and my husband."