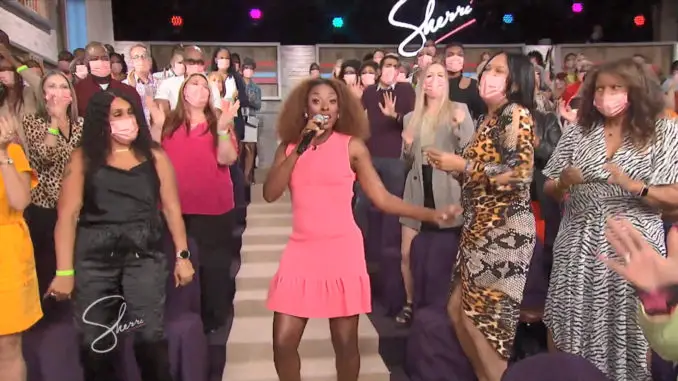 Do you remember Trenyce from American Idol season 2? The R&B singer left the competition in fifth place in 2003. Now, she's performing the theme song for the new Sherri Shepherd talk show.
"I have always loved her voice," Sherri said during her introduction. "Which is why I wanted her to do my theme song."
The song is titled, "Good Time Get On Your Feet" which Trenyce performed as she entered the studio through the audience. The song lyrics go, "We're going to have a real good time, a real good time…we're going to be so legendary, every day on Sherri."
After the two hugged and exchanged "I love yous" Sherri that she "didn't even want a theme song. But, "when they said Trenyce, I said yes, absolutely. It was amazing."
"Did you ever think you'd be singing the theme song for my show?" Sherri asked, to which  Trenyce responded, "Never in a million years, but I'm so happy to be doing this for you. It's such a pleasure."
Apparently the two are going to have Thanksgiving together. In the meantime, Trenyce told Sherri that she will play Diana Ross in Weird, which is the new faux/comedic Weird Al Yankovic biopic starring Daniel Radcliffe.
"Uh Chicago, here's your next Roxie Hart," Sherri declared in a shout out.
Watch American Idol's Trenyce sing the Sherri Shepherd theme song below.
In the years since she competed on American Idol, Trenyce has done a bunch of musical theater, including stints in Dreamgirls and Ain't Misbehavin'. She also starred in the West End production of Thriller -Live, a musical production featuring the music of Michael Jackson.
Earlier this year the singer played a role in the Lifetime movie, My Best Friend's Secret Life.
The daytime talkshow, Sherri, debuted this fall in syndication and it came about after Wendy Williams could no longer front her talk show due to health concerns.
"Since Wendy is still not available to host the show as she continues on her road to recovery, we believe it is best for our fans, stations and advertising partners to start making this transition now," Mort Marcus and Ira Bernstein , Debmar-Mercury's co-presidents said in a release.The Wendy Williams Show premiered in 2008 and ended its run in the spring of 2021.