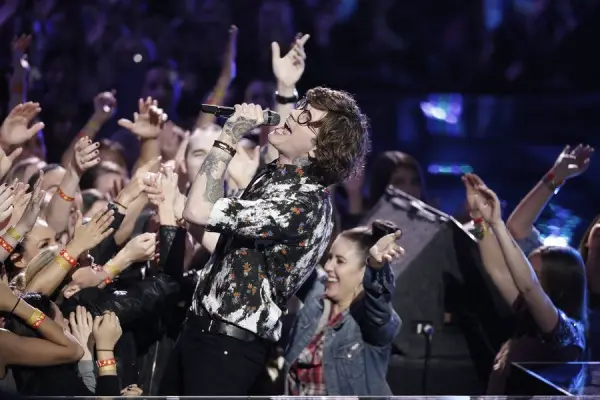 Good evening ladies and gents! We are SO close to crowning this season's winner of The Voice I can TASTE it (errr well sort of)! I wanted to apologize in advance for any typos you may find in tonight's live blog (I shall fix them!). I'm super sick with bronchitis and am lots of meds sooo if anything tonight's blog will be extra entertaining lol.
We are left with Team Adam's Chris Jamison, Matt McAndrew and Damien, along with Team Blake's Craig Wayne Boyd and Team Gwen's Taylor John Williams.
It all goes down in less than 3 minutes!!
First hour is songs that the coaches picked for their contestants. Second hour is what the contestants picked for themselves (thank god).
Blake is singing his song "Lonely Tonight" with Ashley Monroe. Blake is always so lowkey on stage. No bull with him. I wish he'd bring Miranda on the show sometime to sing with him.
http://youtu.be/68O1D-z9uFw
First to sing tonight is Team Adam's Damien (uh oh, he's going first). Adam picked Michael Jackson's "She's Out of My Life" for him to sing because it's an emotionally vulnerable song. He can't wait for Damien to "kill" it.
He's sounding like MJ a little bit. Freaky. His vocals are effortless though. Simple staging, just him on a stool in the middle of the stage surrounded by a circle of candles. This is a flawless performance by him, I can't deny that.
Blake says it was one of the most perfect performances he's heard. He's always on the edge of his seat when Damien performs. Pharrell love how Damien tells his story every time he comes out there. He's so happy for him. Gwen says doing MJ is dangerous, but thought his delivery was beautiful. Adam knew Damien was at first unsure of the song choice but that they both trust each other. He thought that he did an unbelievable job.
To vote for Damien–> 1-855-864-2301 – She's Out of My Life  – Download from iTunes
http://youtu.be/PSIL8Aw5IUE
Next up is Team Blake's Craig Wayne Boyd singing "Working Man Blues" by Merle Haggard. Can't say I've heard this song before lol. Blake says he picked this song selfishly because he loves it.
Craig's getting his swag on tonight! I'm not really loving this song BUT the stage is campy and Craig is working and engaging the crowd like the professional he is. Show these boys how it's done Craig!!
Pharrell says he looked like he had a great time and can't wait to hear his album. Gwen says he's such a natural and always gets the crowd going. Adam says it's rare to see someone coming into their own ON the show. He's so consistent and powerful. Blake is a proud papa, he says Craig's one of the best singers he's ever heard. He loves how he controls a song and a performance. He too can't wait to see what happens with Craig after his Voice journey.
To vote for Craig Wayne Boyd–> 1-855-864-2302 – Working Man's Blues  – Download from iTunes
http://youtu.be/0jd-Mzh86vU
And now we have Team Gwen's Taylor John Williams. He'll be singing "Falling Slowly." Ahhhhh LOVE this song, are you kidding me Gwen?! It's one of his favorites so it seems like he basically told her what he wanted to sing ahahah.
Taylor is sans hat this week. It's serious business. I like the way he attacks a song, just when you think he's going to hit the note like the original singer, he goes a different way. He's doing great, and he's become one of my favorites. His quirkiness is endearing.
The crowd is SCREAMING. Adam loves that song, it was the perfect voice and loves hearing Taylor sing. Blake feels all the performances tonight are so good, he never heard that much strength/range in Taylor's voice. Pharrell loves Taylor's creative willingness in his songs. Gwen is still just getting to know him but finds his voice so pure.
To vote for Taylor John Williams–> 1-855-864-2303 – Falling Slowly  – Download from iTunes
http://youtu.be/d-6sZclCuZ0
Next up is Team Adam's Matt McAndrew. He's singing "Make it Rain" by Ed Sheeran because Adam saw it on Sons of Anarchy lol.
I feel like this is Matt's show to lose. He can win this entire season if he plays his cards right. When he sings, you can tell how much he's feeling the music and relates to the lyrics. I don't love his blazer that he's wearing though lol. He's KILLING this performance!
Blake is blown away by the pressure in this competition and how everyone is coming out with Grammy worthy performances. Pharrell thinks Matt is a star. Gwen likes how Matt is a walking contradiction. His tone gives her chills. Adam says Matt astounds him, and that's he's so humble and laidback. He said Matt can do anything.
OOOP and there goes Adam throwing the REST of his team under the bus! Nice knowing you Damien and Chris!
To vote for Matt McAndrew–> 1-855-864-2304 – Make it Rain  –  Download from iTunes
http://youtu.be/g53qHvTttQE
Now we have Team Adam's Chris Jamison. He'll be singing Maroon 5's song "Sugar" which COINCIDENTALLY is their new single. He CLAIMS it was Chris's choice though.
This background is crazy cool and makes me light headed at the same time. Or maybe it's what Chris Jamison is wearing? I can see why Chris wanted this song, the falsetto is perfect for him. He's doing pretty well with the song, I can see this selling on Itunes. Some people though might not be too familiar with the song if they're not big Maroon 5 fans, like my mother who is sitting right next to me. She likes Chris but isn't really getting into this performance. And if the cougar's aren't buying it then…
Blake loves that song. He said Chris did a great job and loves his falsetto. Pharrell thinks Blake is right, looks forward to hearing his falsetto every week. Gwen said it was really smart idea, and that the girls up stage looked really good. Adam is so proud of Chris. He said he had to fight to get here, and that he continues to improve and rise to the occasion.
To vote for Chris Jamison–> 1-855-864-2305 – Sugar –  Download from iTunes
http://youtu.be/u1_9EbxXnlI
Round Two!
The top 5 got to go home and visit friends and family. First up is Damien who is crying hysterically at the airport but I feel like we can give him a pass this time lol. It's an emotional visit. He goes to his old high school where all the students are there freaking out. He tells them never to get up their dreams. He, like the other Top 5, get to play a concert when they go home. Adam sends him a cute little video to show his support.
He's singing the theme song to Dawson's Creek, "I Don't Want to Wait" by Paula Cole. LMAO. *Blinks* What? I can't.
Damien is singing this WELL don't get me wrong. I'm just a little shell shocked is all. I feel like this is almost his "send off" song.
Blake is running out of great things to say about him. He's still carrying his lucky pocket knife that Damien got back for him. He liked seeing a fun side to Damien. Pharrell thought he has a phenomenal voice and a great spirit. He liked how he communicated that to the world. Gwen was crying watching Damien's hometown visit, she liked the Peter Gabriel meets tribal version of the song. Adam is happy to just be a tiny part of that hometown journey of Damien's, he is so constantly amazed by Damien.
To vote for Damien–> 1-855-864-2301 – I Don't Want to Wait – Download from iTunes
http://youtu.be/SUKStodSB5w
Now a change up, we have Team Adam's Matt McAndrew. Awww Philadelphia boy! He and Chris are both doing my home state of Pennsylvania proud. He surprised his mom who didn't know he was coming home. #TeamMattsMom, she's adorable. Now Matt's doing lots of tv interviews, and now he's going backing to Bach to Rock to see all his students. They're so freaking adorable. His hometown show seemed to be PACKED, holy crap lol.
He's singing U2's "I Still Haven't Found What I'm Looking For." Which James Wolpert also did in Season 5. Hmmmm. I'm really liking Matt's vibe to it. That desperate pleading gritty part of his voice is EVERYTHINGGGGG. Looks like Matt borrowed one of Adam's shirts? LOL. I kid. <3 Matt is one of the consistent performers and always OWNS that stage.
It's hard for Blake to talk because the crowd is loud. Blake says that Matt makes it seems so effortless. Pharrell says he slaughtered the performance and Bono would be so proud of him. Gwen wanted to shout out to Bono, she loves seeing Matt's mom's reaction. Adam doesn't know what to say, but that he doesn't need to say anything at all because of how much the crowd loves him. All he can say is "Wow."
To vote for Matt McAndrew–> 1-855-864-2304 – I Still Haven't Found What I'm Looking For  – Download from iTunes
http://youtu.be/nxmk-z5wocg
And now we have Craig Wayne Boyd, who went back to Nashville earlier this week. He's excited to see his son. Lots of reunions and joy and tears. He played at the WildHorse Saloon and it was a PACKED house for him too! Randy Houser, one of Craig's old friends/country artist, shows up to surprise him.
Tonight he's singing "Old Rugged Cross". Very gospel. I am not feeling too confident about his song choices. The stage looks absolutely beautiful though. Low light blue tones, an orchestra and choir in the background. He gave it all that he absolutely had in that performance though, got to hand it to him, all religion talk aside.
Pharrell "gets" the religion part of the song. More talk about God. Gwen is crying again LOL, her and Damien must be hanging out a lot behind the scenes. She said it was beautiful and loved the setting. Adam thought it was awesome and that now is the time to stretch who you are as an artist. Blake is really excited and happy for Craig. It was Craig's dream to have an orchestra on stage. Blake said he gave a passionate, EPIC vocal performance.
To vote for Craig Wayne Boyd–> 1-855-864-2302 – Old Rugged Cross –  Download from iTunes
http://youtu.be/amxE80Zj1Ys
Next is Team Gwen's Taylor John Williams and a clip of his hometown visit back to Portland, Oregon. He's doing a video blog, aw. He goes back to Sniff Dog Hotel to meet with his old friends (and doggies) and lots of people are there to greet him! Next up is his first radio interview EVER, and there is Gwen calling into the radio show to talk to him. She sets it up for him to open up for The American Authors, Andy Grammar, and Christina Perri. Good job Gwen!
He's singing Taylor Swift's "Blank Space." YES TAYLOR YOU BETTER SLAY! That hat is back! The stage looks pretty awesome for this song too. I am definitely Team Taylor tonight and will be downloading all his songs lol.
Adam can't talk over the crowd LOL. He likes how he's reworking songs and making them his own. Gwen says he is a true artist and can't wait to see what kind of record he writes.
To vote for Taylor John Williams–> 1-855-864-2303 – Blank Space –  Download from iTunes
http://youtu.be/mi8uAWfKo0Y
And last performance of the night is Chris Jamison but first we have his hometown visit to Pittsburgh. Aww Chris is crying. :'( Him and his sisters together is so sweet. Now he's visiting where he used to work, they named a pizza after him called the West Coast Jamison lol. Pittsburgh threw him a huge homecoming party, there's people EVERYWHERE. And Nick Jonas gave him a video shoutout! Classy Nick. Love him.
Chris is closing the night with When I was your man. Will Champlin did this during his Season 5 Knockout round so this song has a special place in my heart. I know that Chris is going to do it justice. Boy can hit those high notes!
HOLY CRAP THAT NOTE CHRIS. THAT WAS GLORIOUS!!
Pharrell is sure that his hometown is still standing on their feet for him. This was Gwen's favorite performance of his. Adam said that this WAS Chris Jamison's song and that he's so proud of him.
To vote for Chris Jamison–> 1-855-864-2305 – When I Was Your Man –  Download from iTunes
http://youtu.be/KkvuKCelyj8
That's all for tonight!
Don't forget, tomorrow night we find out who the Top 3 are AND the elimated nine WILL sing for the Wildcard. Whoever gets chosen will join the finals as part of the TOP 4.
See you all then!