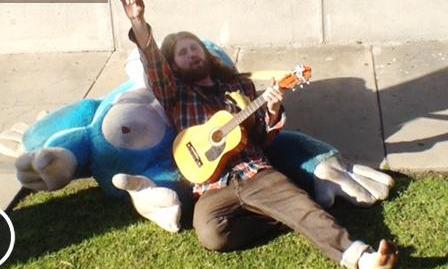 The folks at TMZ were super-confused when they found American Idol 10 alum, Casey Abrams, playing guitar by the side of road with a giant stuffed gorilla. They wondered why the American Idol 10 alum had turned into a "dirty, singing, hippie person" and thought maybe Casey was pulling a stunt in an attempt to promote something.
Well, yes he was. Casey Abrams and his fellow Idol, Haley Reinhart, will be performing at the House of Blues in Los Angeles on Friday.  It was also Casey's 22nd birthday yesterday. What better way to celebrate a birthday and an upcoming gig than by behaving like a bum on the side of the road, waving to tourists on a TMZ bus?
Hells yeah!
Part of the plot, several  season 10 Idols played a fun game of #wherescasey on twitter yesterday:
Haley Reinhart

: If @IAmCaseyAbrams can get his act together in time, he'll be joining me Friday @ the HOB. He's been busy bein' a #bumonthestreets #iseenit!

Pia Toscano

: I could've sworn I just saw @IAmCaseyAbrams picking his nose on Hollywood Blvd.. Dude, was that you? #wherescasey

pic.twitter.com/A8WANgSR
James Durbin

: @IAmCaseyAbrams, you're not answering your phone, Im worried! Where are you!?!? #wherescasey

Jacob Lusk

: #WheresCasey

Scotty McCreery

: Been texting and calling @IAmCaseyAbrams all day… somebody said they saw him climbing through dumpsters in downtown hollywood?! #WheresCasey

Paul McDonald

: I'm pretty sure I saw @IAmCaseyAbrams passed out under a "Live Nudes" sign on Sunset Blvd-he was all goo'ed up on the goo balls #WheresCasey

Haley Reinhart

: Where's Casey?? …WHERE'S CASEY?!??! I'll tell you where he is, on Sunset and La Cienega! Being a bum.

Jacob Lusk

: It's my friend @IAmCaseyAbrams bday today, and I still haven't talked to him. #WheresCasey
So, there you go TMZ. MYSTERY SOLVED.
Via: TMZ
ETA:  HA HA! And here is the culmination of yesterday's "twitter fun" with Casey Abrams. A video titled "Casey Abrams is Homeless" starring Casey, Jack Black, Haley Reinhart, Blake Lewis and Paul McDonald.  The video closes with Jack "tipping off" TMZ
Well played, Casey!