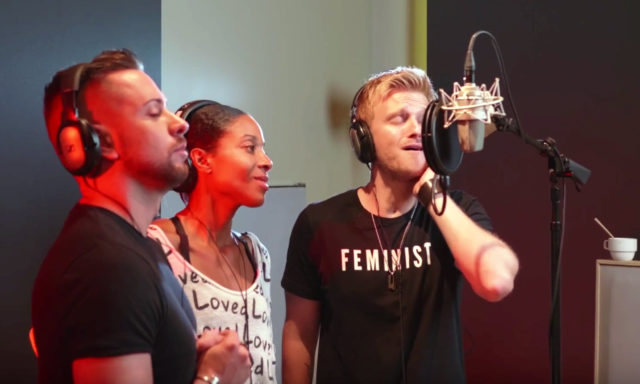 Three American Idol alums–Anthony Fedorov from Season 4, Tamyra Gray from season 1, and season 7's David Hernandez have recorded a revised version of the American National Anthem.
In a recent interview with Variety Anthony shared that he was inspired to come up with new verses for "The Star-Spangled Banner" after football quarterback Colin Kaepernick made headlines for kneeling as the anthem was played before the game. The former San Francisco 49er used the gesture to protest racial injustice.
"I started reflecting on this song and did some research and discovered some of the uncomfortable truths about its origins," said Anthony. "Because of that, I wanted to imagine an anthem that really does reflect the face of America right now. Diversity is the bedrock of our country. Why not open the conversation and ask if we can revisit the lyrics?"
The trio's social justice inspired version of the Star Spangled Banner, now titled "Bless Our Home," is sung with the familiar melody, but not the lyrics written by Francis Scott Key in 1814.
"I was immediately on board the moment Anthony explained the concept," David told Variety. "As times evolve we need to rethink our verbiage and delivery. I hope it is well-received and that people embrace the lyrics because they are more inclusive than the original. It doesn't mean you can't like both versions but we are living in different times now. How we approach things has to change. This country was built on diversity and breaking free from the chains of oppression."
Watch Anthony Fedorov, Tamyra Gray and David Hernandez perform their new version of the National Anthem below. The harmonies are gorgeous.