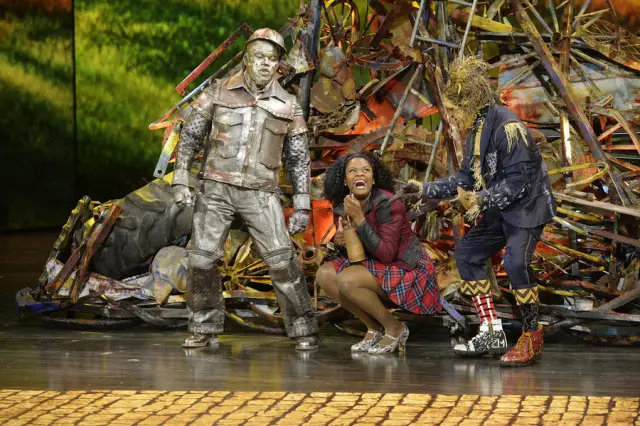 Thursday night's The Wiz Live out paced last year's NBC production of Peter Pan, but fell short 0f 2013's Sound of Music Live.
The Wiz Live also delivered the highest-rated non-sports Thursday for any network in over a year. It also is now the most-social live special program in Nielsen Twitter TV history. That excludes awards shows and political events, and dates back to October 2011. Plus, The Wiz Live! topped The Sound of Music Live" and Peter Pan Live! combined in terms of total tweets.
The Wiz Live averaged a 3.3 in the 18-49 demo, 11.14M viewers, while Peter Pan Live earned a 2.4, 9.21M viewers. The Sound of Music Live garnered a whopping 4.6, 18.62M viewers in 2013.
Note that the production ended 15 minutes early. The numbers will likely tick up.
Via TVByTheNumbers
8 p.m.

The Wiz Live (NBC) (8-10:45 p.m.) – S 3.3/11 11.14
Thursday Night Football Pregame (CBS) 2.4/8 10.30
Toy Story That Time Forgot (ABC) – S 0.9/3 4.03
Bones (FOX) – R 0.5/2 3.45
The Vampire Diaries (The CW) 0.5/2 1.32

8:30 p.m.

Thursday Night Football (CBS) (8:30-11 p.m.) 3.5/11 12.93
Shrek the Halls (ABC) – S 1.0/3 4.18

9 p.m.

CMA Country Christmas (ABC) (9-11 p.m.) – S 1.0/3 5.75
Bones (FOX) – R 0.6/2 2.96
The Originals (The CW) 0.5/2 1.18
Half Hour Breakdown via Marc Berman
8:00 p.m.

ABC – Toy Story That Time Forgot (R)
Viewers: 4.03 million (#3), A18-49: 0.9/ 3 (#3)

CBS – NFL Thursday Kick-Off
Viewers: 10.30 million (#2), A18-49: 2.4/ 8 (#2)

NBC – The Wiz Live!
Viewers: 12.08 million (#1), A18-49: 3.2/11 (#1)

Fox – Bones (R)
Viewers: 3.40 million (#4), A18-49: 0.5/ 2 (#5)

CW – The Vampire Diaries
Viewers: 1.40 million (#5), A18-49: 0.6/ 2 (#4)

———-

8:30 p.m.

ABC – Shrek the Halls (R)
Viewers: 4.17 million (#3), A18-49: 1.0/ 3 (#3)

CBS – Thursday Night Football (Green Bay Packers at Detroit Lions)
Viewers: 14.17 million (#1), A18-49: 3.5/11 (#1t)

NBC – The Wiz Live!
Viewers: 11.99 million (#2), A18-49: 3.5/12 (#1t)

Fox – Bones (R)
Viewers: 3.51 million (#4), A18-49: 0.6/ 2 (#4)

CW – The Vampire Diaries
Viewers: 1.24 million (#5), A18-49: 0.5/ 2 (#5)

———-

9:00 p.m.

ABC – CMA Country Christmas
Viewers: 5.84 million (#3), A18-49: 1.0/ 3 (#3)

CBS – Thursday Night Football (Green Bay Packers at Detroit Lions)
Viewers: 13.60 million (#1), A18-49: 3.7/11 (#1)

NBC – The Wiz Live!
Viewers: 11.60 million (#1), A18-49: 3.5/11 (#2)

Fox – Bones (R)
Viewers: 3.03 million (#4), A18-49: 0.5/ 2 (#4t)

CW – The Originals
Viewers: 1.25 million (#5), A18-49: 0.5/ 2 (#4t)

———-

9:30 p.m.

ABC – CMA Country Christmas
Viewers: 5.93 million (#3), A18-49: 0.9/ 3 (#3)

CBS – Thursday Night Football (Green Bay Packers at Detroit Lions)
Viewers: 12.81 million (#1), A18-49: 3.5/11 (#1)

NBC – The Wiz Live!
Viewers: 11.35 million (#2), A18-49: 3.4/11 (#2)

Fox – Bones (R)
Viewers: 2.88 million (#4), A18-49: 0.6/ 2 (#4)

CW – The Originals
Viewers: 1.11 million (#5), A18-49: 0.5/ 2 (#5)

———-

10:00 p.m.

ABC – CMA Country Christmas
Viewers: 5.79 million (#3), A18-49: 0.9/ 3 (#3)

CBS – Thursday Night Football (Green Bay Packers at Detroit Lions)
Viewers: 11.82 million (#1), A18-49: 3.3/11 (#1t)

NBC – The Wiz Live!
Viewers: 10.85 million (#2), A18-49: 3.3/11 (#1t)

———

10:30 p.m.

ABC – CMA Country Christmas
Viewers: 5.45 million (#3), A18-49: 0.9/ 3 (#3)

CBS – Thursday Night Football (Green Bay Packers at Detroit Lions)
Viewers: 12.27 million (#1), A18-49: 3.6/12 (#1)

NBC – The Wiz Live!
Viewers: 8.94 million (#2), A18-49: 2.7/ 9 (#2)

Source: Nielsen Media Research