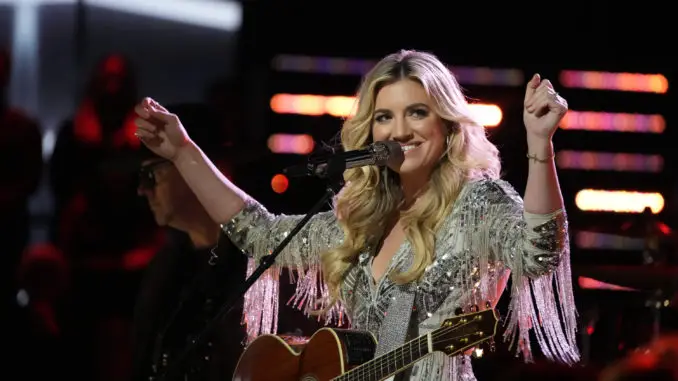 The Voice 2022 singer Morgan Myles Grand Ole Opry Debut is coming!
Before Morgan Myles even got home from The Voice finale last week, the Grand Ole Opry reached out and invited to the singer to make her debut at the Ryman theater! "Let's have a heck of a celebration," Morgan wrote on Instagram. "This is truly an honor." Tickets for the Team Camila Cabello member for her January 6 debut are available now at Opry.com.
A fan favorite all through the season, Morgan competed in the Top 5 finale on Team Camila Cabello and finished in 3rd place behind winner Bryce Leatherwood and runner-up Bodie, both from Team Blake Shelton.
While Morgan's father drove the singer home after the finale, she got the call from the Opry. Driving through Arkansas, the singer got teary as she accepted the honor. "I seriously CAN NOT believe this," Morgan wrote in the caption. "it's been a lifelong dream of mine to 1.) play the @opry 2.) play the @theryman and I get to do both Jan 6th… I'm seriously just overwhelmed for this moment…"
Morgan praises Coach Camila
A few days after the finale, Morgan posted praise on Instagram about her The Voice coach, Camila Cabello. "I knew @camila_cabello was a global superstar before auditioning on the @nbcthevoice but who she is an human being with a huge heart meant the most to me," Morgan wrote. "You inspire me so much as a woman with grace, humility, and fierce empowerment. When women come together and support one another is so insanely powerful. Thank you for being there for me in so many ways throughout this process. I meant it when I said you're like family. Thank you for holding my hand through this emotional roller coaster, cheers to my amazing MILA!"
Camila posted on her socials, "I have so much respect for you as an artist and so much love for you as a person," Camila wrote about Morgan. "I can't wait to see where your magical talent, work ethic, and integrity is going to take you next. I'm honored to have bee a part of your journey and am forever in your corner."
Morgan thanked her "Mylestones"
Next, Morgan wrote a thank you to her fans, the "Mylestones." She wrote: "Wow I can't watch this without crying…I will never ever forget the way you supported me through my journey on the voice. Y'all came in hard and proud, makes me so emotional thinking about it. The fact that you tuned in and voted week after week, spreading the word just means the world to me. Ultimately your love and encouragement is the BIGGEST take away for the show. I'm almost back to Nashville and ready to release more music and play shows with my band. I've learned so much through this process and I know it's made me a better artist. You continually make me believe in myself and I couldn't do this without you. Calling you fans is just not accurate to me… you're my friends-my family- my rocks. I hope to continue to make you proud and be in a town near yours soon to give every single one of you a hug. Cheers to a new chapter."
The caption illustrates aa clip of Morgan tearing up as she watches clips of the "Mylestones" cheering her on.
Morgan's decade long career took her across the country.
The 35 year old singer from Williamsport, Pennsylvania worked as a full time touring musician before auditioning for The Voice. Morgan opened for artists like Luke Bryan, Rick Springfield, Hank Williams Jr., Old Dominion and and Kane Brown. She recently sang backup on Cody Johnson's radio single "Nothin' on You."
In 2020, Morgan won Artist of the Year and Album of the Year from the Nashville Industry Music Awards for her debut album, Therapy, The personal songs dealt with mental health issues, including the aftermath of losing her 35 year old cousin to brain cancer.
Morgan's Blind Audition of Leonard Cohen's "Hallelujah" had coaches John Legend, Gwen Stefani, Blake Shelton and Camila Cabello turning their chairs for her. But it was Camila, who blocked Gwen, who got the nod from Morgan.
The singer continued on the show, employing her soulful rangy voice across genres to songs such as "What the World Needs Now is Love," "If I Were a Boy," "Tennessee Whiskey," "Always Remember Us This Way," "Total Eclipse of the Heart," "Girl Crush" and more.