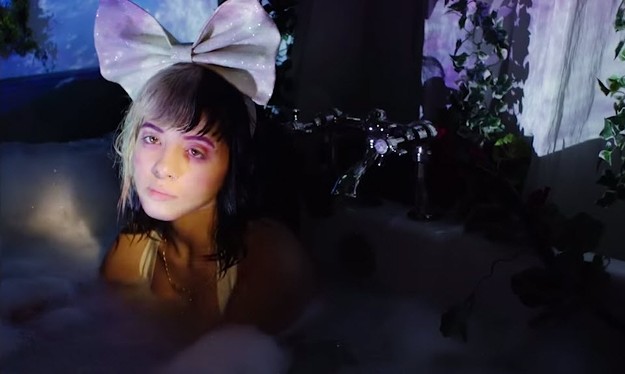 Another new single from The Voice season 3 chanteuse,  Melanie Martinez, means the release of another eerie, intriguing  music video.  In "Soap," the 23 year old singer sits in a bath full of bubbles, in the dark, fearfully clutching a bar of soap.  The clip is grainy at times. What is this young woman afraid of exactly?
The singer recently told Elle magazine that "Soap" was written about her current boyfriend, and how at the beginning of their relationship she felt "too scared" to say how she felt about him. "[I] thought if I told him it'd be like throwing a toaster in his bath. So I washed my mouth out with soap," the singer said, "I think anyone can really relate to this song. I'm sure there was a time in everyone's life where they felt too scared to say how they felt so they 'washed their mouth out with soap.'"
It's all about being vulnerable, Melanie added. "Everyone is allowed to be vulnerable. I think women and men and dogs and cats and ants and aliens can all express themselves and be vulnerable."
The singer is about to embark on another round of concert dates, beginning July at the Valley Bar in Phoenix AZ. She'll be on the road, all through August. Click for the full concert schedule.
"Soap" is now available for download on iTunes.
Related: The Voice: Melanie Martinez – Pity Party Official Music Video
The the new "Soap" music video from Melanie Martinez right here.