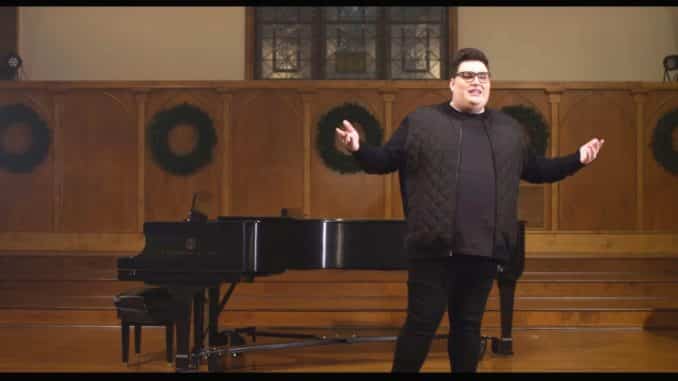 The Voice season 9 winner Jordan Smith is getting ready to start a brand new year with a brand new record label in a brand new genre! Recently, the singer dropped a holiday song "Angels We Have Heard (Glory Be)" on the Provident Label Group, a Sony Music Christian imprint, whose roster includes contemporary Christian artists such as Casting Crowns, Matthew West, and more. 
Jordan Smith Releases Holiday Song, Signs with Christian Label (Audio)
Now, the singer has released the official music video for the track, which features a church backdrop and backing choir. 
"Good tidings I bring to you and your kin!" Jordan wrote on social media. "The VIDEO for my holiday single, Angels We Have Heard (Glory Be) is out NOW! Big thanks to my friends at Lee University for bringing the angel chorus to life."
Watch Jordan Smith's "Angels We Have Heard (Glory Be) music video
On Facebook Jordan wrote, "I have ONE last gift for you this year," the singer wrote. "Before we started shooting the official video for Angels We Have Heard (Glory Be), I asked the Lee Singers to gather around the piano (social distance style) and rehearse the song with me. It all sounded so good that I told the director to roll cameras…Hope you enjoy this unplugged version from the chapel at Lee University. Merry Christmas!"