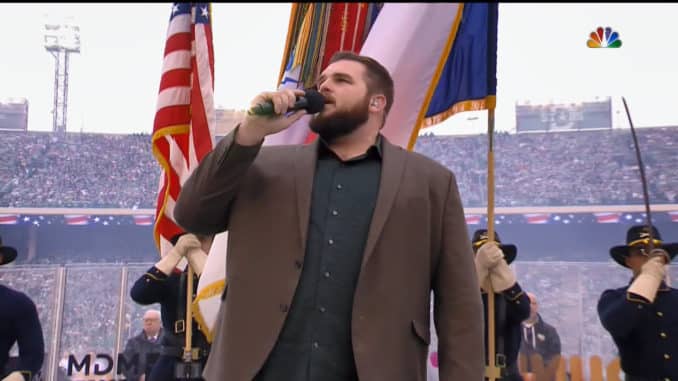 Fresh off his The Voice season 17 win, Jake Hoot performed the National Anthem for the 2020 NHL Winter Classic at Cotton Bowl Stadium in Dallas TX.
The New Year's Day Classic is an outdoor regular season National Hockey League game. Jake performed the anthem ahead of a game between the Nashville Predators and the Dallas Stars. It is the first NHL outdoor game for both teams.
Jake Hoot & Kelly Clarkson Win The Voice, Make Chart History
The Voice: Jake Hoot Could Be the First True One Chair Winner
Important Note: That's not booing you hear before Jake takes the mic. During the competition, fans of the Team Kelly Clarkson singer regularly shouted "HOOOT!!! HOOOT!!!" as he took the stage. Also, the yelling of STARS! during the anthem seems a tad disrespectful? But I guess it's a fan thing…
Watch country artist and The Voice season 17 winner Jake Hoot perform the National Anthem below.