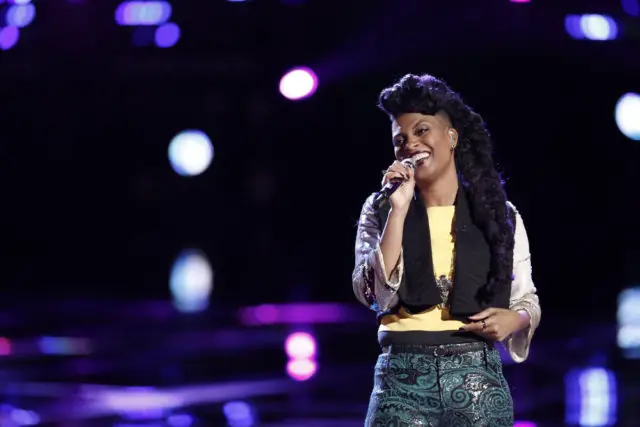 Earlier this week, Austin Allsup and Courtney Harrell were eliminated from The Voice. Prior to the competition, Courtney had spent 15 years in the background, writing songs for Fantasia, Chris Brown, Brandy, Michelle Williams, Marcus Canty and more. She also sang background vocals for Jesse J and John Legend. The Voice gave the singer an opportunity to explore the possibility of taking center stage.
In an interview with reporters on Thursday, Courtney talked about The Voice as a journey of self discovery, the pros and cons of experimenting with her sound, and her plans for the future. Interestingly, Courtney was still recovering from a vocal injury–a tidbit that was never mentioned on the show.
If somebody tapped you on the shoulder and said, the key to winning this thing is to do R&B Top 40 songs, like the songs that you have written for other artists, would you have still continued the path that you went on as far as song choices and performances?
That's a great question. I don't know. Let me preface it by saying this. I didn't come to the show to win The Voice. It would have been awesome if I did. But it really was a journey of self-discovery for me.
I consider myself more of a pop singer with soul. There's some rock in there, too. I think a great example of the truest form of me as an artist would be my blind audition (Let it Go), River Deep Mountain High, and Bless the Broken Road. 
But what I appreciate about where the show brought me–in spite of it going against who I am as an artist–it showed me what my vocal range was.  I think the first time I've sung in a power house way was on Gravity. And I never approached a song like that outside of a demo I made for someone else.
And so I think we got on this track where it's like–oh, she can do these high, strong long notes. And we stretched it a bit. But it definitely isn't a reflection of who I am as an artist. Maybe my vocal ability, but not me as an artist. And I think in hindsight–maybe I'd go back and show more of me, my artistry and less of what my voice is capable of doing. I'd like to have my heart be connected to everything that I'm singing. And I can't say that was the case here. 
I've not performed for the public in over 15 years. I've done, I think, six or seven performances in that time. And they've all been on the show. What the show didn't also highlight was that I was singing with a vocal injury. A few years before, I had a terrible vocal injury where I couldn't sing at all. It's a miracle I was even on the show. I was learning my voice at the same time [I was] learning how to perform and connect with an audience.
And it truly was a reality show for me in that sense. America was seeing in real time how someone is developing. And I don't think there was a right answer for me in that approach because I had no idea what I was capable of doing after being away from it so long, after losing my voice completely a few years before.
It was an interesting journey for me. And for that reason, I don't regret any song choice because I think it was my way of finding out how much I've healed from what America didn't know happened to me before even coming here. 
 You had been performing in the background musically for a long time. Where do you think this Voice experience is going to lead you? What do you see in your musical future?
Wow. I'm still questioning where it's going to take me. Again, I didn't come here with the intention to win the show and/or once I do well, I'm going to just start off with this big musical career that I never got to fully live out. I do think there is some singing in my future. I don't know in what capacity.
I do have a passion for writing and for singing. I think I'll always do that.  I know it entails a lot. And one of the acts that I sang background for was John Legend. And, you know, it's a lot of work. It's a lot of work and lot of putting yourself out there. In addition to [singing and writing], have a tremendous love for teaching. I was a schoolteacher before this. And coaching other artists, I was doing that as well. And I may go on and expand into that.
 So you're not really sure whether you'll be releasing music of your own?
I think I owe it to myself and to the people who have followed me and have grown to love me to release the songs that I've written and to share my heart in that way. I just am unsure on how my career as a singer is going to look. Is it something that I've put out just to say that I've done it and I go back to writing? Or is it something that I'm going to go full throttle with. And I haven't figured that out yet.
What was going through your mind when you learned you were in the bottom three against Aaron (Gibson) and Austin (Allsup). What were you thinking the chances were of Aaron being saved a third time instead of you or Austin?
Was I surprised that I was in the bottom three? No. Not at all. I expected it. And was I surprised that Aaron won? No. And I actually really wanted him to. I would have been happy if it were Austin or Aaron or myself.
I think one of the most amazing experiences for me in this whole thing is how much we all really do love and support each other. I was really inspired by how Aaron had found himself there twice before and just climbed himself out of that. It just was remarkable to me. And the fact that he had the chance to do that again was just really cool. I love the underdog story. And to see how he just kept coming back was so inspiring . I think a part of that is the mother hen in me. I'm the one who is used to supporting other artists in that way. I don't think I'll ever lose that.
Could you elaborate on why you saw it coming? Like why did you expect to be in the bottom 3?
A couple reasons. I started to notice that, while I had many people who appreciated how I delivered the songs, there were a lot of people who didn't like my song choices. And there were a lot of people who heard pitch issues, which were definitely there. Again, those people never knew what I was challenged with while I was singing or the injury that I had vocally, and still currently trying to push through. I was not my best self. And it was clear.
For those who are looking for that kind of flawless performance, you aren't going to find that with me. When the Lives started, I had both personal…and physical challenges that were really hard for me to overcome vocally. I saw how the people had not nice things to say and wanted me gone. And I understood it and I respected it because it is a singing competition. There were [contestants] I felt were not better singers, but stronger than me at that time. 
While Blake is the show's favorite, you have Miley (Cyrus) and Adam (Levine) and Alicia (Keys) who are huge mainstream pop stars with a mainstream following in terms of social media. When you start to consider all of that, it also becomes a numbers game. If I was concerned with a numbers game, I would have gone with Alicia when she had chosen me. But I wanted to go in the direction I thought would be helpful in my development as an artist and also as a songwriter. I just took it as it was and didn't have my hopes set on people wanting me. My hope was set on growing and discovering who I am. I did that and was happy with my time ending when it did.
Considering your "instant save" performance of God Bless the Broken Road, would you ever consider a country career. You worked with a country coach.
Yes. I would consider my career taking me into the country world, but I don't know. Austin may laugh when I say this because he was surprised that I know this phrase, but they have one that says, 'all you need in country is three chords and the truth.' And the truth is I'm not a country singer. But I do share similarities and I like to sing with truth in everything that I'm doing, every song that I take on. And if that led me to a song that might be considered traditionally country in the way Bless the Broken road is–I would love to do more songs like that.
Every time I got to the chorus while practicing that song, I would break down and cry because it really is my life leading up to even being on The Voice. I would love to find songs that suit me in that way, suit my story. If that means I end up in country in some way, shape or form, then absolutely. But it definitely isn't something that is on my immediate to do list to be known as a country artist.
Did you ever consider singing songs that you wrote for other pop stars?
Yes. I definitely did. I think the hope was after–my journey in song choices was a collaborative effort–what was selected was successful enough that the moment would come where I could showcase myself as a songwriter.
And that moment didn't come. But it definitely was up for consideration. [We were] thinking which songs would be good songs that I've written, but [also which] songs are going to translate on stage. We [went] through that process, discovering which would be strong enough. We just didn't get the opportunity to execute.
Who do is your frontrunner to win The Voice? Who is your favorite to win the whole thing?
I don't have a favorite, I think. And I'm not saying that to be politically correct. I really do think it's anyone's game. They're all incredibly talented and incredibly deserving. The other reason I don't have a favorite is I know how hard everyone has to work to progress on the show. No one is there off of raw talent alone. They're all there because they're putting in the work. And when I consider, who deserves to win, I consider how hard have you worked? And they all are. I would be thrilled with whomever walks away with that title. We all are very close to each other. And I know some people have a hard time grasping that because the world sees a competition. And in essence it is, but none of us carry it that way.
I'll give you an example. Wé–who I would love to see win the show. Wé [said] to me after she realized that I had confidence issues, about how much I believed in everyone else around me.  She said, 'Now I just wish you could believe in yourself in the same way you believe in us, and then you could win.' For her to say that–and she's slated as one to win. We all just really love each other. 
I've been in the mainstream music business, for a very long time. The Voice is hands down the most loving, nurturing, encouraging, affirming musical environment I have ever been in. And if I will miss anything about being on the show, it will be that beautiful family environment. They're all brilliant. Whoever wins, I hope I'm writing for them.