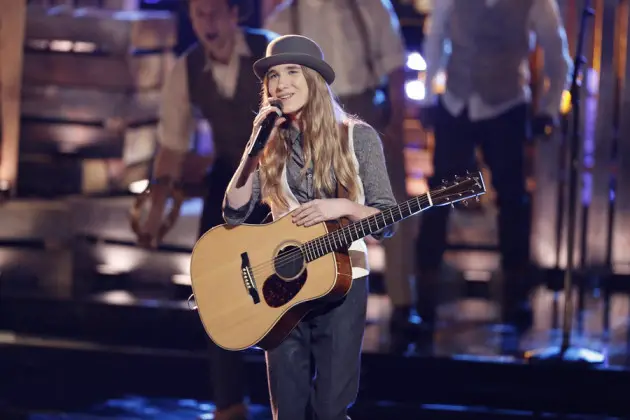 Season eight winner Sawyer Fredericks will make his return to The Voice on Wednesday, Nov. 11 to perform his new single, "Take It All."
Over the past months, Sawyer has spent time in Los Angeles recording new tunes, and it appears he'll be the first The Voice winner to drop a full album since season 5 winner, Tessanne Chin. Season 7 winner, Craig Wayne Boyd and season 6's Josh Kaufman were dropped by Republic before they released full albums.
Let's see if Republic can make Adam Levine eat his words by not only releasing a winner's album, but promoting it on radio and beyond.
Check out what the official NBC press release has to say about Sawyer. The language is a little vague, but I believe the release is referring to The Voice only when it outlines how Sawyer broke iTunes chart records.
As a member of Team Pharrell on the musical competition series, Sawyer not only won season eight but also set a record for the first artist to have 14 songs in the iTunes Top 200 singles chart in one week. His songs were downloaded nearly 1 million times on iTunes while he was on the show.
Fredericks grew up on an 88-acre farm in upstate New York. His shyness belies an intense empathy and vibrantly robust voice honed by performing weekly at a local farmers market and cutting his own independent debut locally. Upon his debut on The Voice, he quickly enchanted audiences everywhere.
Also on the Nov. 11 telecast, the top 12 remaining artists will be announced, with all of them moving on to the live performance shows that begin Monday, Nov. 16 (8-10 p.m.).
The Top 20 perform for your votes on Monday November 9 and Tuesday November 10.