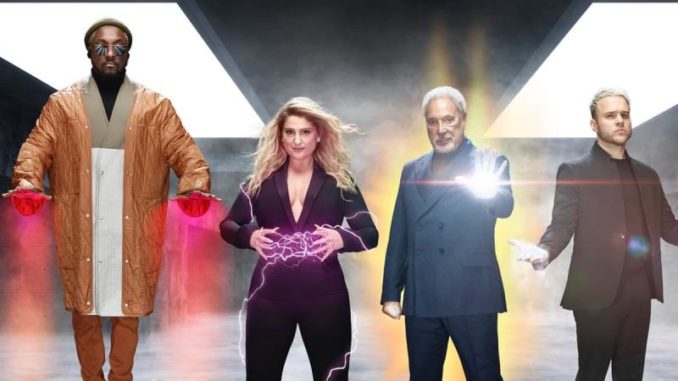 The Voice UK was suspended at the end of March after the Covid-19 pandemic shutdown production. Every epsisode through the Knockouts had been filmed ahead and aired. But with the remaining shows scheduled to go live, ITV postponed the semi-final and finale indefinitely.
The Voice UK producers Plan to Film in an Empty Studio with Canned Crowd Noises
Now, insiders at ITV tell The Sun how producers came up with a plan after seeing the success of The Voice Kids final in Germany in April, which used canned cheering and applause.
A source said: "The audition and knockout stages of The Voice had all been pre-recorded but now it's planned that the semi-final and final will be filmed live without an audience.
"There had been some debate about the format but the German kids' version of the show went down a storm and lost nothing by having no audience.
"The idea is that coaches Olly Murs, Meghan Trainor, Will.I.am and Sir Tom Jones will be live in the studio and will sit in the red chairs two metres apart from each other. The hopefuls will perform as normal and applause or other audience noises will be played through speakers.
"It sounds strange but the concept works really well and currently it's the only way Voice bosses think they can be certain that the finals will go ahead.
"They need to be able to ensure the safety of the singers, the coaches and everyone else involved in the production. Of course, if the guidelines around TV production change then so will the plans."
Producers Eyeing Fall Dates For Final The Voice UK Episodes
The semi-final was due to air on ITV on March 28, with the final a week later on April 4. The plan now is to film the two shows in the fall.
A spokeswoman for ITV said: "No decision has been taken regarding the return of filming for The Voice UK.
"We will be following all Government guidelines, with the safety of the ­talent and public being at the forefront of any ­decisions."
The Voice UK could have decided to produce remote shows like The Voice and American Idol did in April and May. But in March, the at-home concept was untested for singing shows.
Will audiences even care about the Top 8 contestants 6 months later? Viewer apathy certainly played a part in the decisions of American Idol and The Voice producers to just get on with it.