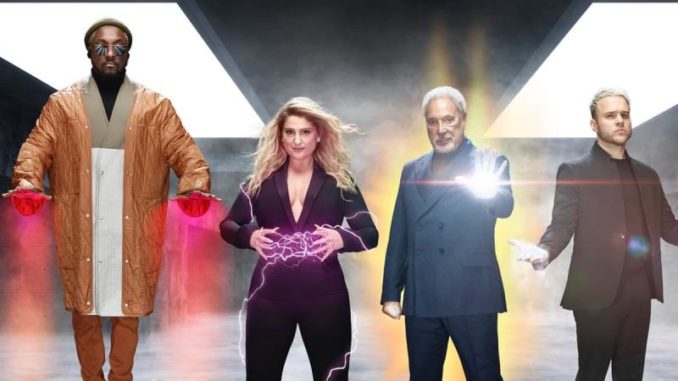 The Voice UK continues with the Battle Rounds kickoff on Saturday (Feb 22) on ITV. Olly Murs, Will.i.am, and Sir Tom Jones are all back for another season in the big red chairs. Pop singer Meghan Trainor is the new kid on the block. Emma Willis hosts.
In each battle, one act will win and advance to the Knockouts. The loser will either be eliminated, or stolen by another coach. Each coach has one steal to use. The Battle Rounds will air over the course of 3 weeks. 
Team Olly
Alan Chan vs  Bleu Woodward – If I Could Turn Back Time by Cher – Blue is the red headed cruise singer. Both she and Alan auditioned with retro rock songs. I'd send them both home, to be honest. Bleu acknowledges that they are both a "bit older" and coming close to the end of the line. These two. Next stop: Cruise ship production of Rock of  Ages. If I had to pick, I'd go with Alan. Olly says, "You've made this really hard for me!" Tom says they both delivered "wonderfully well." Will calls the performance "powerful." He thought Bleu had a superstar moment. Olly picks Alan. Unsurprisingly, Bleu is eliminated without a steal. 
Olly picks Alan Bleu is eliminated.
Team Will
Doug Sure vs Zindzi Thomas – One by U2 ft Mary J Blige  – Doug is a reggae singer, Zindzi ia a mom and more of a traditional R&B artist. I like Doug's voice a lot–the tone and texture are so pure. Zindzi is interchangeable with other R&B stylists. She also has pitch problems. But she's way LOUDER. Let's see what Will does here. Olly loves Doug's "cool" demeanor. Meghan calls his voice "striking." Will thinks they are both different, but amazing. Will picks Doug! CORRECT DECISION.  BRUTAL the way the UK version makes the artist just stand there while the coaches decide their fate. Zindzi is eliminated without a steal. 
Will chooses Dog. Zindzi is Eliminated
Team Tom
Lara Anstead vs Jonny Brooks – Us by James Bay & Alicia Keys – Both singers are very good. Maybe tonight's first steal! Jonny is worried about Lara's big range. However, she's not underestimating her partner. I love Jonny's tone. He's very soulful. Lara has good phrasing and range. I'd pick Jonny if I had to choose, but both deserve to advance. Olly calls it a "really great battle." Tom begs the other coaches to steal the loser. Tom picks Jonny. Good choice! DAMN NO STEAL. Brutal. She's a powerful singer and deserves a spot! 
Tom picks Jonny. Lara is eliminated
Team Meghan
Claudillea Holloway vs Blaize China – The Greatest by Sia – As "oddballs" they can't go against anyone else on the team, Meghan basically says. Claudillia is the disco opera singer, while Blaize's style is Latin flavored. Hmm…. Right, these two are like night and day and not blending well together at all. So awkward, along with horribly off key harmonies. Bad. Olly calls it a great performance, "You both absolutely smashed it." Hm. Will calls it "spectacular." Tom thought they both "sounded great in your own ways." Meghan picks Blaize. AND OF COURSE WILL STEALS CLAUDILLEA. This played out EXACTLY like I thought it would. He loved her crazy audition, so. 
Meghan picks Blaize, Will STEALS Claudillea
Dean John-Wilson vs Oli Ross – Take Me To Church by Hozier – Dean opened Aladdin on the West End. He admits that Hozier is outside of his wheelhouse. Oli is less experienced and feeling a little intimidated! They are both really good. It will be a hard decision for Meghan. Dean probably has the slight edge here, because he's a pro, while Oli is still a little rough around the edges. Olly loved how the two "heavyweights…slugged it out." Tom found the performance a bit "frantic." Meghan is standing up for her team, "You both just get better and better every time." Meghan picks Oli. Not surprising–Meghan sees a younger version of herself in Oli. No steals for Dean. He is eliminated.
Meghan picks Oli Dean is eliminated.
Team Will
Johannes Pietsch vs Evergreen – Songbird by Eva Cassidy – Evergreen got an immediate turn from Will, before he heard their sloppy and off key harmonies. Johannes is a male classical singer with a counter-tenor/soprano range. Uh oh. Johannes does not know the song. The pick is so weighted to the Irish folk trio, it's criminally unfair. Both acts are pretty terrible here. Johanes is out of his wheelhouse, but is at least singing in tune. Good lord. What a weird pairing. That didn't work AT ALL. Tom calls the performance "really really lovely." Meghan was "blown away." Will criticizes Johannes entrance. Nevertheless he puts through Johannes! WOW. Evergreen is eliminated
Will picks Johannes, Evergreen are eliminated
Team Olly
Blessing Chitapa vs Beryl McCormack – Flying Without Wings by Westlife – Psst. The song is actually by R. Kelly–Westlife covered it. But nobody is gonna say that now. Olly pits two very strong, soulful singers against each other.  Both singers have a ton of potential, but are very young. There are too many pitch problems from both. I'd pick Blessing if I had to choose. Still, I bet the loser gets stolen. Tom says, "THAT IS SANGING." He likes that the two didn't "over-run." Meghan says, "It was so magical. My mind is blown." Will says, "Purified, authentic soul." Olly gushes, "It's the best battle I've seen so far." After hemming and hawing, Olly picks Blessing. Meghan Steals Beryl. Earlier Meghan said she had her "eye on someone." Was it Beryl?
Olly picks Blessing. Meghan Steals Beryl