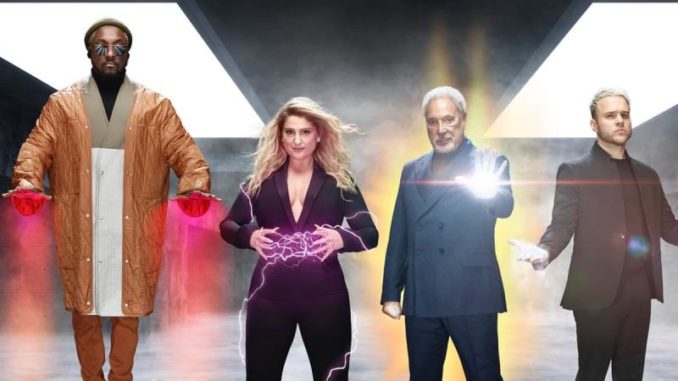 The Voice UK premiered on Saturday (Jan 4) on ITV. Olly Murs, Will.i.am, and Sir Tom Jones are all back for another season in the big red chairs. Pop singer Meghan Trainor is the new kid on the block. She takes the place of Jennifer Hudson, who will be busy this year, staring in and promoting an Aretha Franklin biopic.
During the Blind Auditions, each coach will choose 10 acts before moving on to the Battle Rounds.
The show opens with the coaches performing the 1970s hit, "I've Got The Music in Me" by Elton John and Kiki Dee.
Brooke Scullion – Bruised by Lewis Capaldi – She's from Derry, Northern Ireland. Welp. The first performance of the night is a four chair turn. Brooke has a deep throaty voice, and a big range. She's probably going to stick around for while. Meghan and Will turn right away. Meghan says she's obsessed. Tom waited for a bit to hit his button, but only because he wanted to hear more, he claims. Will compliments her tone. Meghan calls her a superstar. Hm. Olly reminds her that he won The Voice last year. Will won't make crazy promises, but he's sure they could work together. Brooke goes for the crazy promises, and picks Meghan.
4 Chair turn. Brooke picks Team Meghan.
Adam Howarth – Losing Man (Original Song) – He's a laborer from Sheffield looking for a better life for his family. Accompanying himself on acoustic guitar, Adam performs an original song. This is coffeehouse material–definitely bush league. His upper register is terrible. His wife winces in the red room after he hits a bad note. His nerves killed the performance. On the UK version, if their are no turns, the coaches keep their backs to the singer, leaving the hopeful to walk awkwardly off the stage. Ouch.
No Turns
So Diva (Jenny, Tania and Danni) – Don't Walk Away by Jade – They sing motown, disco, dance hits, etcetera. Sounds pretty cheesy. And indeed, the singers bring an old-fashioned 90s vibe to their performance. Not sure where they fit. Also. Pitchy moments! Still, Tom turns. Will thoroughly enjoys his the performance in his seat before hitting his button. Tom calls the performance "exciting." Will calls the song one of his favorites. He mentions that Tom is hard to compete against. Nevertheless, the girls choose him.
Will and Tom Turn. So Diva pick Team Will
Francisco Iannuzzi – How Come U Don't Call Me by Prince – Thirty year old from North Hampton has been a musician since 6 years of age. A very soulful singer, it's taking a minute for the coaches to turn. He has a nice falsetto. But nobody turns! Meghan considers it, but then doesn't. He deserved a turn! The audience is not happy. Will's reason for not turning "He was too mono," whatever that means.
No Turns
Lara George – Don't Be So Hard on Yourself by Jess Glynne – Thirty two year old from Essex. Oh. She and Olly worked at a call center together. They were buds. Her voice is…odd. I'm not sure I like it. It's a little nasally. She sings on key and has a good range. So it's a matter of taste, I guess. Meghan turns first. Tom and Olly hit at the end. Olly loses his mind when he sees her. Heh. Meghan thinks her tone is amazing. But now, realizes she has no chance. Or maybe she does. Olly seems a little reluctant! In the end, Lara chooses Tom. It's probably for the best. Olly noted that she mentored him in the beginning. He could have issues being honest with her.
Meghan, Tom and Olly turn. Lara chooses Team Tom.
Trinity-Leigh Cooper – Stone Cold by Demi Lovato – Sixteen year old from a tiny Wales village. The singer has a big voice, but it's a little unwieldy. It's taking a minute for a coach to hit their button. But then, Trinity breaks down when Olly and Meghan finally hit their buttons. Trinity has potential, but she was literally shouting by the end of the song. She lacks control. Oh. Trinity was disappointed Tom didn't turn. Oops. Meghan pulls the Grammy card and name drops Demi. So of course, Trinity choses her.
Meghan and Olly turn. Trinity chooses Team Meghan
Meghan's father Greg Turner comes out to play piano for the crowd. He plays "Shake Rattle and Roll" with the band while Tom sings lead. Fun!
Cameo Williams – Heart of Glass by Blondie – Cameo is an 18 year old student. YIKES. What is this? She changes the melody, singing this iconic 80s dance hit with a slurry diction and off-putting tone. She slides around the notes so much, she's offkey. The song is unrecognizable. I suppose this is someone's cup of tea. Olly hits his button. She ends on a sour note, yet Tom hits his button as well. Weird. Olly calls her "interesting." Well, that's one way to put it. Tom confesses that he hit his button because of Francisco, basically. He didn't want to regret not turning. Cameo picks Olly. She's his first team member!
Tom and Olly Turn. Cameo chooses Olly
ShezAr – A Deeper Love by Aretha Franklin – Thirty-one year old from London, comes from a musical family and a gospel background. Her brother is Labrinth. She didn't tell him about the audition, wanting to do it on her own…or something. ShezAr's time in show business has been spent mostly as a background singer. She's an obviously experienced and gifted soul singer, who performs with a ton of polish. Unsurprisingly, ShezAr gets 4 turns. Meghan calls her "amazing." Tom felt her commitment. As it turns out, she shared a stage with Tom as part of a choir. He remembers. Will, the last to turn, thinks she belongs on Team Tom! And indeed, that's who she chooses.
4 Chair turn. Shezar chooses Team Tom