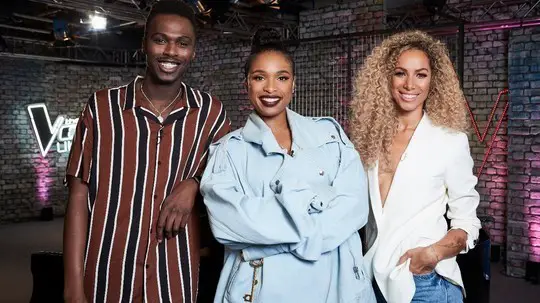 The Voice UK has announced the celebrity mentors set to help the coaches get their team ready for the upcoming Knockout Rounds.
Jennifer Hudson will be joined by X Factor season 3 winner, Leona Lewis and her former team member, winner of last year's X Factor UK, Mo Adeniran. Tom Jones joins forces with Aussie pop star, Kylie Minogue. Will.i.am brings on his fellow Black Eyed Peas and Olly Murs gets a hand from British pop singer Craig David.
So that's TWO X Factor singers taking part in The Voice UK 2018–Leona Lewis and Olly Murs. And throw in an American Idol (Jennifer Hudson) as coach for good measure. Bringing back former The Voice winner Mo to help out is a nice touch, and diverts a bit of attention away from the fact that none of The Voice UK alums so far are famous enough to consider for a coaches or celebrity mentor spot.
"I'm so excited that Leona is joining me as a mentor on Team JHud! I can't wait to hear what wonderful advice she has for each act. She is incredibly talented and I really trust and respect her opinion," said Jennifer in a statement. "I'm also happy to welcome back Mo, who knows first-hand just what it takes to win this show. I think that will be a valuable point of view for the entire team."
"It's been great meeting all the talented singers and working with Jennifer, said Leona. "It's a beautiful thing to play a part in nurturing homegrown talent, to even have a small role in their journey is something very special."
"I'm so excited to be back with my Voice family and Team JHud where it all began!" said Mo. "I've been working hard in the studio for the last 6 months and I hope I can pass on some of the things I've learnt whilst making my album to the talented singers on Jennifer's team. I definitely think she's got another winner!"
"I have known Kylie for a long time so it is nice to have someone you know personally giving you help," said Tom in a statement. "It is reassuring having a friend as well as such an experienced professional." He added, "It was tremendous working with her when we were both coaches on The Voice UK in the past. She is an accomplished artist and a really lovely person."
"It's so great to be back amongst The Voice family as a guest mentor for Tom Jones," said Kylie who was a coach on season 3. "I love working with Sir Tom and have been blown away by the talent in his team this series. What a pleasure to work with such a great group of contestants and it's fair to say I'll be keenly following the rest of the series. Good luck Team Tom!"
"Craig is amazing, we have known each other a long time," said Olly in a statement. "I have been a fan of him as an artist from an early age and it is great I can now call him a friend. He's also got so much experience in the industry and with that he will really give me some great constructive feedback on my acts and help me make the right decision."
"It's nice to be part of this process and to give some positive critiques to each act," said Craig. "Because I know Olly so well I can be very honest with him so hopefully my opinions will help him make his decision, but ultimately this is his gig!"
"There are no better folks for me to have mentor my team because we have mentored each other," said will.i.am. "We mentored each other when nobody really believed in us and we went on to do impossible things."
"Considering the fact will has been doing this for many years now it's great to be part of this with him," said taboo. We have been talking about making this happen. For me it's exciting because we are here to support our brother and see exactly what sort of team he has got."
"It is a very exciting moment, a big moment for will as he will have to make some really big decisions to eliminate people and keep people," said apl.de.ap. "We want to be here to support him with that and give him some ideas and pointers."
UPDATE: Correction! Celebrity mentors will assist the coaches in THE KNOCKOUTS, which begin in March.
The Voice UK Battle Rounds kickoff on ITV Saturday February 24 from 8:30pm – 9:50pm GMT (3:30-4:50 ET). We'll be live blogging the show right here.